K-DOJO "GRAND SLAM in Shinkiba", 5/27/2018 [Sun] 12:30 @ Shinkiba 1stRING in Tokyo
274 Spectators (crowded)
(1) GO Asakawa & Marines Mask vs. Yoshihiro Horaguchi & Tatsuya Hanami
◆Winner: Asakawa (6:15) with a Modified Haraikoshi on Hanami.
(2) Ricky Fuji, Yuma & Kotaro Yoshino vs. Bambi, Ayame Sasamura & Rina Shingaki
◆Winner: Yuma (9:39) following a Final Cut on Sasamura.
(3) Kaji Tomato & Hiroshi Yamato (FREE) vs. Ayato Yoshida & Shiori Asahi
◆Winner: Yoshida (9:40) following a Backdrop on Kaji.
(4) Daigoro Kashiwa Final Countdown: TAKA Michinoku vs. Daigoro Kashiwa
◆Winner: TAKA (9:58) with the Just Face Lock.
(5) UWA World Middleweight Championship ~ Hardcore Rules Match: [66th Champion] Masamune (FREE) vs. [Challenger] Kyu Mogami
◆Winner: Masamune (17:08) with the Honebami, with a chair.
~ 2nd successful title defense.
(6) Yuki Sato's Return Match ~ Magatsuki vs Magatsuki All Out War: Kengo Mashimo, Yuki Sato & Kunio Toshima vs. Tank Nagai, Ayumu Honda & Isami Kodaka
◆Winner: Yuki (12:41) via foul, after Ayumu assaulted the referee.
~ Following the skirmish, Mashimo and Yuki declared that they are in charge of Magatsuki and in-turn banished Tank and Kodaka, the reigning ST-K Tag Champions, from the group.
(7) CHAMPION OF STRONGEST-K Match: [25th Champion] Taishi Takizawa vs. [Challenger] Dinosaur Takuma
◆Winner: Takizawa (16:19) with a Tiger Driver.
~ 4th successful title defense.
~ Following the match, GO Asakawa attacked Takizawa from behind as he then aligned himself with Magatsuki.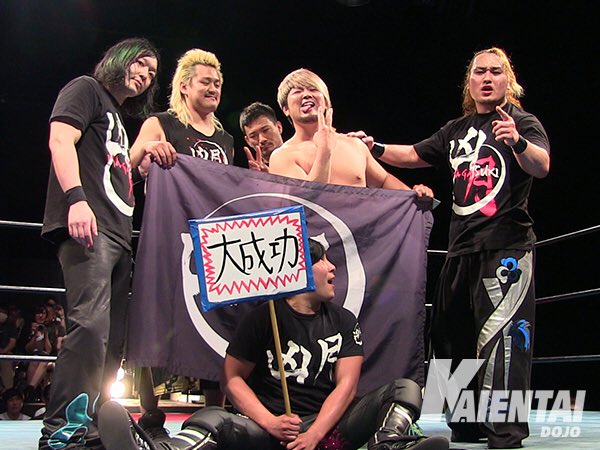 http://puroresuspirit.net/tag/k-dojo/
Upcoming…
K-DOJO "GRAND SLAM in Blue Field", 6/17/2018 [Sun] 13:00 @ Blue Field in Chiba
(-) Daigoro Kashiwa's Retirement Match: Daigoro Kashiwa & Ayato Yoshida vs. Kengo Mashimo & Kunio Toshima