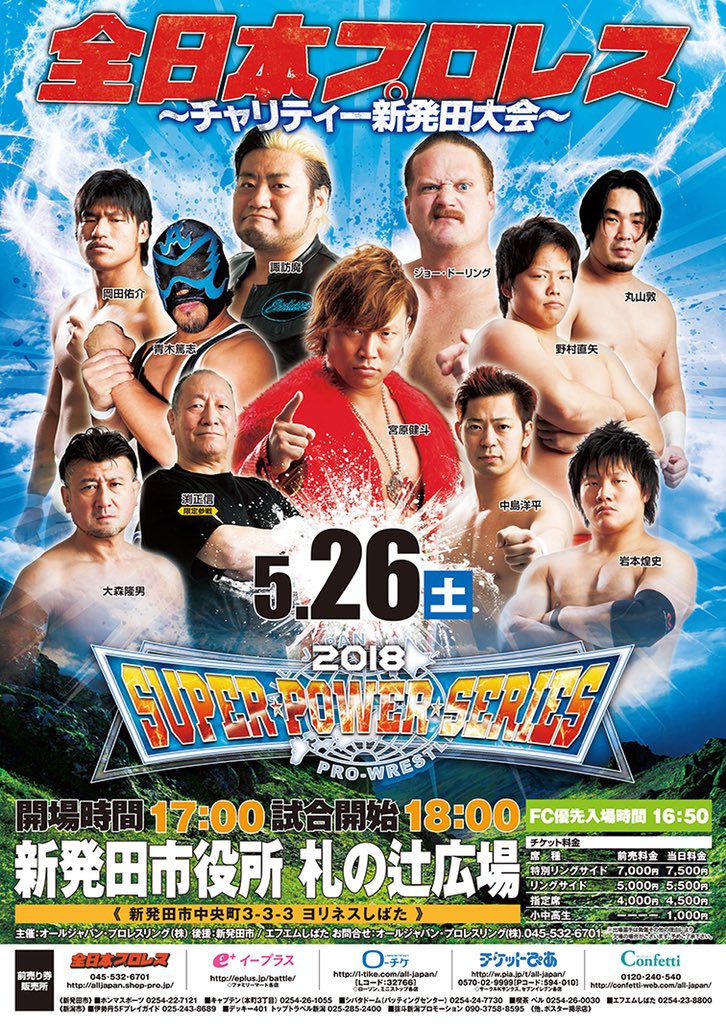 All Japan Pro-Wrestling "2018 SUPER POWER SERIES", 5/26/2018 [Sat] 18:00 @ Shibata Shiyakusho Fudanotsuji Hiroba in Niigata
321 Spectators
(1) Atsushi Maruyama vs. Revlon (LAND'S END)
◆Winner: Maruyama (6:27) with a Hurricanrana.
(2) Shigeno Shima (Niigata Pro) & Rionne Fujiwara (FREE) vs. Keiichi Sato (FREE) & Big THE Ryokan (Niigata Pro)
◆Winner: Shima (9:31) following the Railgun Driver on Ryokan.
(3) Takao Omori & Black Tiger VII (FREE) vs. TAJIRI & KAI (both FREE)
◆Winner: TAJIRI (10:29) following a  Buzzsaw Kick on Black Tiger.
~ TAJIRI and KAI continue to show that they are cohesive team heading into the World Tag challenge on June 3.
(4) Yohei Nakajima vs. Hikaru Sato
◆Winner: Hikaru (13:15) following a Backdrop.
~ Though Nakajima keeps calling out for a shot at the World Junior belt, he remains with certain setbacks that make him a worthy challenger.
(5) Suwama, Shuji Ishikawa (FREE) & Atsushi Aoki vs. Ryoji Sai (LAND'S END), Dylan James & Kotaro Suzuki (FREE)
◆Winner: Kotaro (14:08) with a Tiger Driver on Aoki.
~ Kotaro with the direct win over the World Junior Champion, as he once more called out for the previously announced singles match on June 5 in Differ to be with the title on the line.
(6) Kento Miyahara, Yoshitatsu (FREE) & Naoya Nomura vs. Jake Lee, Joe Doering & Koji Iwamoto
◆Winner: Miyahara (15:08) with a German Suplex Hold on Iwamoto.
~ Lee made it known that part of his intentions of leaving NEXTREAM was to challenge Miyahara for the Triple Crown belt.
http://puroresuspirit.net/2018/04/ajpw-event-cards-for-may-june-2018/