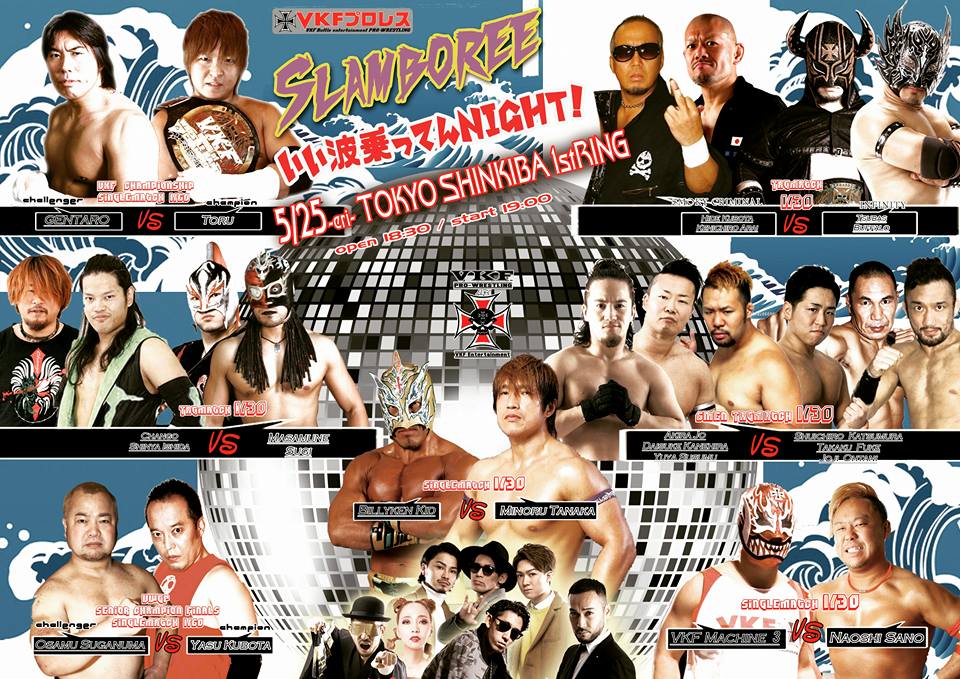 VKF Pro-Wrestling "SLAMBOREE ", 5/25/2018 [Fri] 19:00 @ Shinkiba 1stRING in Tokyo
157 Spectators
(1) Naoshi Sano (Sano-Damashii) vs. VKF Machine #3
◆Winner: Sano (8:34) following the Sliding B.
(2) Joji Otani (HEAT-UP), Takaku Fuke (Pancrase MISSION) & Shuichiro Katsumura (Reversal Gym Yokohama) vs. Daisuke Kanehira (HEAT-UP), Akira Joe (FREE) & Yuya Susumu (FREEDOMS)
◆Winner: Joe (12:13) following a Cross Rhodes on Joji.
(3) Shinya Ishida & CHANGO (both FREE) vs. SUGI (ZERO1) & Masamune (FREE)
◆Winner: Masamune (10:29) with the Watarirai
(4) Billyken Kid (FREE) vs. Minoru Tanaka (FREE)
◆Winner: Minoru (10:17) with the Minoru Special.
(5) VWGP Senior Championship Match: [Champion] Yasu Kubota (FREE) vs. [Challenger] Osamu Suganuma
◆Winner: Suganuma (10:08) with a Tiger Driver.
~ Suganuma becomes the new VWGP Senior Champion. He then declared that he wants a shot at the main belt.
(6) Hide Kubota (FREE) & Kenichiro Arai (DG) vs Buffalo (Makai) & Tsubasa (FREE)
◆Winner: Tsubasa (14:18) with a La Magistral on Hide.
~ After the match, Buffalo and Tsubasa agreed to an alliance with Hide and Arai.
(7) VKF Championship Match: [9th Champion] TORU (Doutonbori) vs. [Challenger] GENTARO (FREEDOMS)
◆Winner: TORU (16:40) following a Vertical Drop style Brainbuster.
~ 3rd successful title defense.
~ After the match, Suganuma came forward to challenge TORU. Though TORU offered Suganuma the chance to be the x teammate for the elimination match that is scheduled for the 6/6 show in Tennoji. Suganuma accepted the offer.
http://puroresuspirit.net/tag/vkf/
Upcoming…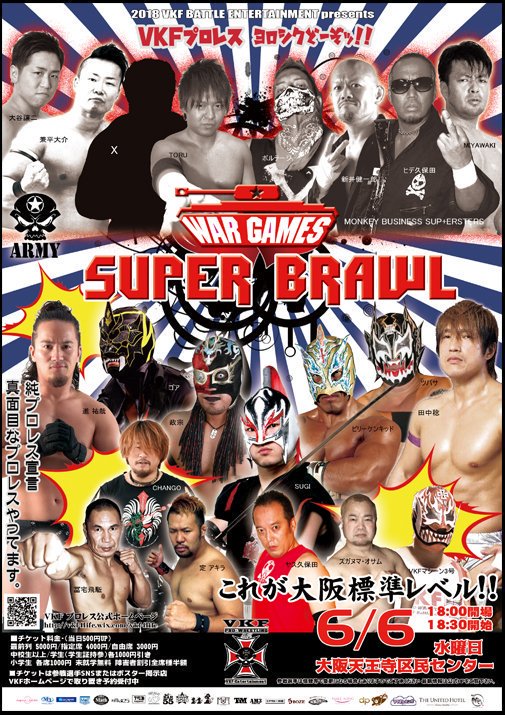 VKF Pro-Wrestling "SUPER BRAWL 2018", 6/6/2018 [Wed] 18:30 @ Tennoji Kumin Center in Osaka
(-) Yuya Susumu vs. Tsubasa
(-) Monkey Business Superstars vs VKF Corporation 4 vs 4 Elimination Tag Match: MIYAWAKI, Hide Kubota, Kenichiro Arai & Voltage vs. TORU, Joji Otani, Daisuke Kanehira & Osamu Suganuma