AJPW NEWS
~ Following yesterday's show, two title matches were setup for the June 12 show at the Korakuen. Then today the full event card was announced as well.
~ A press conference was held today as the 60th Triple Crown Heavyweight Champion Kento Miyahara met with his next opponent in Dylan James. This will mark the first ever challenge for the belt for James though not his first chance at a singles belt in Japan as he is a former ZERO1 World Heavyweight Champion. Let alone him being 1/2 of the current World Tag Champions along with Ryoji Sai. Which him and Sai are set to defend the belts on June 3 against TAJIRI and KAI. Miyahara is coming off of his first defense against the Champion Carnival 2018 winner in Naomichi Marufuji and seeks to now try and outdo his previous run with the belt. James though is eager for the upcoming title matches as he aims to follow in the footsteps of the foreigners who came before him like Stan Hansen and Terry Gordy.
James was then joined by his tag partner Ryoji Sai as they discussed the upcoming World Tag challenge TAJIRI and Ryoji Sai on June 3 in Kobe. The champions seek to not only defend their belts but to also exact some revenge as they have found themselves on the wrong end of the challengers tricks and tactics. Sai stated that the unlikely duo have proven to be a crafty team, but he and James continue to get stronger each time they are in the ring. That they aim to no longer suffer anymore shame and prove themselves as a top tier team in the promotion. That will of course come against a team that will do nearly anything to win the titles themselves.
Then before Yuma Aoyagi is set to return to the ring on June 5, it was announced that him and Naoya Nomura will be challenging Jun Akiyama and Yuji Nagata for the Asia Tag belts on June 12 at the Korakuen Hall. Nomura and Aoyagi were originally set to defend the Asia Tag belts against Akiyama and Nagata back on February 3 of this year, but due to Aoyagi suffering an ankle injury the month before they were forced to vacate the belts. The young duo look to overcome the veteran team and reclaim the belts the belts that they never directly lost.
All Japan Pro-Wrestling "2018 Dynamite Series", 6/12/2018 [Tue] 18:30 @ Korakuen Hall in Tokyo
() Atsushi Maruyama vs. Rionne Fujiwara (FREE)
() Masanobu Fuchi & Osamu Nishimura vs. Takao Omori & Keiichi Sato (FREE)
() Atsushi Aoki & Ishikiri (LAND'S END) vs. Yohei Nakajima & Ultimo Dragon
() Zeus & Black Tiger VII vs. TAJIRI & Yoshitatsu
() Suwama, Shuji Ishikawa & Hikaru Sato vs. Jake Lee, Ryoji Sai & Koji Iwamoto
() Asia Tag Championship Match: [104th Champions] Jun Akiyama & Yuji Nagata vs. [Challengers] Naoya Nomura & Yuma Aoyagi
~ 2nd title defense.
() Triple Crown Heavyweight Championship Match: [60th Champion] Kento Miyahara vs. [Challenger] Dylan James
~ 2nd title defense.
http://puroresuspirit.net/2018/04/ajpw-event-cards-for-may-june-2018/
---
BJW NEWS
~ It was announced that Hideki Suzuki will be defending the World Strong belt against Takuya Nomura on June 20 at the Korakuen Hall. Then the format was announced for the main event death match between Takeda and Kodaka.
BJW, 6/20/2018 [Wed] 18:30 @ Korakuen Hall in Tokyo
(-) BJW World Strong Heavyweight Championship Match: [12th Champion] Hideki Suzuki vs. [Challenger] Takuya Nomura
~ 2nd title defense.
(-) BJW DeathMatch Heavyweight Championship ~ Four-Sided Fluorescent Light-tubes + Giga Ladder + Glass Board Death Match: [36th Champion] Masashi Takeda vs. [Challenger] Isami Kodaka
~ 7th title defense.
http://puroresuspirit.net/tag/bjw/
---
DDT NEWS
~ It was made official that Soma Takao will be challenging HARASHIMA for the EXTREME Championship belt on June 24 at the Korakuen Hall.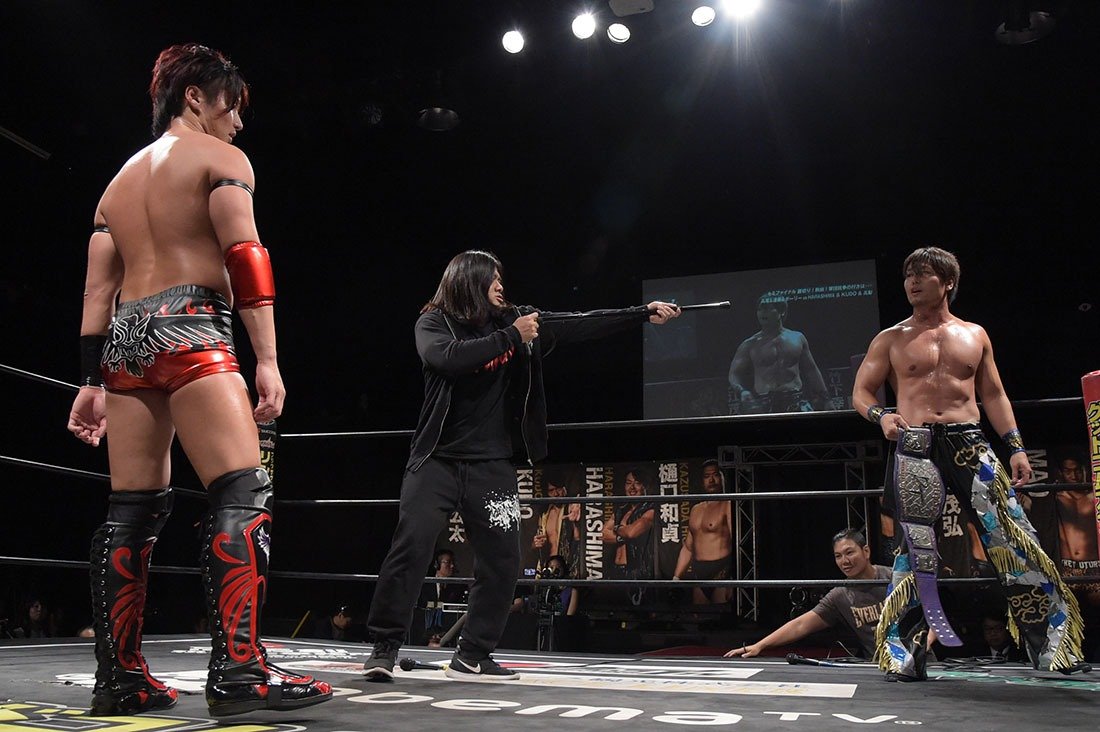 DDT "What are you doing 2018", 6/24/2018 [Mon] 12:00 @ Korakuen Hall in Tokyo
(-) DDT EXTREME Championship Match: [41st Champion] HARASHIMA vs. [Challenger] Soma Takao
~ 2nd title defense.
(-) KO-D Openweight Championship Match: [62nd Champion] Shigehiro Irie vs. [Challenger] (Winner of the 5/29 Battle Royal)
~ 2nd title defense.
Makoto Oishi publicly proposed to Misaki Ohata during a special outdoor show tonight in DDT. The two have were reported to have been dating for some time now.
http://puroresuspirit.net/tag/ddt/
---
DNA NEWS
~ The full event card was announced for the June 3 card at the Shinjuku Village.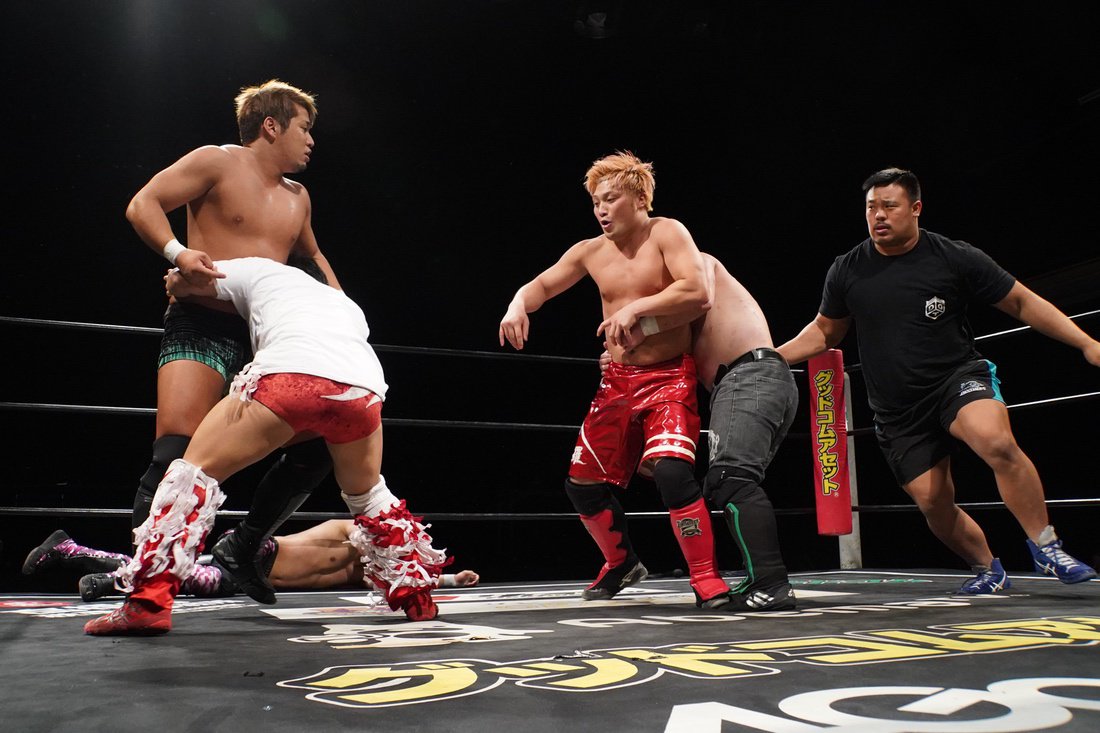 DNA 45, 6/3/2018 [Sun] 18:00 @ Shinjuku Village Studio in Tokyo
(-) Daiki Shimomura & Nobuhiro Shimatani vs. Koju Takeda (666) & Rising HAYATO (EPW)
(-) Mike Bailey & MAO vs. Koji Kanemoto (FREE) & Mizuki Watase
(-) Akito & Shunma Katsumata vs. Keisuke Okuda & Akira Joe (both FREE)
(-) Great China Alliance vs New Beijing Pro!: Choun Shiryu & Rekka vs. Somato (HARASHIMA) & Yasu Urano
(-) Iino's Return Match: Yuki Iino vs. Konosuke Takeshita (DDT)
(-) Kouki Iwasaki vs. Ryota Nakatsu (BASARA)
(-) Naomi Yoshimura vs. Kota Umeda
---
NOAH NEWS
NOAH's President Masayuki Uchida and Toho Eiyuden's President Simon Inoki announced that they will be forming a business alliance going forward.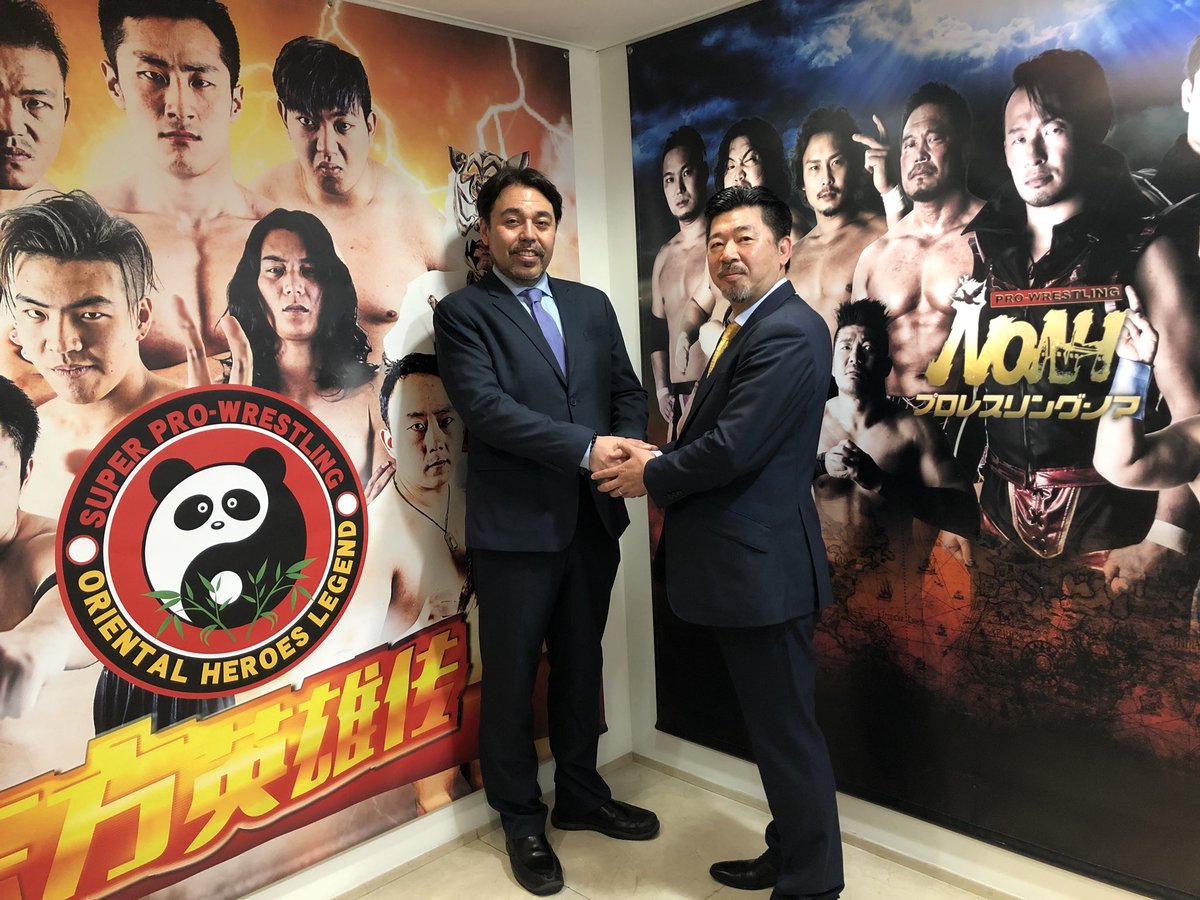 Toho Eiyuden, also known as Oriental Heroes, based out of Shanghai, China, is what formerly used to consist of IGF (Inoki Genome Federation) before they underwent a split from Antonio Inoki last year. As for this alliance though, it started out with Simon allowing his students to go and train in the NOAH dojo. As they needed an open dojo in Tokyo for training their students. Which KENSO, who now competes as freelance in NOAH, was once (or may still be) involved with training the Shanghai wrestlers. Uchida then thought there could be more to this than just training and the two groups have been in talks since March about a true alliance.
The main details of the alliance are as follows. The aim is for the two promotion to work together in the further development of the China market. That development entails discovering new talent in China, teaching, and even PR work. In Japan. Toho Eiyuden will see their wrestlers in joint training with NOAH's wrestlers. Then lastly the two promotions will be working together on several shows. The first being NOAH's upcoming Korakuen Hall show on May 29 in which some of the Toho Eiyuden wrestlers will greet the audience for the first time. Though they will not be competing until the Korakuen Hall show on June 26 and the tour scheduled in July. Then NOAH will be competing for Toho Eiyuden in Shanghai on August 8 & 9th.
http://puroresuspirit.net/tag/noah/
http://puroresuspirit.net/tag/toho-eiyuden/
---
WRESTLE-1 NEWS
~ The latest W-1 TV was released, as it features highlights heading into the Korakuen Hall show on June 13.
~ Then it was announced that Kuroshio will be teaming with Masato Tanaka on the June 13 show, as Seigo Tachibana is currently out with injury.
WRESTLE-1 TOUR 2018 OUTBREAK, 6/13/2018 [Wed] 19:00 @ Korakuen Hall in Tokyo
() Kaz Hayashi, Jun Tonsho & Kotaro Suzuki vs. Andy Wu, Alejandro & El Hijo del Pantera
() Takanori Ito & Ryuji Hijikata vs. MAZADA & FUJITA
() Shuji Kondo & Koji Doi vs. Masayuki Kono & NOSAWA Rongai
() Tsugataka Sato vs. Ganseki Tanaka
() Jiro "Ikemen" Kuroshio & Masato Tanaka (ZERO1) vs. Shotaro Ashino & Kenichiro Arai
() WRESTLE-1 Cruiserweight Championship Match: [11th Champion] Seiki Yoshioka vs. [Challenger] Yusuke Kodama
~ 5th title defense.
() WRESTLE-1 Championship Match: [12th Champion] Manabu Soya vs. [Challenger] Kumaarashi
~ 1st title defense.
http://puroresuspirit.net/tag/w-1/
---
If you enjoy these posts of the site in general, please support us through Patreon by checking out the link below. All patronages, of at least $1 a month, will go to help pay for the server costs to keep the site up and running.
Thanks for helping keep the spirit alive!