Pro-Wrestling FREEDOMS "F☆Spirit! 2018", 5/24/2018 [Thu] 19:00 @ Shinkiba 1stRING in Tokyo
204 Spectators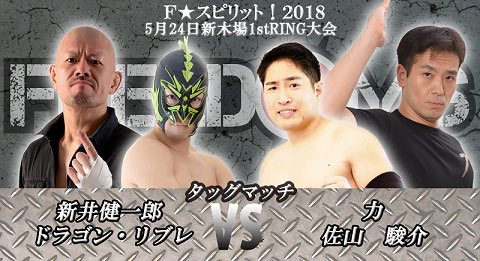 (1) Kenichiro Arai (DG) & Dragon Libre vs. Chikara (Riki Enterprise) & Shunsuke Sayama (ASUKA PRO)
◆Winner: Arai (11:23) with a Small Package on Shunsuke.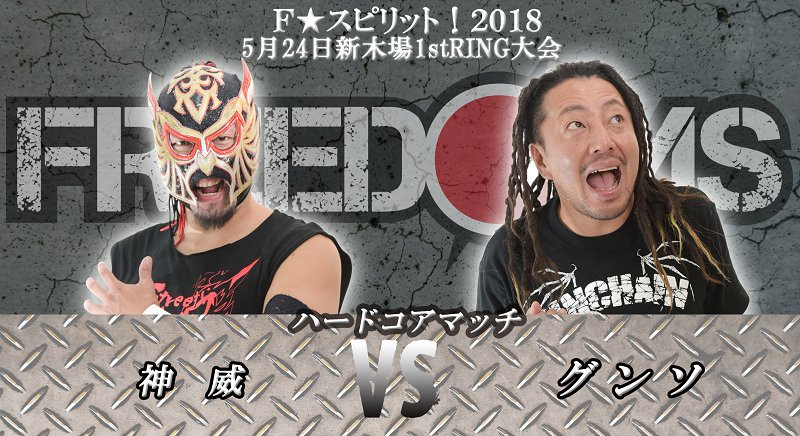 (2) Hardcore Match: Kamui vs. Gunso (DOVE)
◆Winner: Gunso (11:04) with a Jorge Clutch.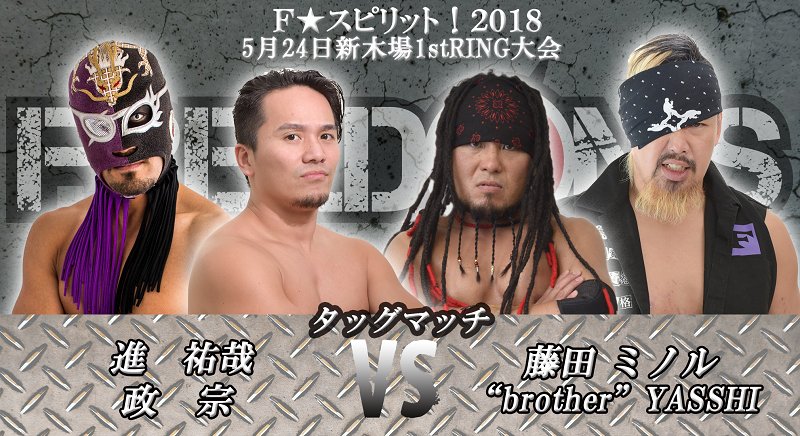 (3) Yuya Susumu & Masamune (FREE) vs. 'brother' YASSHI & Minoru Fujita (both FREE)
◆Winner: Susumu (10:58) with a Calf Lock on YASSHI.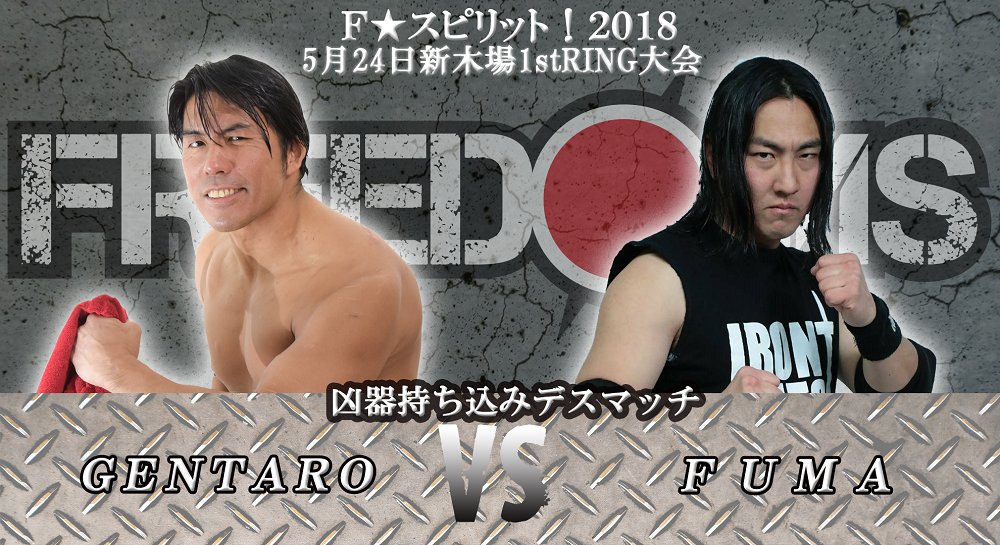 (4) Bring Your Own Weapons Death Match: GENTARO vs. FUMA (BASARA)
◆Winner: GENTARO (13:58) with a Triangle Lock with a barbed-wire bat.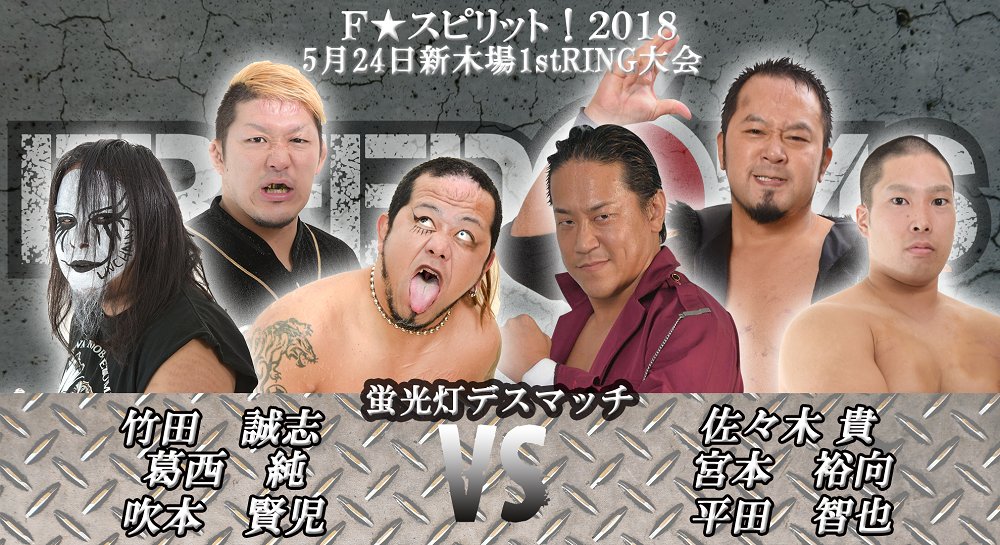 (5) Fluorescent Light-tubes Death Match: Masashi Takeda (FREE), Jun Kasai & Kenji Fukimoto vs. Takashi Sasaki, Yuko Miyamoto (666) & Tomoya Hirata
◆Winner: Takeda (13:20) following the Rokkinpo on Hirata, with a fluorescent light bundle.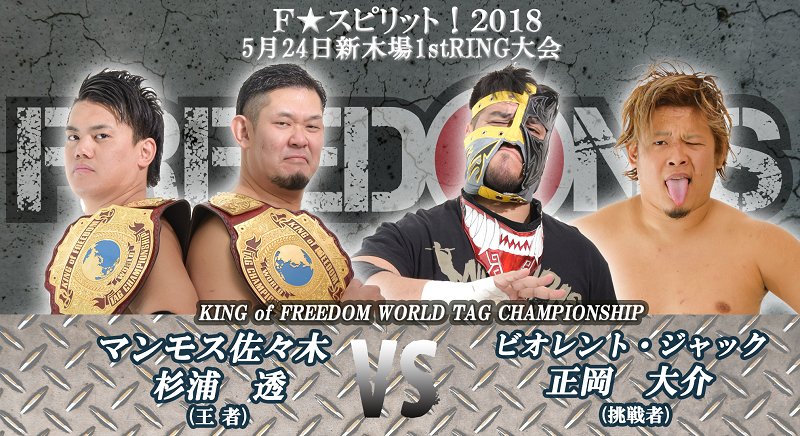 (6) KING of FREEDOM WORLD TAG CHAMPIONSHIP Match: [13th Champions] Mammoth Sasaki & Toru Sugiura vs. [Challengers] Violento Jack & Daisuke Masaoka
◆Winner: Masaoka (22:12) following the Rokkura-Kai on Toru.
~ Champions fall on their 12th title defense. Jack & Masaoka become the 14th champions.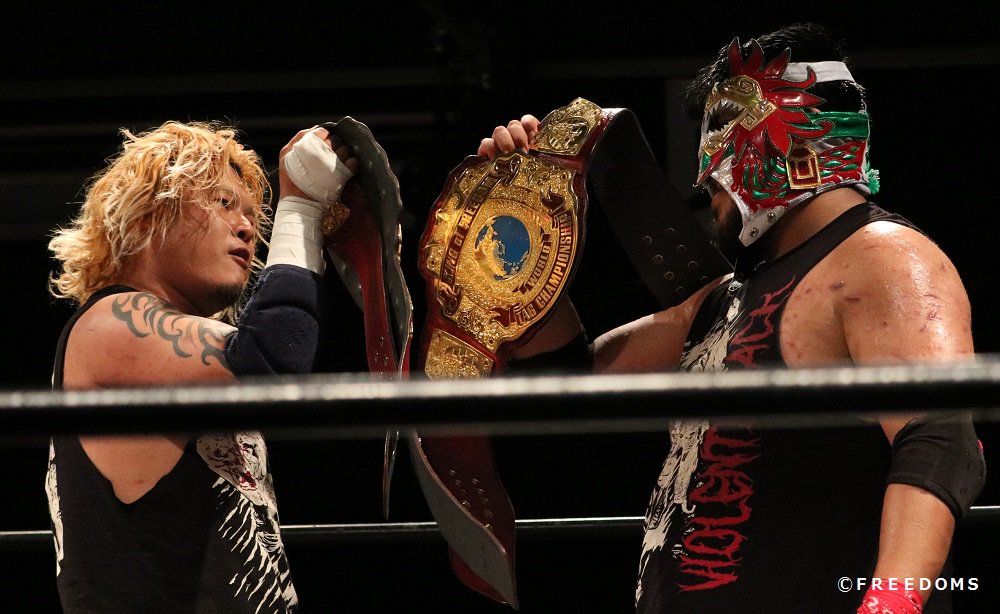 http://puroresuspirit.net/tag/freedoms/
Upcoming…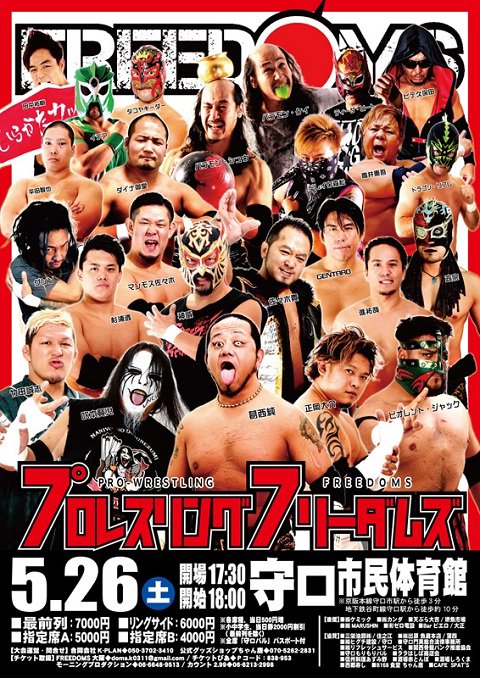 Pro-Wrestling FREEDOMS, 5/26/2018 [Sat] 18:00 @ Moriguchi Shimin Taikukan in Osaka
(0) Exhibition Match: Trainee M vs. Idea
() Toru Sugiura & Dragon Libre vs. Brahman Shu & Kei
() Drake Morimatsu & Kengo Takai vs. Takoyakida & Yuki Tanaka
() GENTARO, Tomoya Hirata & Hide Kubota vs. Yuya Susumu, Masamune & Tida Heat
() Takashi Sasaki vs. Dyna Mido
() Jun Kasai & Gunso vs. Mammoth Sasaki & Kamui
() Death Match: Masashi Takeda & Kenji Fukimoto vs. Daisuke Masaoka & Violento Jack
Pro-Wrestling FREEDOMS, 6/2/2018 [Sat] 16:00 @ Kitakyushu Moji-Aka Renga Place in Fukuoka
() Gamshara Pro Offer: Takashi Sasaki, MIKIHISA & Yoju vs. Toru Sugiura, Tasuku Mihara & Trueno Guerrero
() Yuya Susumu & Rey Paloma vs. Kamui & Dragon Libre
() Chikara vs. Nozomi Kubo
() GENTARO & Tomoya Hirata vs. Kenji Fukimoto & Tessho (Gamshara)
() Mammoth Sasaki & Toru Sugiura vs. Takashi Sasaki & Asosan (Kyushu)
() Masashi Takeda, Jun Kasai & Minoru Fujita, Violento Jack, Daisuke Masaoka & KAZMA SAKAMOTO (FREE)
Pro-Wrestling FREEDOMS, 6/3/2018 [Sun] 11:30 

@

 Hanahata Hiroba in Kumamoto
() Toru Sugiura, Kamui & Ventvert Jack vs. Hide Kubota, Yasu Kubota & Ventvert Negro
() Hibiscus Mii vs. Pork Tamako
() Takashi Sasaki, GENTARO & X vs. Mammoth Sasaki, KAZMA SAKAMOTO & Tomoya Hirata
() 3WAY Match: Jiro "Ikemen" Kuroshio vs. Gabai Jichan vs. Samurai Samirai
() Masashi Takeda, Daisuke Masaoka & Takumi Tsukamoto (BASARA) vs.  Yuya Susumu, Kaz Hayashi (W-1) & Seiki Yoshioka (W-1)
() Yuji Hino (FREE) vs. Chikara
() Death Match: Jun Kasai & Kenji Fukimoto vs. Yuko Miyamoto (666) & Isami Kodaka (BASARA)