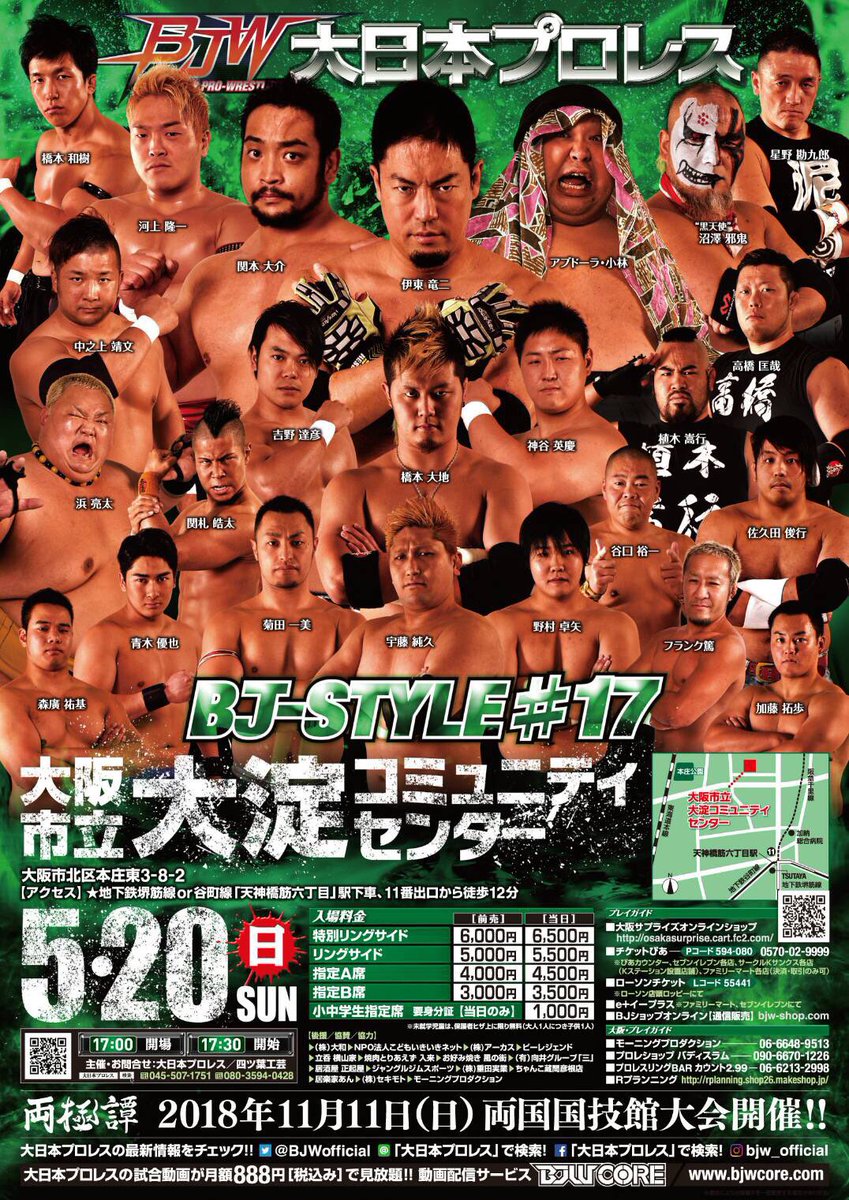 BJW "BJ-STYLE #17", 5/20/2018 [Sun] 17:30 @ Osaka Ichiritsu Oyodo Community Center 
(1) Yuki Morihiro vs. Yuki Ishikawa
◆Winner: Morihiro (5:43) with a Samson Clutch.
(2) Kazuki Hashimoto vs. Takuho Kato
◆Winner: Kazuki (8:54) with an Ankle Hold.
(3) Tatsuhiko Yoshino & Kota Sekifuda vs. Brahman Shu & Brahman Kei
◆Winner: Sekifuda (8:55) with a Leg Roll Clutch on Kei.
(4) Scramble Bunk House Tag Death Match: Abdullah Kobayashi & Kankuro Hoshino vs. Jaki Numazawa & Takumi Tsukamoto (BASARA)
◆Winner: Numazawa (10:57) with a Jumping Frankensteiner on Hoshino.
(5) Daisuke Sekimoto & Ryuichi Kawakami vs. Takuya Nomura & Yuya Aoki
◆Winner: Sekimoto (11:25) with an Argentine Backbreaker on Yuya.
(6) Yokohama Shopping Street 6 Man Tag Championship Match: [12th Champions] Ryota Hama, Yasufumi Nakanoue & Yoshihisa Uto vs. [Challengers] Daichi Hashimoto, Hideyoshi Kamitani & Kazumi Kikuta
◆Winner: Nakanoue (13:14) with a Diving Elbow Drop on Kikuta.
~ 5th successful title defense.
(7) Bring Your Own 6 Man Tag Death Match: Yuko Miyamoto (666), Isami Kodaka (BASARA) & Ryuji Ito vs. Masaya Takahashi, Takayuki Ueki & Toshiyuki Sakuda
◆Winner: Kodaka (10:53) following a Diving Double Knee Drop from off a ladder on Ueki.
http://puroresuspirit.net/tag/bjw/
Upcoming…
BJW "Death Market 44", 5/27/2018 [Sun] 18:00 @ Nagoya Diamond Hall
(1) Yuki Morihiro & Yuki Ishikawa vs. Fuminori Abe & Akira Hyodo
(2) Kazuki Hashimoto & Takuho Kato vs. Tatsuhiko Yosino & Kota Sekifuda
(3) Ryota Hama, Yasufumi Nakanoue & Kazumi Kikuta vs. Daichi Hashimoto, Hideyoshi Kamitani & Yoshihisa Uto
(4) Death Match: Abdullah Kobayashi, Masaya Takahashi & Takayuki Ueki vs. Kankuro Hoshino, Takumi Tsukamoto & Toshiyuki Sakuda
(5) Daisuke Sekimoto & Yuya Aoki vs. Ryuichi Kawakami & Takuya Nomura
(6) Hardcore Tag Match: Masashi Takeda & Yuko Miyamoto vs. Brahman Shu & Brahman Kei
BJW, 5/29/2018 [Tue] 18:30 @ Hiroshima Prefectural Industry Hall
(1) Takuho Kato & Yuki Ishikawa vs. Yuki Morihiro & Akira Hyodo
(2) Kazuki Hashimoto vs. Kankuro Hoshino
(3) Brahman Shu & Brahman Kei vs. Tatsuhiko Yoshino & Kota Sekifuda
(4) Daichi Hashimoto & Hideyoshi Kamitani vs. Takuya Nomura & Yuya Aoki
(5) Ryota Hama, Yasufumi Nakanoue & Yoshihisa Uto vs. Daisuke Sekimoto, Ryuichi Kawakami & Kazumi Kikuta
(6) Fluorescent Light-tube Death Match: Abdullah Kobayashi & Minoru Fujita vs. Masaya Takahashi & Toshiyuki Sakuda
BJW "Pro-Wrestling & Fast Food DROP KICK 4th Anniversary Event", 5/30/2018 [Wed] 18:30 @ Yamaguchi Hirao-machi Taiikukan
(1) Yuki Ishikawa vs. Akira Hyodo
(2) Kazuki Hashimoto, Takuya Nomura & Yuki Morihiro vs. Ryuichi Kawakami, Yuya Aoki & Takuho Kato
(3) Brahman Shu, Brahman Kei & Rey Paloma vs. Tatsuhiko Yoshino, Kota Sekifuda & Kazumi Kikuta
(4) DROP KICK 4th Anniversary Tag Match: Minoru Fujita & NOSAWA Rongai vs. Tsuchiya Crazy & Dragon Warrior w/ Michiko Omukai
(5) Barbed-wire Board Tag Death Match: Abdullah Kobayashi & Kankuro Hoshino vs. Masaya Takahashi & Toshiyuki Sakuda
(6) Ryota Hama, Yasufumi Nakanoue & Yoshihisa Uto vs. Daisuke Sekimoto, Daichi Hashimoto & Hideyoshi Kamitani
BJW, 5/31/2018 [Thu] 18:30 @ Kagoshima Oro City Hall
(1) Kazuki Hashimoto vs. Yuki Ishikawa
(2) Yuya Aoki & Akira Hyodo vs. Toshiyuki Sakuda & Yuki Morihiro
(3) Brahman Shu & Brahman Kei vs. Tatsuhiko Yoshino & Kota Sekifuda
(4) Fluorescent Light-tube Death Match: Minoru Fujita & Kankuro Hoshino vs. Abdullah Kobayashi & Masaya Takahashi
(5) Ryuichi Kawakami & Takuho Kato vs. Kazumi Kikuta & Takuya Nomura
(6) Ryota Hama, Yasufumi Nakanoue & Yoshihisa Uto vs. Daisuke Sekimoto, Daichi Hashimoto & Hideyoshi Kamitani
BJW, 6/1/2018 [Fri] 18:30 @ Kumamoto Mori Toshin Plaza
(1) Takuho Kato & Yuki Ishikawa vs. Yuki Morihiro & Akira Hyodo
(2) Kankuro Hoshino & Kazuki Hashimoto vs. Ryota Hama & Yasufumi Nakanoue
(3) Daisuke Sekimoto & Yuya Aoki vs. Ryota Hama & Yasufumi Nakanoue
(4) Car Parts Bunk House Tag Death Match: Abdullah Kobayashi & Minoru Fujita vs. Brahman Shu & Brahman Kei
(5) Barbed-wire Board Tag Death Match: Masashi Takeda & Jaki Numazawa vs. Masaya Takahashi & Toshiyuki Sakuda
(6) Ryuichi Kawakami, Yoshihisa Uto & Kazumi Kikuta vs. Daichi Hashimoto, Hideyoshi Kamitani & Takuya Nomura
BJW, 6/3/2018 [Sun] 14:00 @ B-con Plaza in Oita
(1) Tatsuhiko Yoshino & Kota Sekifuda vs. Takuho Kato & Akira Hyodo
(2) Matsue Dandan Pro Offer Match: Matsue Deluxe & Great Kakura vs. Mystery Koyamoto & kozzy
(3) Great Kojika & Yuichi Taniguchi vs. Brahman Shu & Brahman Kei
(4) JITOMARU Mask, Kazumi Kikuta & Tsugataka Sato (W-1) vs. Kazuki Hashimoto, Yuya Aoki & Yuki Ishikawa
(5) Daichi Hashimoto & Hideyoshi Kamitani vs. Yoshihisa Uto & Takuya Nomura
(6) Ryota Hama & Yasufumi Nakanoue vs. Daisuke Sekimoto & Ryuichi Kawakami
(7) Fluorescent Light-tube Death Match: Abdullah Kobayashi, Minoru Fujita & Kankuro Hoshino vs. Jaki Numazawa, Masaya Takahashi & Toshiyuki Sakuda
Big Japan Pro-Wrestling & Niigata Pro-Wrestling Joint Show, 6/8/2018 [Fri] 18:30 @ Aore Nagaoka in Niigata
(1) Dai Nippon vs Niigata: Yoshihisa Uto vs. Makoto Maeda
(2) Niigata Pro vs Ice Ribbon: Mai Mizuochi vs. Risa Sera
(3) Fugo Fugo Yumeji, Ricky Fuji & Yuichi Taniguchi vs. Buki, Takuho Kato & Yuki Ishikawa
(4) Abdullah Kobayashi & Yasufumi Nakanoue vs. Debu Gaichu & Takayuki Ueki
(5) Heavy vs Junior 6 Tag Match: Daisuke Sekimoto, Ryota Hama & Ryuichi Kawakami vs. Tatsuhiko Yoshino, Kota Sekifuda & Kazuki Hashimoto
(6) Dai Nippon vs Niigata Pro Special Tag Match: Daichi Hashimoto & Hideyoshi Kamitani vs. Shigeno Shima & Big THE Ryokan
BJW "Osaka Surprise 37", 6/16/2018 [Sat] 17:00 @ Osaka City Miyakojima Kumin Center
(1) Yuya Aoki & Akira Hyodo vs. Takuho Kato & Yuki Ishikawa
(2) Motsugu Shimizu & Kazumi Kikuta vs. Kankuro Hoshino & Yuki Morihiro
(3) MIYAWAKI, Yasu Kubota & Hide Kubota vs. Brahman Shu, Brahman Kei & Yuichi Taniguchi
(4) HUB vs. Toshiyuki Sakuda
(5) Kazuki Hashimoto & Takuya Nomura vs. Tatsuhiko Yoshino & Kota Sekifuda
(6) Daisuke Sekimoto, Yutaka Yoshie, Yoshihisa Uto & Ryuichi Kawakami vs. Ryota Hama, Yasufumi Nakanoue, Daichi Hashimoto & Hideyoshi Kamitani
(7) Death Match: Masashi Takeda, Jaki Numazawa & Kenji Fukimoto vs. Abdullah Kobayashi, Masaya Takahashi & Takayuki Ueki
BJW, 6/20/2018 [Wed] 18:30 @ Korakuen Hall in Tokyo
(-) BJW DeathMatch Heavyweight Championship Match: [Champion] Masashi Takeda vs. [Challenger] Isami Kodaka