AJPW NEWS
~ The full event cards were announced for the June tour of shows in Hokkaido. As it was also announced that Ryoji Sai will be defending the Asia Heavyweight belt against Yoshitatsu on June 19 in Obuhiro.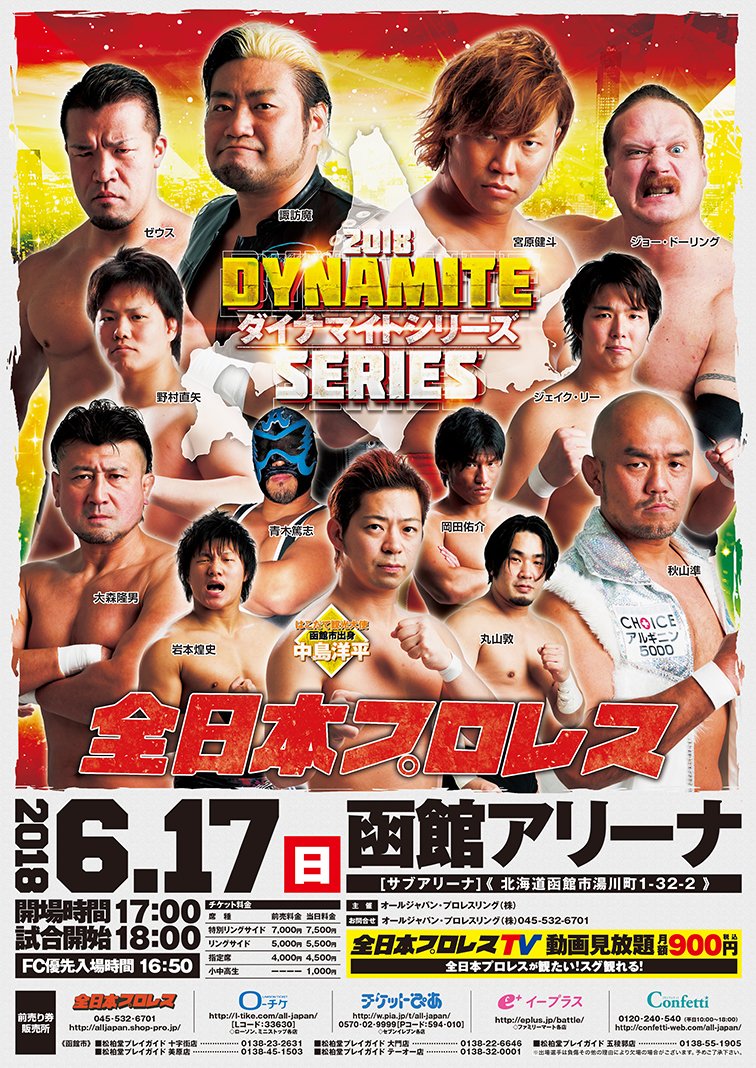 http://puroresuspirit.net/2018/04/ajpw-event-cards-for-may-june-2018/
---
DNA NEWS
~ It was announced that Mike Bailey and MAO will be taking on Koji Kanemoto and Mizuki Watase. Watase and Kanemoto have apposed each other previously, as Watase even calls Kanemoto a rival, but now the two find themselves having to work together.
DNA 45, 6/3/2018 [Sun] 18:00 @ Shinjuku Village Studio in Tokyo
(-) Mike Bailey & MAO vs. Koji Kanemoto (FREE) & Mizuki Watase
(-) Great China Alliance vs New Beijing Pro!: Choun Shiryu & Rekka vs. (to be announced)
(-) Iino's Return Match: Kota Umeda vs. Yuki Iino
(-) Kouki Iwasaki vs. Ryota Nakatsu (BASARA)
(-) Naomi Yoshimura vs. Yuki Ueno
http://puroresuspirit.net/tag/dna
---
HEAT-UP NEWS
~ It was announced as official that the Universal Single and Tag belts will be in defense on June 23 in Kawasaki.
HEAT-UP "Kawasaki Enjou Series", 6/23/2018 [Sat] 18:00 @ Culttz Kawasaki in Kanagawa
(-) HEAT-UP Universal Tag Championship Match: [1st Champions] Kenichiro Arai & Hide Kubota vs. [Challengers] Kazuhiro Tamura & Tatsumi Fujinami
~ 4th title defense.
(-) HEAT-UP Universal Championship Match: [3rd Champion] Daisuke Kanehira vs. [Challenger] Fuminori Abe
~ 1st title defense.
~ Also announced to compete : Kevin Man (Hong Kong), Jeff Man (Hong Kong), Greg Ho (Singapore), Nick (Singapore), Red Eagle (Portugal), Baliyan Akki (India)
http://puroresuspirit.net/tag/heat-up/
---
KEIJI MUTOH UPDATE
Keiji Mutoh stated that he aims to return in May of 2019. The significance being that a new era will begin then as Emperor Akihito is set to abdicate at the end of April 2019. Thus a new era in Japan will begin in May with his successor taking over. He wishes to compete as a new self in the new era.
Mutoh continues to undergo rehabilitation following a double knee replacement over a month and a half ago, but he is currently taking it easy after causing a crack to his right patella during training. The doctors told him it would heal fine as it could benefit him in the long run as the bone should get thicker once healed.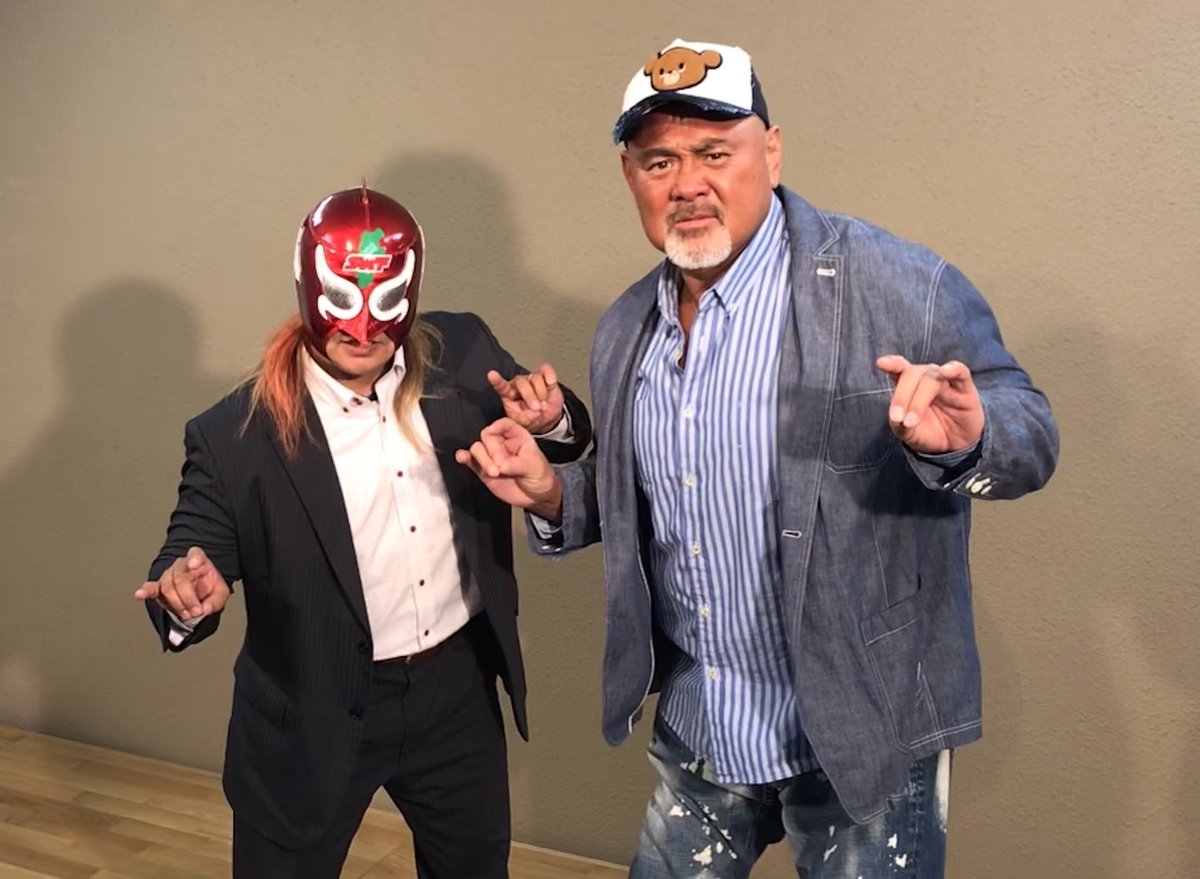 ~ Then he announced that he will be working with Great☆Mucha to help drive interest in local promotions that compete all throughout Japan. Mutoh will serve as a chairperson for the evnts that will run starting in July of this year and run every month until December. Each month a show will be held in a specific region featuring talent from those areas. Then in December a special show is being planned at the Korakuen Hall to feature the best of what Mutoh has personally witnessed throughout the prior months. As well as a special veteran tag match.
PRO-WRESTLING FESTIVAL 2018 BEST OF SUPER LOCAL WRESTLING
~ July : Chubu / Central Region (Nagano)
~ August : Tohoku Region (Fukushima)
~ September : Kansai / China Region (Nara)
~ October : Kyushu Shikoku Region (Nagasaki)
~ November : Kanto Region
---
NJPW NEWS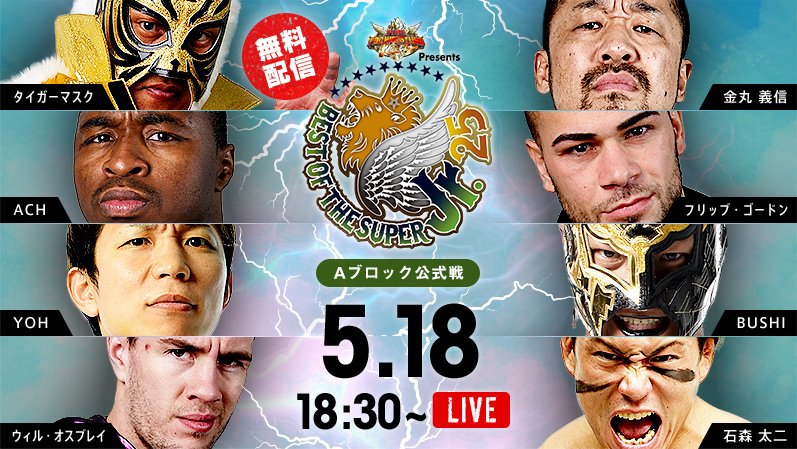 ~ The first day of the "BEST OF THE SUPER Jr. 25" was held today at the Korakuen Hall in Tokyo. Below are the results for the BOSJ matches.
★ Taiji Ishimori (13:47) following the Bloody Cross on Will Ospreay.
★ YOH (15:18) with the Five Star Clutch on BUSHI.
★ ACH (15:26) following the Soul Buster on Flash Gordon.
★ Tiger Mask IV (10:27) over Yoshinobu Kanemaru.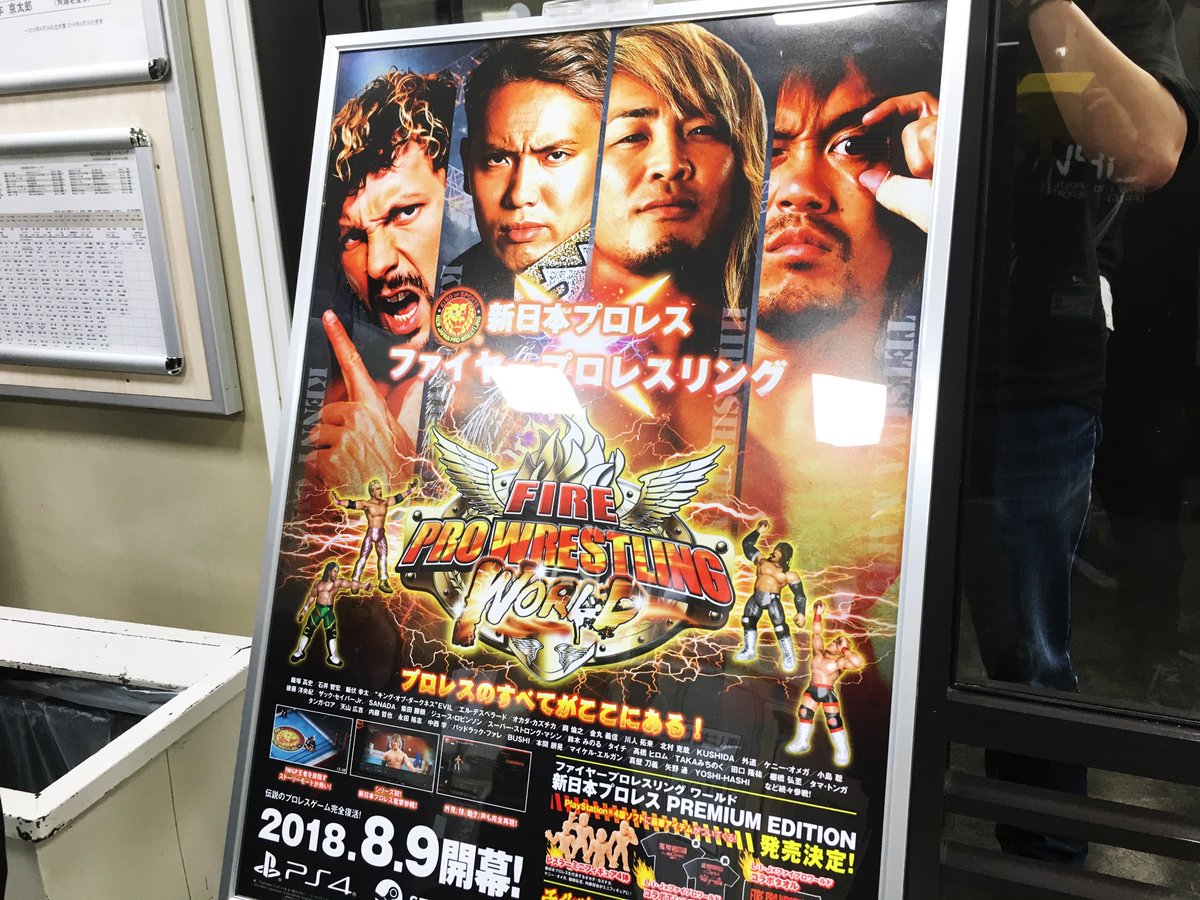 ~ During the show, it was announced that Fire Pro-Wrestling World (PS4/PC) will release on August 9, 2018 at a cost of 5800 yen / $52.50 (6264 yen / $56.50 w/ tax). Then a premium version was also announced.
The PREMIUM EDITION released will include 4 Kinnikuman (ultimate muscle) style figures, a t-shirt and towel in the style of Los Ingobernables de Japón, and an IWGP style coin. This edition will come in at 9800 yen / $88.50 (10,584 yen / 95.65 w/ tax).
~ The full event card was announced for the next LION'S GATE show on June 13 at the Shinjuku FACE.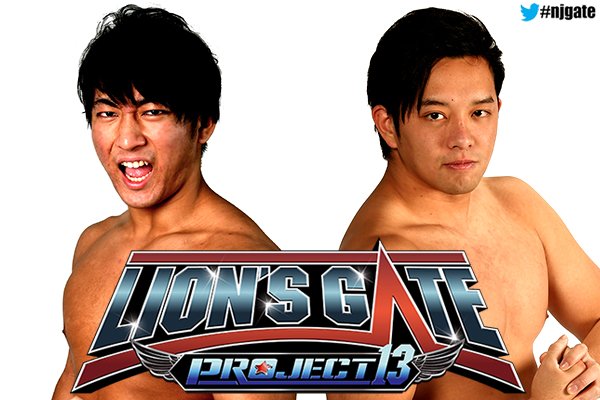 LION'S GATE PROJECT 13, 6/13/2018 [Wed] 19:00 @ Shinjuku FACE in Tokyo
(1) Tsuji Yota vs. Yuya Uemura
(2) Ren Narita vs. Shunsuke Sayama (ASUKA PROJECT)
(3) Hiroyoshi Tenzan & Dinosaur Takuma (K-DOJO) vs. Manabu Nakanishi & Toa Henare
(4) Yuji Nagata vs. Tomoyuki Oka
(5) Shota Umino vs. Ayato Yoshida (K-DOJO)
---
RIKI CHOSHU PRODUCE NEWS
~ Riki Choshu announced the main event and semi-final matches for his next show that is scheduled to take place on July 10 at the Korakuen Hall. The main event will see Riki Choshu, Daisuke Sekimoto and Yoshitatsu versus Jun Akiyama, Daichi Hashimoto and Jiro "Ikemen" Kuroshio. This will mark the first time that ever that Choshu and Akiyama haved faced each other in the pro-wrestling ring. Which lead to Akiyama stating that given the opportunity that he will seek to capture the win over Choshu. The semi-final match will see the team of Tatsumi Fujinami, Naomichi Marufuji and Shotaro Ashino taking on Shingo Takagi, Koji Doi and Kaito Kiyomiya.
Riki Choshu Produce POWER HALL 2018 ~ Battle of another dimension~, 7/10/2018 [Tue] 18:30 @ Korakuen Hall in Tokyo
(-) Semi-final ~ A NEW ENCOUNTER: Tatsumi Fujinami (DRADITION), Naomichi Marufuji (NOAH) & Shotaro Ashino (W-1) vs. Shingo Takagi (DG), Koji Doi (W-1) & Kaito Kiyomiya (NOAH)
(-) Main Event ~ JOIN THE REVOLUTION II: Riki Choshu, Daisuke Sekimoto (BJW) & Yoshitatsu (FREE/AJPW) vs. Jun Akiyama (AJPW), Daichi Hashimoto (BJW) & Jiro "Ikemen" Kuroshio (W-1)
http://puroresuspirit.net/tag/riki-choshu-power-hall
---
VKF NEWS
~ It was announced that TORU will be defending the VKF Championship belt against GENTARO on May 25 at the Shinkiba 1stRING in Tokyo.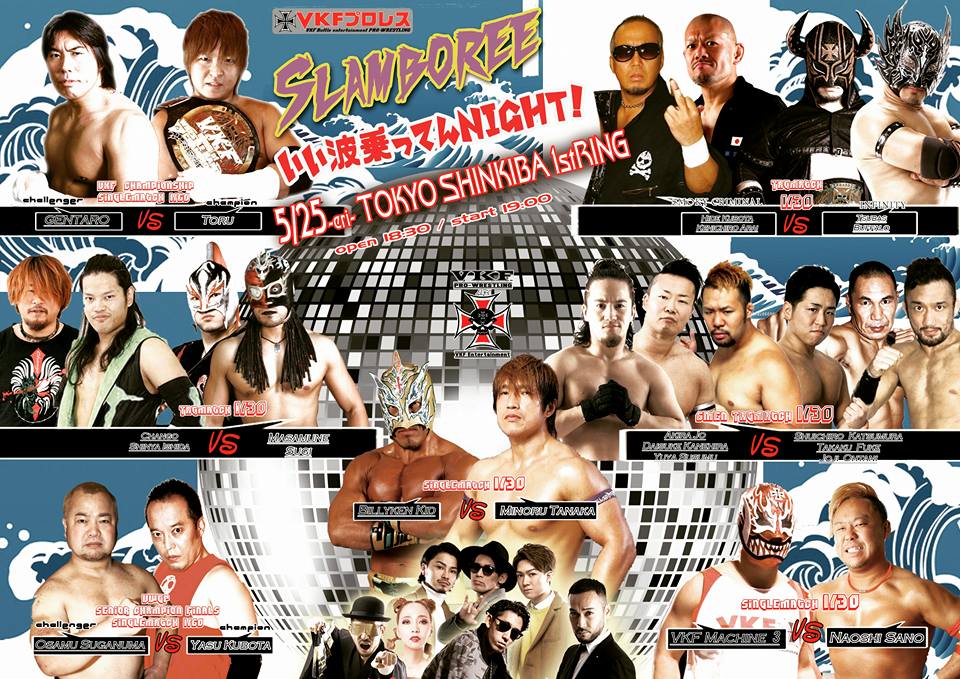 VKF Pro-Wrestling "SLAMBOREE ", 5/25/2018 [Fri] 19:00 @ Shinkiba 1stRING in Tokyo
(1) Naoshi Sano vs. VKF Machine #3
(2) Joji Otani, Takaku Fuke & Shuichiro Katsumura vs. Daisuke Kanehira, Akira Joe & Yuya Susumu
(3) Shinya Ishida & CHANGO vs. SUGI & Masamune
(4) Billyken Kid vs. Minoru Tanaka
(5) VWGP Senior Championship Match: [Champion] Yasu Kubota vs. [Challenger] Osamu Suganuma
(6) Hide Kubota & Kenichiro Arai vs Buffalo & Tsubasa
(7) VKF Championship Match: [9th Champion] TORU vs. [Challenger] GENTARO
~ 3rd title defense.
http://puroresuspirit.net/tag/vkf/
---
WRESTLE-1 NEWS
~ The latest W-1 TV's feature the highlights from the 5/6 show at the Korakuen Hall.
~ It was announced that Seigo Tachibana suffered a right forearm fracture and will miss the upcoming show on May 27.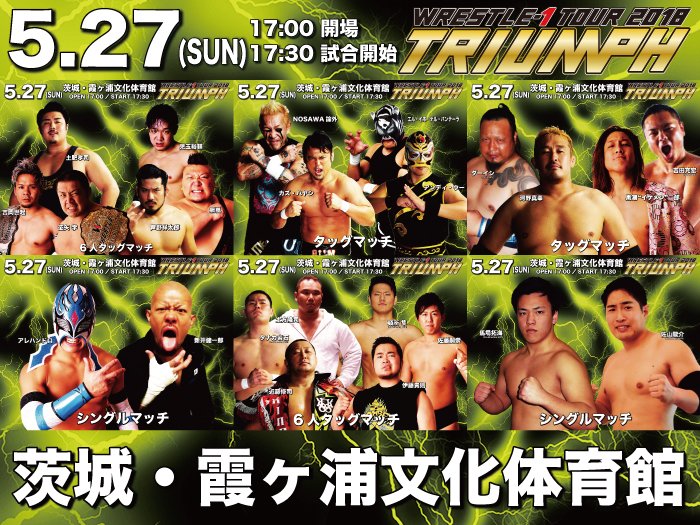 WRESTLE-1 TOUR 2018 TRIUMPH, 5/27/2018 [Sun] 17:30 @ Kasumigaura Bunka Taiikukan
(1) Takumi Baba vs. Shunsuke Sayama (ASUKA PRO)
(2) Shuji Kondo, Ganseki Tanaka & Ryuuji Hijikata vs. Takanori Ito, Tsugataka Sato & Jun Tonsho
(3) Alejandro vs. Kenichiro Arai (DG)
(4) Masayuki Kono & Daishi (GJP) vs. Jiro "Ikemen" Kuroshio & Mitsuhiro Yoshida (GJP)
(5) Kaz Hayashi & NOSAWA Rongai vs. Andy Wu & El Hijo del Pantera
(6) Manabu Soya, Seiki Yoshioka & Koji Doi vs. Shotaro Ashino, Yusuke Kodama & Kumaarashi
http://puroresuspirit.net/tag/w-1/
---
If you enjoy these posts of the site in general, please support us through Patreon by checking out the link below. All patronages, of at least $1 a month, will go to help pay for the server costs to keep the site up and running.
Thanks for helping keep the spirit alive!