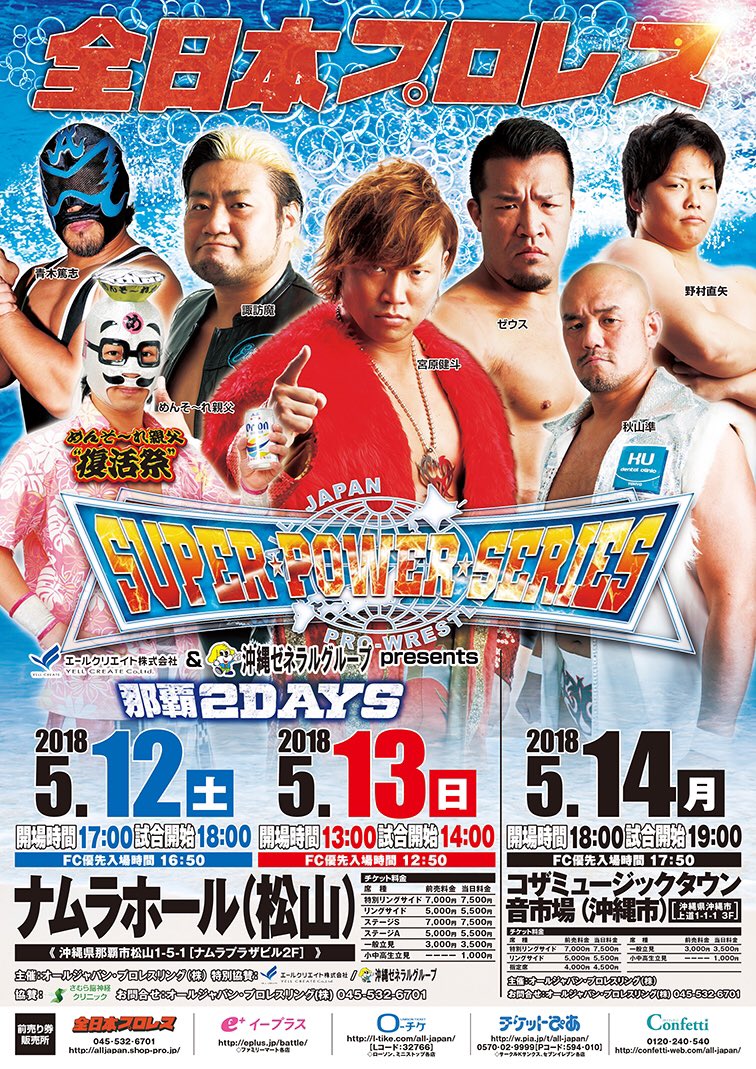 All Japan Pro-Wrestling "2018 SUPER POWER SERIES ~ AJPW Naha 2DAYS", 5/13/2018 [Sun] 14:00 @ Naha City Namura Hall in Okinawa
485 Spectators (crowded)
(1) Mushuku no 'Sekiko' vs. Gurukun Mask (Ryukyu Dragon)
◆Winner: Gurukun (8:21) with a Leg Roll Clutch.
(2) Takao Omori & Koji Iwamoto vs. Osamu Nishimura & Keiichi Sato (both FREE)
◆Winner: Omori (9:55) following an Axe Bomber on Keiichi.
(3) Zeus & The Bodyguard (FREE) vs. Touyu & Senshin (New Taiwan)
◆Winner: Zeus (13:23) with a Jackhammer on Senshin.
(4) Atsushi Maruyama & TAJIRI (FREE) vs. Dylan James & Hejor Kidman (Ryukyu Dragon)
◆Winner: James (9:48) following a Chokeslam on Maruyama.
~ James may have gotten the win, but TAJIRI still landed a green mist and further provoked the World Tag Champion.
(5) GAORA TV Championship Match: [15th Champion] Jun Akiyama vs. [Challenger] Menso~re Oyaji
◆Winner: Akiyama (577 seconds) following a Wrist Clutch style Exploder.
~ 8th successful title defense.
~ The match took place under a special 580 second match, if there was a draw the challenger would become the new champion.
~ Akiyama will now move on to defend the belt against Survival Tobita on May 19.
(6) Kento Miyahara, Yoshitatsu, Naoya Nomura & Dingo (Ryukyu Dragon) vs. Suwama, Shuji Ishikawa (FREE), Atsushi Aoki & Hikaru Sato
◆Winner: Miyahara (21:15) with a German Suplex Hold on Hikaru.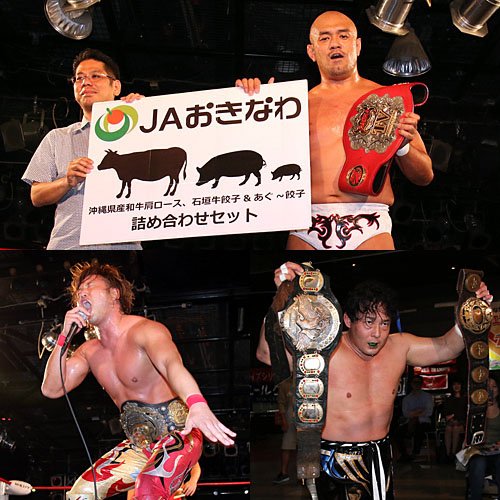 http://puroresuspirit.net/2018/04/ajpw-event-cards-for-may-june-2018/