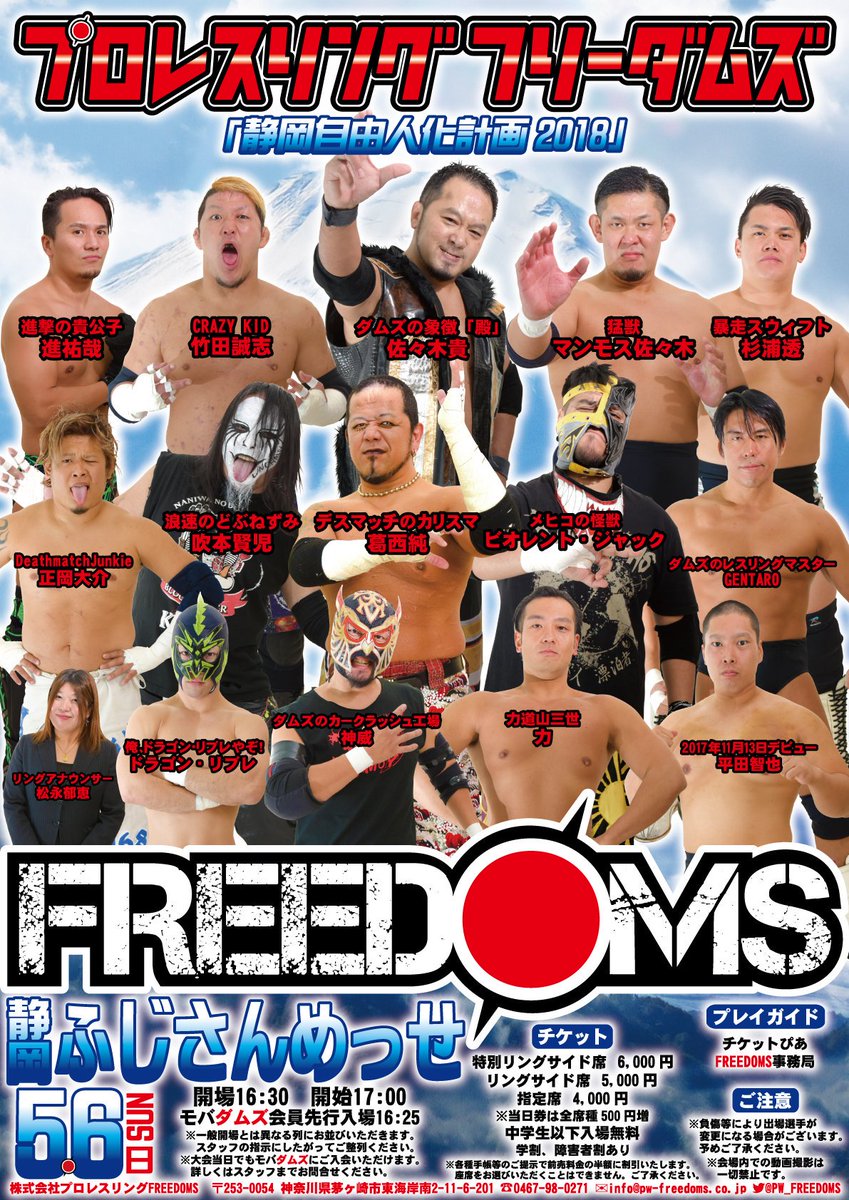 Pro-Wrestling FREEDOMS, 5/6/2018 [Sun] 17:00 @ Fuji-san Messe in Shizuoka
(1) Dragon Libre vs. Keisuke Goto (WAVE)
◆Winner: Libre (7:35) with a La Magistral.
(2) WAVE Offer Match: Rina Yamashita vs. Hiroe Nagahama
◆Winner: Yamashita (10:11) following a Lariat.
(3) Toru Sugiura vs. Chikara (Riki Enterprise)
◆Winner: Toru (9:02) with the Raging Tornado.
(4) Masashi Takeda (FREE) & Kenji Fukimoto vs. Yuya Susumu & Shuichiro Katsumura (Yokohama Grand Slam)
◆Winner: Takeda (12:50) following the Reverse U-Crash on Yuya.
(5) Mammoth Sasaki & Kamui vs. GENTARO & Tomoya Hirata
◆Winner: Mammoth (15:09) followng a Release German Suplex on GENTARO.
(6) Fluorescent Light-tubes + Barbed-wire Board & Sawtooth Ladder Tag Death Match: Violento Jack & Daisuke Masaoka vs. Jun Kasai & Takashi Sasaki
◆Winner: Jack (14:58) following a Package Piledriver on Takashi, onto a bundle of fluorescent light.
~ The full event card was announced for the May 20 show in Osaka.
http://puroresuspirit.net/tag/freedoms/
Upcoming…
FREEDOMS, 5/20/2018 [Sun] 17:30 @ Miyagino Ward Bunka Center in Sendai
() Tsuyoshi Kikuchi vs. Chikara
() Dragon Libre vs. Koju Takeda (666)
() Kamui vs. Tomoya Hirata
() Yuya Susumu & Masamune (FREE) vs. GENTARO & Kenichiro Arai (DG)
() Takashi Sasaki & Aizawa #1 vs. Kenji Fukimoto & Minoru Fujita (Gurentai)
() 3WAY Tag Match: Mammoth Sasaki & Toru Sugiura vs. Jun Kasai & Masashi Takeda vs. Violento Jack & Daisuke Masaoka