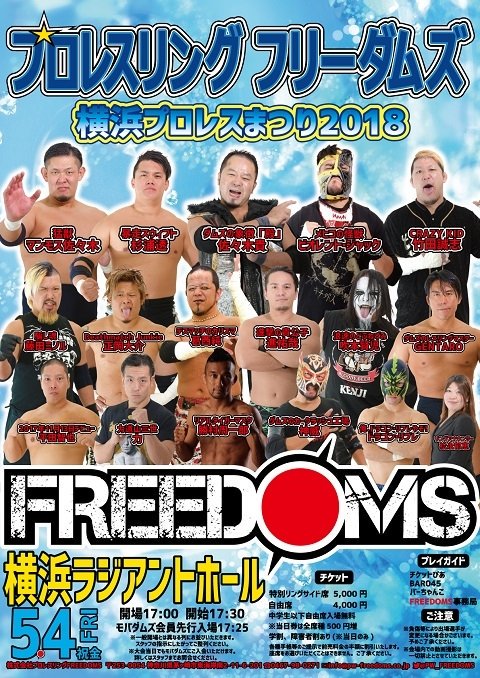 Pro-Wrestling FREEDOMS, 5/4/2018 [Fri] 17:30 @ Yokohama Radiant Hall in Kanagawa
(0) Takashi Sasaki vs. Trainee M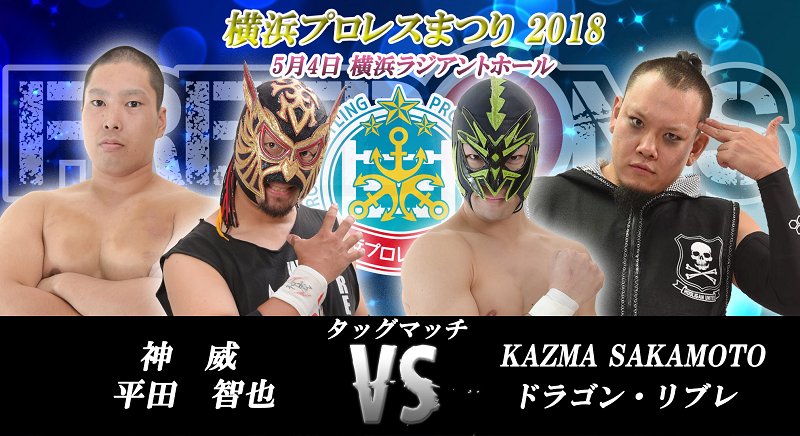 (1) Kamui & Tomoya Hirata vs. KAZMA SAKAMOTO (FREE) & Dragon Libre
◆Winner: Libre (10:23) with the Messiah on Hirata.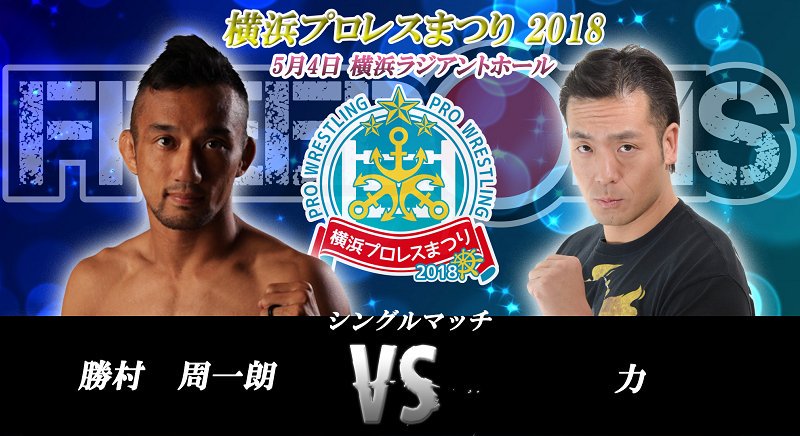 (2) Shuichiro Katsumura vs. Chikara (Riki Enterprise)
◆Winner: Katsumura (7:43) with a Cross Armbar.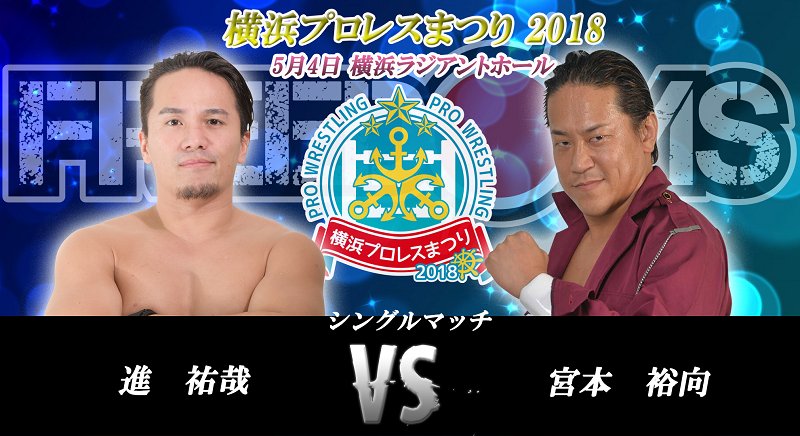 (3) Yuya Susumu vs. Yuko Miyamoto (666)
◆Winner: Miyamoto (9:45) with a Gedo Clutch.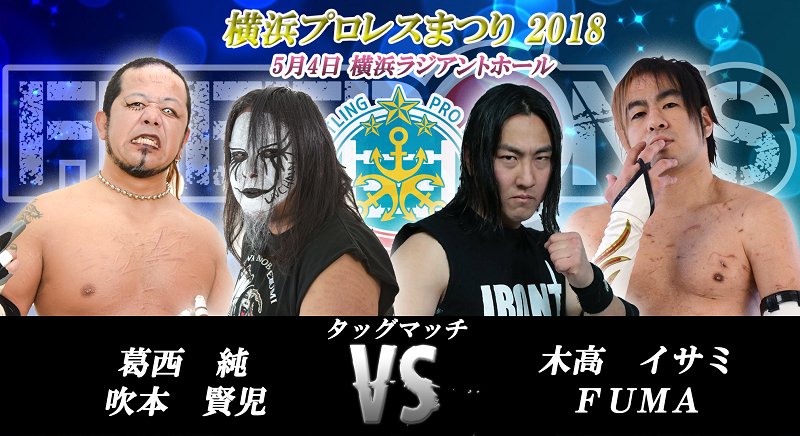 (4) Jun Kasai & Kenji Fukimoto vs. Isami Kodaka & FUMA (both BASARA)
◆Winner: Kasai (10:34) via foul, FUMA assaulted the referee.
~ FUMA finally snapped after being called nothing more then a green boy by Kasai. As he became uncontrollable and took it out on the referee who was trying to get him off of ground and pound on Kasai.
~ Kodaka had to restrain FUMA who wanted to keep attacking Kasai even after the referee's ruling.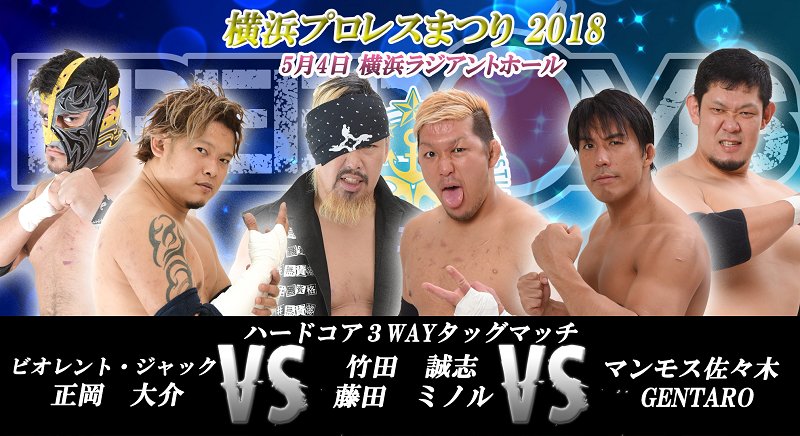 (5) Hardcore 3WAY Tag Match: Violento Jack & Daisuke Masaoka vs. Masashi Takeda & Minoru Fujita vs. Mammoth Sasaki & GENTARO
◆Winner: Jack (9:39) following a Package Piledriver on GENTARO, onto a ladder and chair.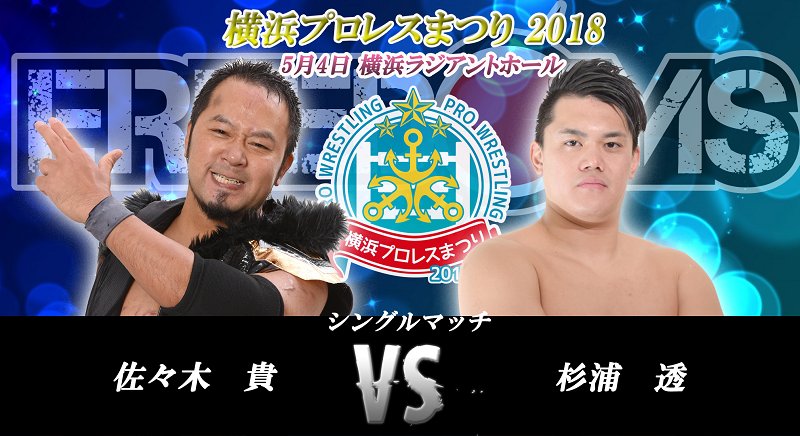 (6) Takashi Sasaki vs. Toru Sugiura
◆Winner: Takashi (25:09) following a Modified D-Geist.
http://puroresuspirit.net/tag/freedoms/
Upcoming…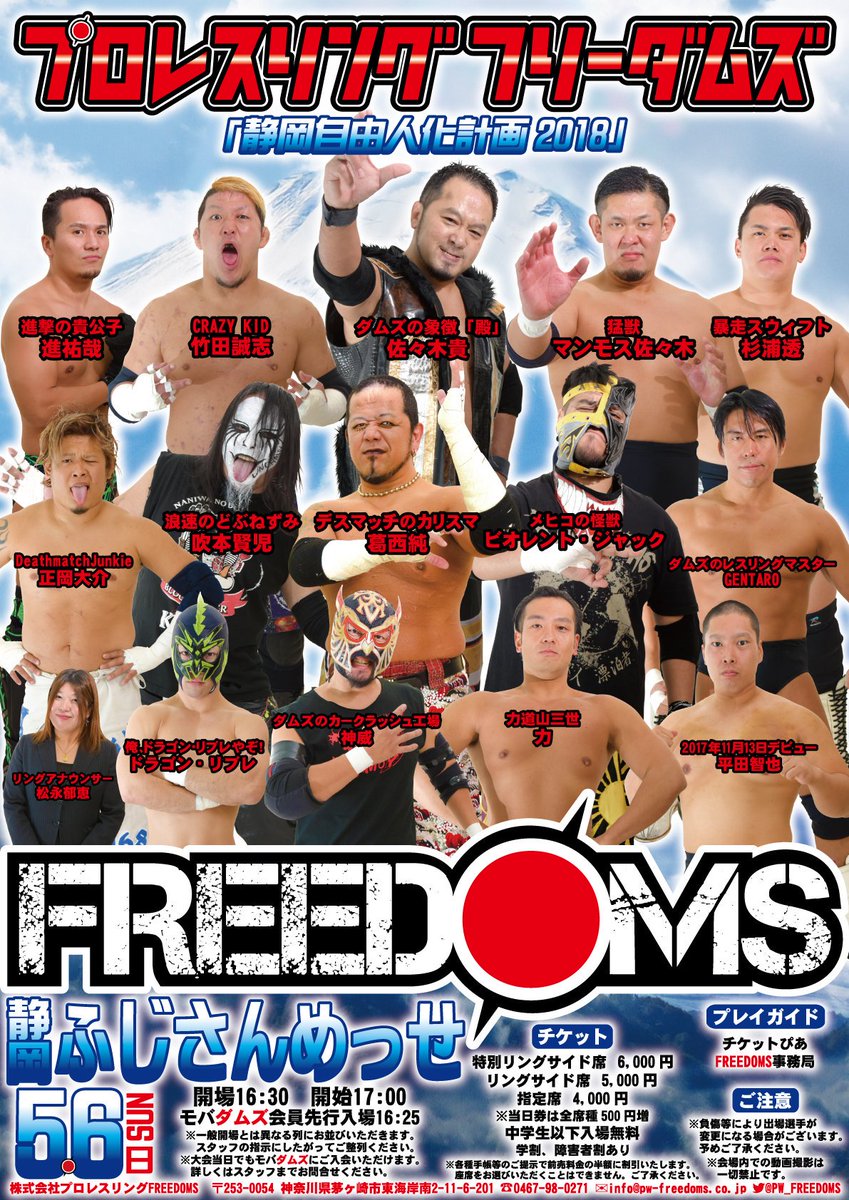 Pro-Wrestling FREEDOMS, 5/6/2018 [Sun] 17:00 @ Fuji-san Messe in Shizuoka
() Dragon Libre vs. Keisuke Goto (WAVE)
() WAVE Offer Match: Rina Yamashita vs. Hiroe Nagahama
() Toru Sugiura vs. Chikara
() Masashi Takeda & Kenji Fukimoto vs. Yuya Susumu & Shuichiro Katsumura
() Mammoth Sasaki & Kamui vs. GENTARO & Tomoya Hirata
() Fluorescent Light-tubes + Barbed-wire Board & Sawtooth Ladder Tag Death Match: Violento Jack & Daisuke Masaoka vs. Jun Kasai & Takashi Sasaki