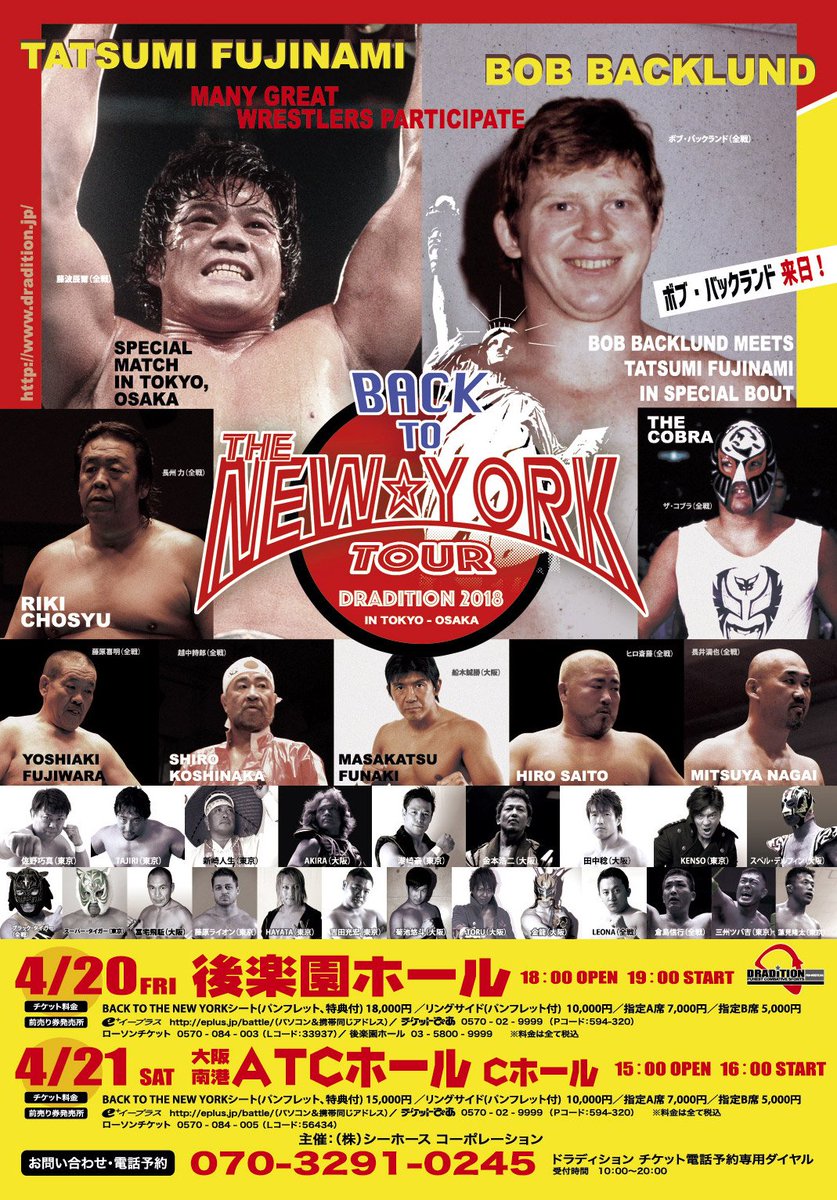 DRADITION 2018 – BACK TO THE NEW YORK TOUR IN TOKYO, 4/21/2018 [Sat] 16:00 @ Osaka Nanko ATC Hall, C Hall
2,473 Spectators
(1) TORU (Doutonbori) vs. Kinryu (Doutonbori)
◆Winner: TORU (9:00) following a D-Geist.
(2) Nobuyuki Kurashima vs. Takaku Fuke (Pancrase MISSION)
◆Winner: Fuke (7:43) with a Dojime Sleeper Hold.
(3) LEONA vs. Yuto Kikuchi (Doutonbori)
◆Winner: LEONA (8:15) with a Figure Four Leg Lock.
(4) Koji Kanemoto & Minoru Tanaka (both FREE) vs. Super Delfin (SeaFood) & Black Tiger (FREE)
◆Winner: Kanemoto (12:48) with a Moonsault Press on Black Tiger.
(5) Mitsuya Nagai & AKIRA (Makai) vs. Shiro Koshinaka & The Cobra (both FREE)
◆Winner: Cobra (11:55) via foul, Nagai removed his mask.
(6) Tatsumi Fujinami, Riki Choshu & Masakatsu Funaki (FREE) vs. Bob Backlund, Yoshiaki Fujiwara (Fujiwara-gumi) & Hiro Saito (FREE)
◆Winner: Fujinami (13:40) with a Dragon Sleeper on Saito.
~ After the match, Akira Maeda came out to greet his friends.