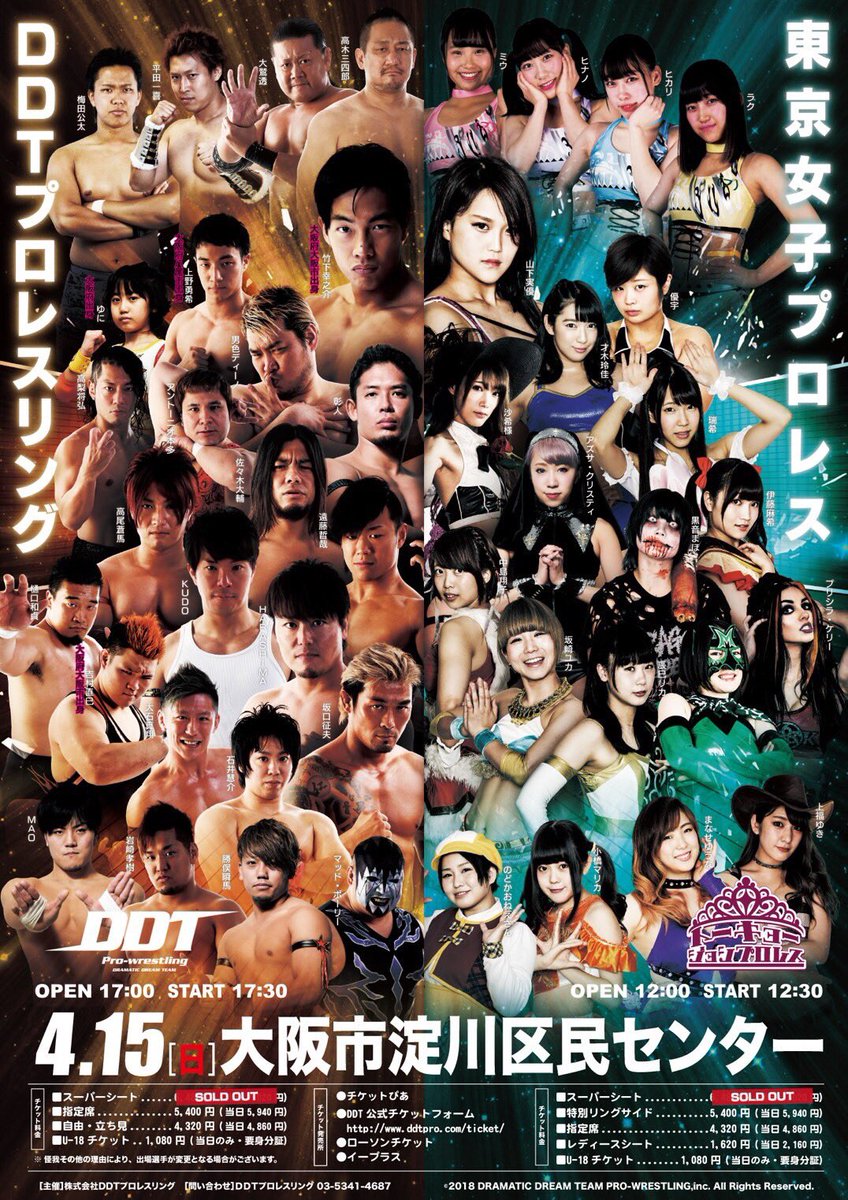 DDT "DDT Music! 2018", 4/15/2018 [Sun] 17:30 @ Yodogawa Citizen Center in Osaka
360 Spectators (crowded)
(1) Toru Owashi, Kazuki Hirata, Antonio Honda & Masahiro Takanashi vs. Akito, Shunma Katsumata, Saki Akai & Yuni
◆Winner: Hirata (9:18) with a Small Package Hold on Yuni.
(2) Kazusada Higuchi & Keisuke Ishii vs. Soma Takao & Daiki Shimomura
◆Winner: Keisuke (9:53) with a Single Leg Crab on Shimomura.
(3) Naniwa Two Big Single Match: Naomi Yoshimura vs. Mizuki Watase
◆Winner: Yoshimura (10:37) following a Release Powerbomb.
(4) Danshoku Dieno & Makoto Oishi vs. Tetsuya Endo & Nobuhiro Shimatani
◆Winner: Oishi (12:05) with the Jikiden Tornado Clutch on Shimatani.
(5) Naniwa Two Big Single Match: HARASHIMA vs. Mad Paulie
◆Winner: HARASHIMA (7:08) following the Somato.
(6) Osaka Special 4WAY Match: Konosuke Takeshita vs. Shigehiro Irie vs. KUDO vs. Daisuke Sasaki
◆Winner: Irie (12:57) following the Beast Bomber on Daisuke.
(7) KO-D 6 Tag Championship Match: [Champions] Kota Umeda, Yuki Ueno & Koju Takeda vs. [Challengers] Kouki Iwasaki, Mike Bailey & MAO
◆Winner: Ueno (19:34) with a Frog Splash on Bailey.
~ 1st successful title defense.
Upcoming…
http://puroresuspirit.net/tag/ddt/
DDT "MAX BUMP 2018", 4/29/2018 [Sun] 12:00 @ Korakuen Hall in Tokyo
(-) Cherry DDT Last Match: Cherry, Françoise ☆ Takagi & Makoto Oishi vs. Danshoku Dieno, KUDO & Masahiro Takanashi
(-) DDT EXTREME Championship Match: [40th Champion] Yuko Miyamoto (666) vs. [Challenger] HARASHIMA
~ 3rd title defense.
(-) KO-D Openweight Championship Match: [61st Champion] Konosuke Takeshita vs. [Challenger] Shigehiro Irie
~ 12th title defense.
DDT "DDT LIVE!", 5/1/2018 [Sat] 19:00 @ Shinkiba 1stRING in Tokyo
(-) Kendo Kashin vs. Gota Ihashi
(-) KO-D Tag Championship Match: [Champions] Daisuke Sekimoto & Kazusada Higuchi vs. [Challengers] (tba)