FREEDOMS "GW no Shuyaku wa Oeda! 2018", 4/12/2018 [Thu] 19:00 @ Shinkiba 1stRING in Tokyo
281 Spectators
(0) Hayatada Miki vs. Chikara
◆Winner: No Winner (7:00)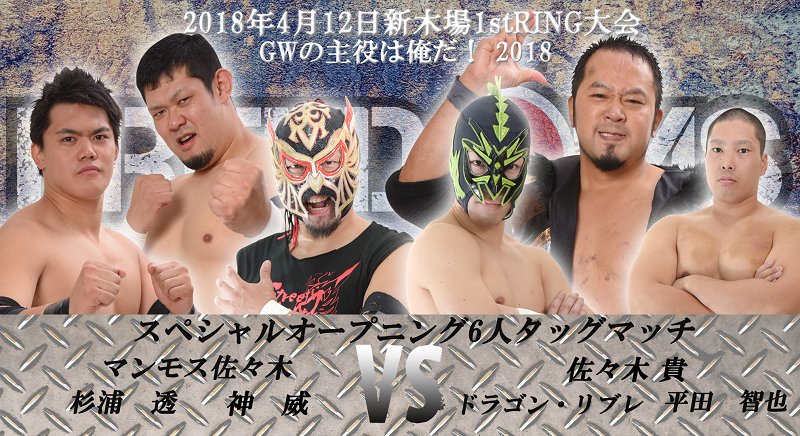 (1) Special Opening 6 Man Tag Match: Mammoth Sasaki, Toru Sugiura & Kamui vs. Takashi Sasaki, Dragon Libre & Tomoya Hirata
◆Winner: Takashi (8:48) with a Shonan Gorudo Clutch on Toru.
~ Takashi put forth the challenge for of the KoF Tag belts on the Korakuen Hall show on May 2, as Toru accepted.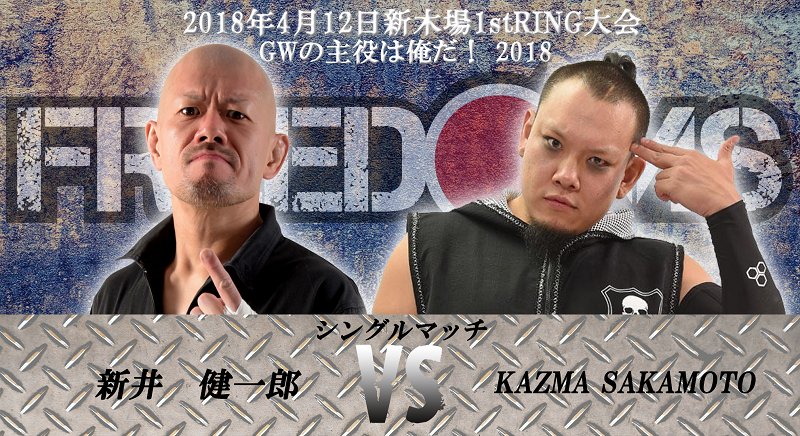 (2) Kenichiro Arai (DG) vs. KAZMA SAKAMOTO (FREE)
◆Winner: Arai (5:55) with a School Boy.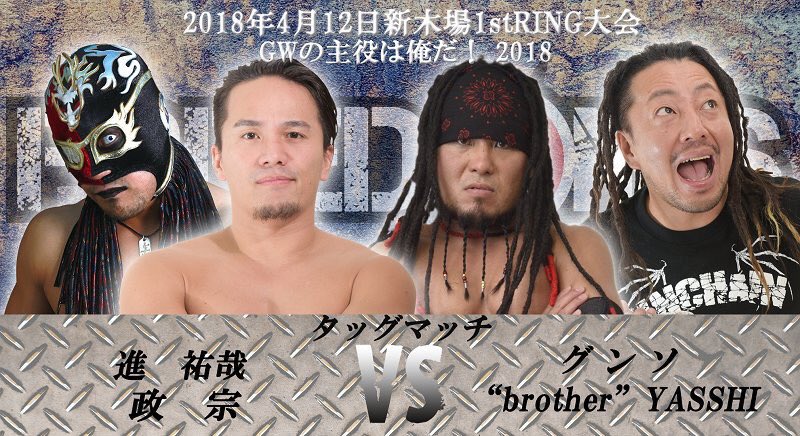 (3) Yuya Susumu & Masamune (FREE) vs. Gunso (DOVE) & 'brother' YASSHI (FREE)
◆Winner: Susumu (9:24) via foul, YASSHI with a chair.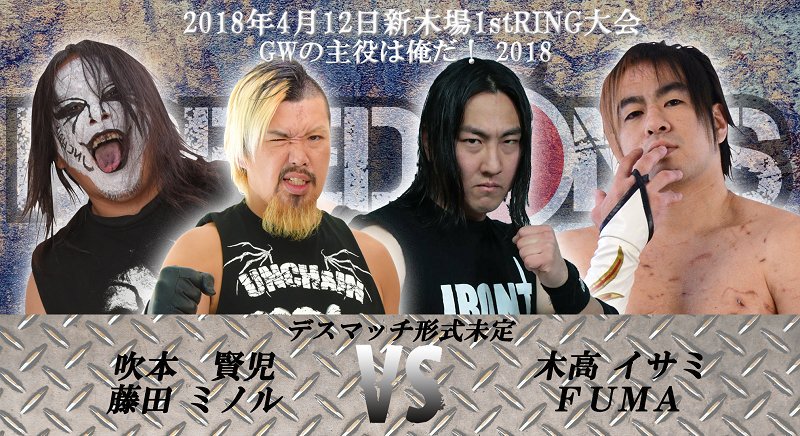 (4) Barbed-wire Board & Gadget Board Tag Death Match: Kenji Fukimoto & Minoru Fujita (FREE) vs. Isami Kodaka & FUMA (both BASARA)
◆Winner: Fukimoto (11:12) following a Package Piledriver on FUMA.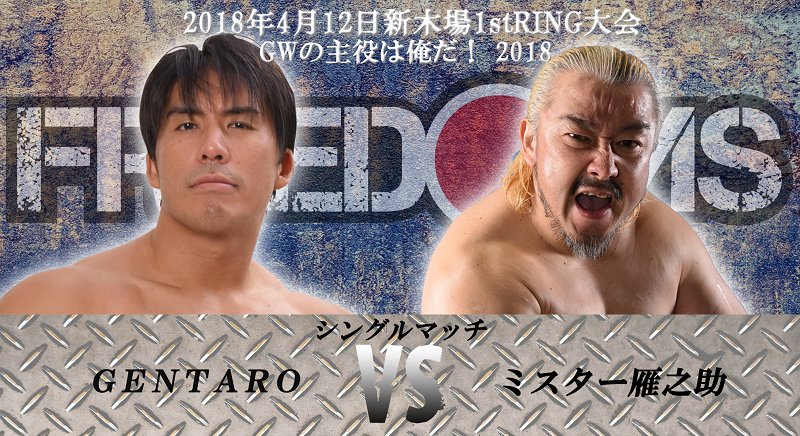 (5) GENTARO vs. Mr. Gannosuke (GUTS)
◆Winner: GENTARO (22:28) with the Ashikiwame Kubigatame.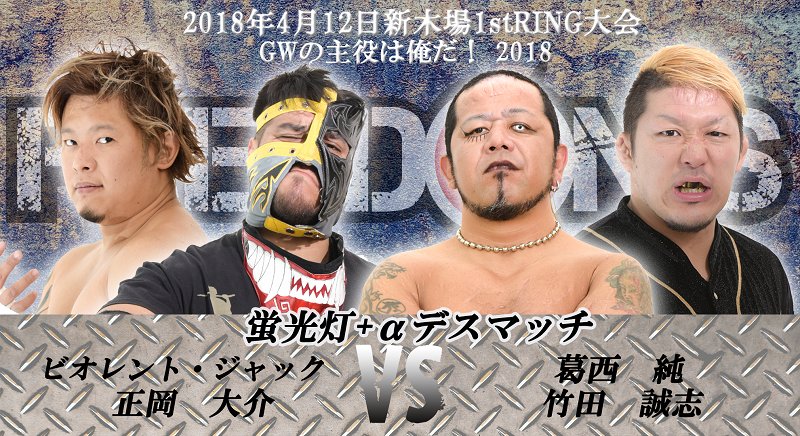 (6) Fluorescent Light-tubes + Alpha Death Match: Violento Jack & Daisuke Masaoka vs. Jun Kasai & Masashi Takeda (FREE)
◆Winner: Masaoka (17:14) with a La Magistral on Kasai.
~ Following the loss, Kasai called out for a singles match against Masaoka.
http://puroresuspirit.net/tag/freedoms/
Upcoming…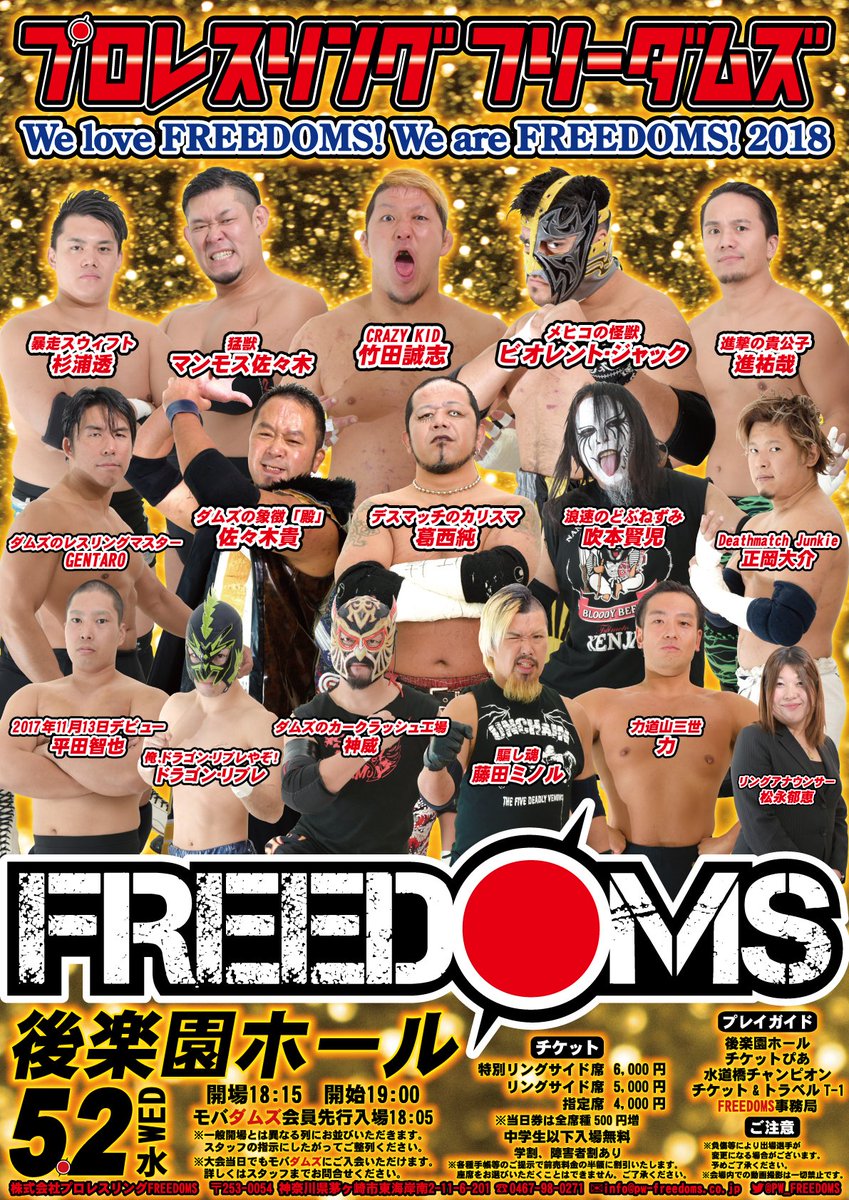 FREEDOMS "We love FREEDOMS! We are FREEDOMS! 2018", 5/2/2018 [Wed] 19:00 @ Korakuen Hall in Tokyo
(0) Exhibition Match: Hayatada Miki vs. Trainee K
() Opening Special Brass Knuckle Street Fight Match: GENTARO vs. Gunso
() Chikara, Tomoya Hirata & Dragon Libre vs. Mitsuo Momota, KAZMA SAKAMOTO & Masamune
() Hardcore Match: Kamui vs. Minoru Fujita
(-) UWA World Junior Heavyweight Championship Match: [31st Champion] Yuya Susumu vs. [Challenger] 'brother' YASSHI
~ 6th title defense.
(-) KING of FREEDOM WORLD TAG CHAMPIONSHIP Match: [13th Champions] Mammoth Sasaki & Toru Sugiura vs. [Challengers] Takashi Sasaki & Gurukun Mask
~ 11th title defense.
(-) KING of FREEDOM WORLD CHAMPIONSHIP Death Match: [9th Champion] Violento Jack vs. [Challenger] Masashi Takeda
~ 3rd title defense.