K-DOJO "CLUB-K 3000", 4/8/2018 [Sun] 13:00 @ Blue Field in Chiba
(1) TAKA Michinoku & Rising HAYATO (EPW) vs. Yoshihiro Horaguchi & Shinichiro Wakita (BRAVES)
◆Winner: TAKA (12:31) with the Just Face Lock on Wakita.
(2) Daigoro Kashiwa & Shiori Asahi vs. Ayumu Honda & Kyu Mogami
◆Winner: Asahi (13:28) via pin-fall on Mogami.
(3) Tank Nagai vs. Ayame Sasamura
◆Winner: Tank (8:45) following a Spear Tackle.
(4) Ayato Yoshida vs. Kelly Sixx
◆Winner: Yoshida (10:31) with a Chicken Wing Face Lock.
(5) Taishi Takizawa, Kaji Tomato, GO Asakawa & Marines Mask vs. Yuma, Dinosaur Takuma & Chojin Yusha G Valion (BRAVES)
◆Winner: Kaji (19:04) with the Red Eye on Yuma.
http://puroresuspirit.net/tag/k-dojo/
Upcoming…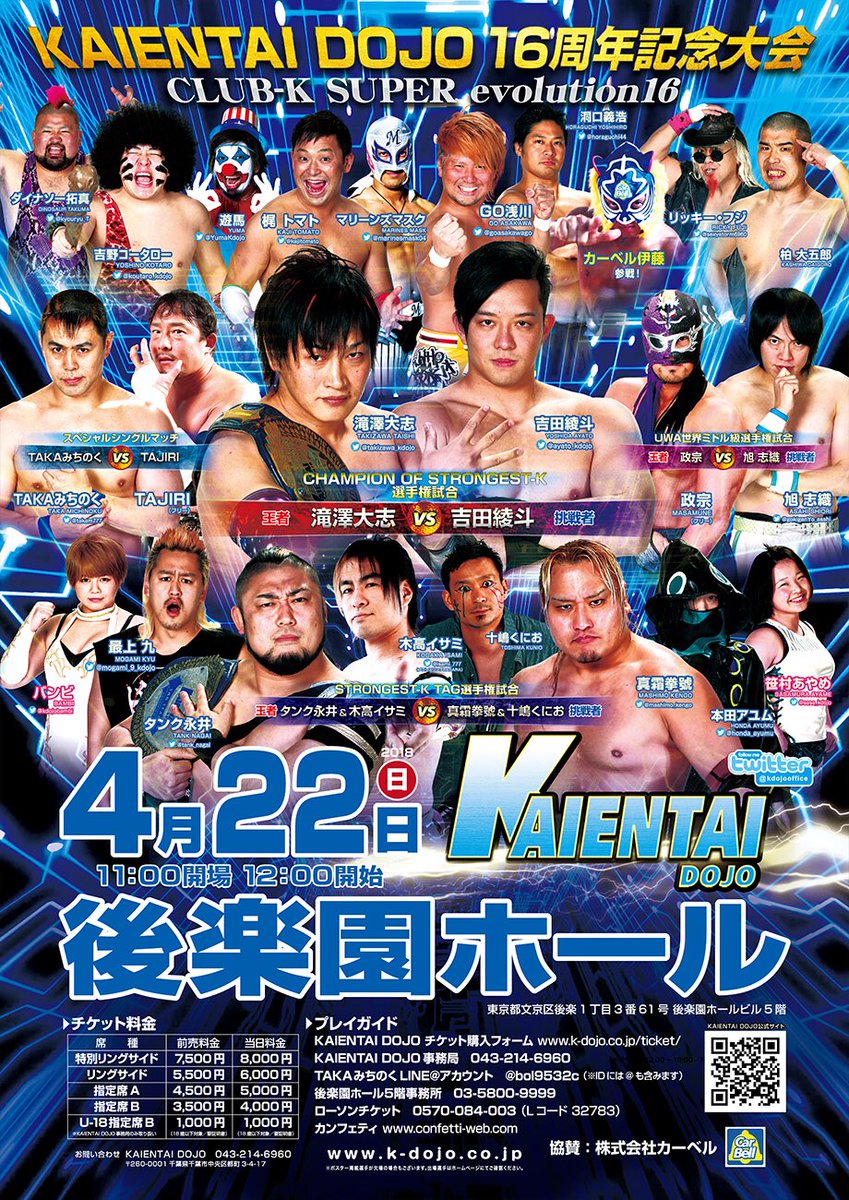 KAIENTAI DOJO 16th Anniversary Show CLUB-K SUPER evolution 16, 4/22/2018 [Sun] 12:00 @ Korakuen Hall in Tokyo
(-) Aizu Trainee Debut Match: (to be determined)
(-) Kagoshima Trainee Debut Match: Ayame Sasamura vs. Kagoshima
(-) Chiba 6 Tag Championship Gauntlet Match: Yuma, Kotaro Yoshino & Dinosaur Takuma vs. Kaji Tomato, GO Asakawa & Marines Mask vs. Ricky Fuji, Yoshihiro Horaguchi & CarBell Ito vs. Kelly Sixx, KASAI & One Man Kru vs. Bambi, Makoto & Yuki Shizuku
(-) Special Single Match: TAKA Michinoku vs. TAJIRI (FREE)
(-) UWA World Middleweight Championship Match: [66th Champion] Masamune vs. [Challenger] Shiori Asahi
~ 1st title defense.
(-) STRONGEST-K TAG Championship Match: [36th Champions] Tank Nagai & Isami Kodaka vs. [Challengers] Kengo Mashimo & Kunio Toshima
~ 3rd title defense.
(-) CHAMPION OF STRONGEST-K Match: [25th Champion] Taishi Takizawa vs. [Challenger] Ayato Yoshida