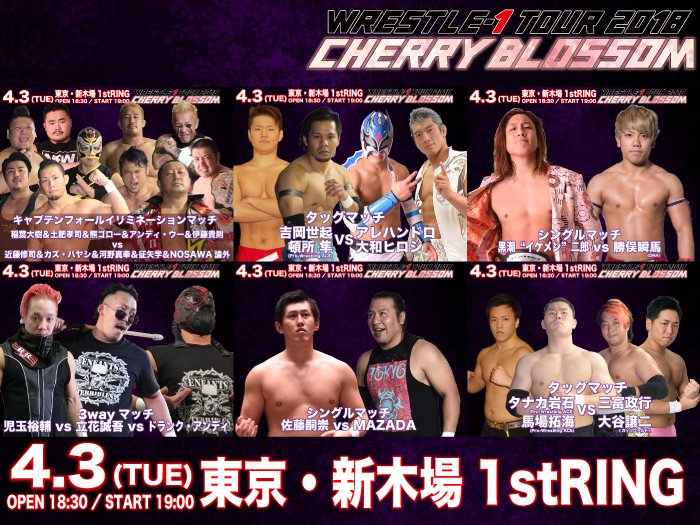 WRESTLE-1 TOUR 2018 CHERRY BLOSSOM", 4/3/2018 [Tue] 19:00 @ Shinkiba 1stRING in Tokyo
133 Spectators
(1) Ganseki Tanaka & Takumi Baba vs. Masayuki Mitomi (EPW) & Joji Otani (GUTS)
◆Winner: Joji (9:06) with a Modified Northern Lights Suplex Hold on Baba.
(2) Tsugataka Sato vs. MAZADA
◆Winner: MAZADA (8:25) with a Modified El Pantera.
(3) Yusuke Kodama vs. Seigo Tachibana vs. Drunk Andy
◆Winner: Tachibana (8:54) with the Silver Lock on Drunk.
(4) Jiro "Ikemen" Kuroshio vs. Shunma Katsumata (DDT/DNA)
◆Winner: Kuroshio (11:20) with a Sunset Flip.
(5) Seiki Yoshioka & Jun Tonsho vs. Alejandro & Hiroshi Yamato
◆Winner: Alejandro (12:38) following the ESO ES TODO on Tonsho.
~ Alejandro continue to assert himself as the next champion come the title challenge on the 18th. Yoshioka admitted that Alejandro has turned out to be better than he originally though, but it still will not be enough come the title defense.
(6) Captain Fall Elimination Match: Daiki Inaba, Koji Doi, Kumagoro, Andy Wu & Takanori Ito vs. Shuji Kondo, Manabu Soya, Kaz Hayashi, Masayuki Kono & NOSAWA Rongai
~ Order of elimination : Soya & Doi, Andy, Hayashi, Ito, Kumagoro, Rongai, Kono…
◆Winner: Kondo (24:07) following a King Kong Lariat on Inaba.
~ Soya & Doi took each other out early, and in the end NEW ERA suffered the loss to the veteran alliance.
~ Though the loss, the NEW ERA stated that they will take today's loss as a growing point, but come the Korakuen Hall show on the 18th, as Inaba put it, they must take hold and carry the future on their backs.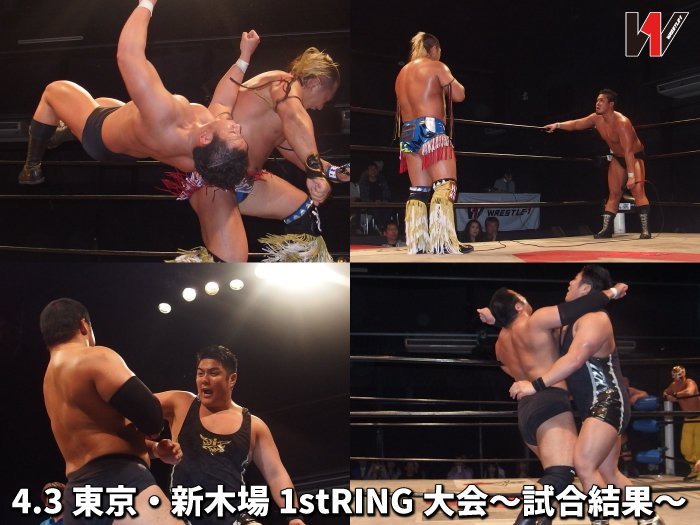 http://puroresuspirit.net/tag/w-1/
Upcoming…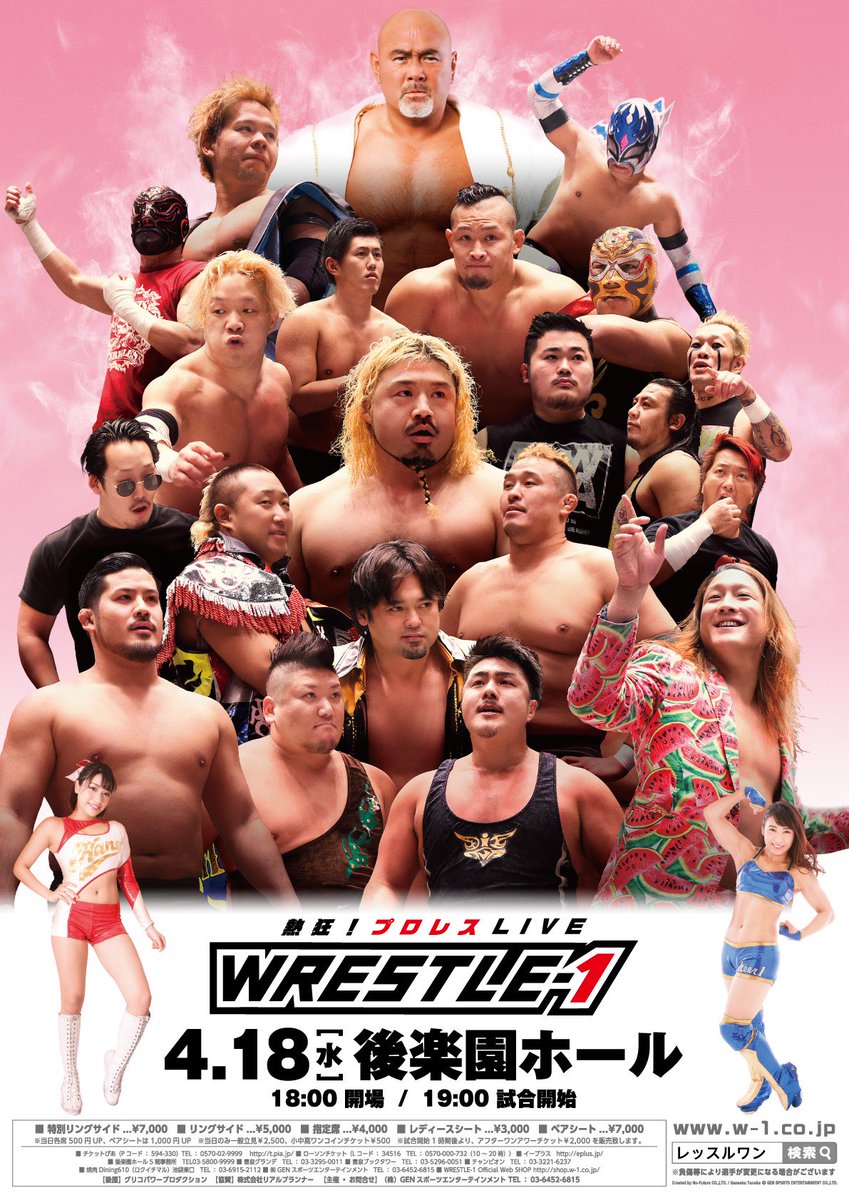 WRESTLE-1 TOUR 2018 CHERRY BLOSSOM, 4/18/2018 [Wed] 19:00 @ Korakuen Hall in Tokyo
(-) WRESTLE-1 Result Championship Match: [5th Champion] Jiro "Ikemen" Kuroshio vs. [Challenger] Seigo Tachibana
~ 1st title defense.
(-) WRESTLE-1 Cruiserweight Championship Match: [11th Champion] Seiki Yoshioka vs. [Challenger] Alejandro
~ 4th title defense.
(-) WRESTLE-1 Tag Championship Match: [12th Champions] Koji Doi & Kumagoro vs. [Challengers] Manabu Soya & AKIRA
~ 3rd title defense.