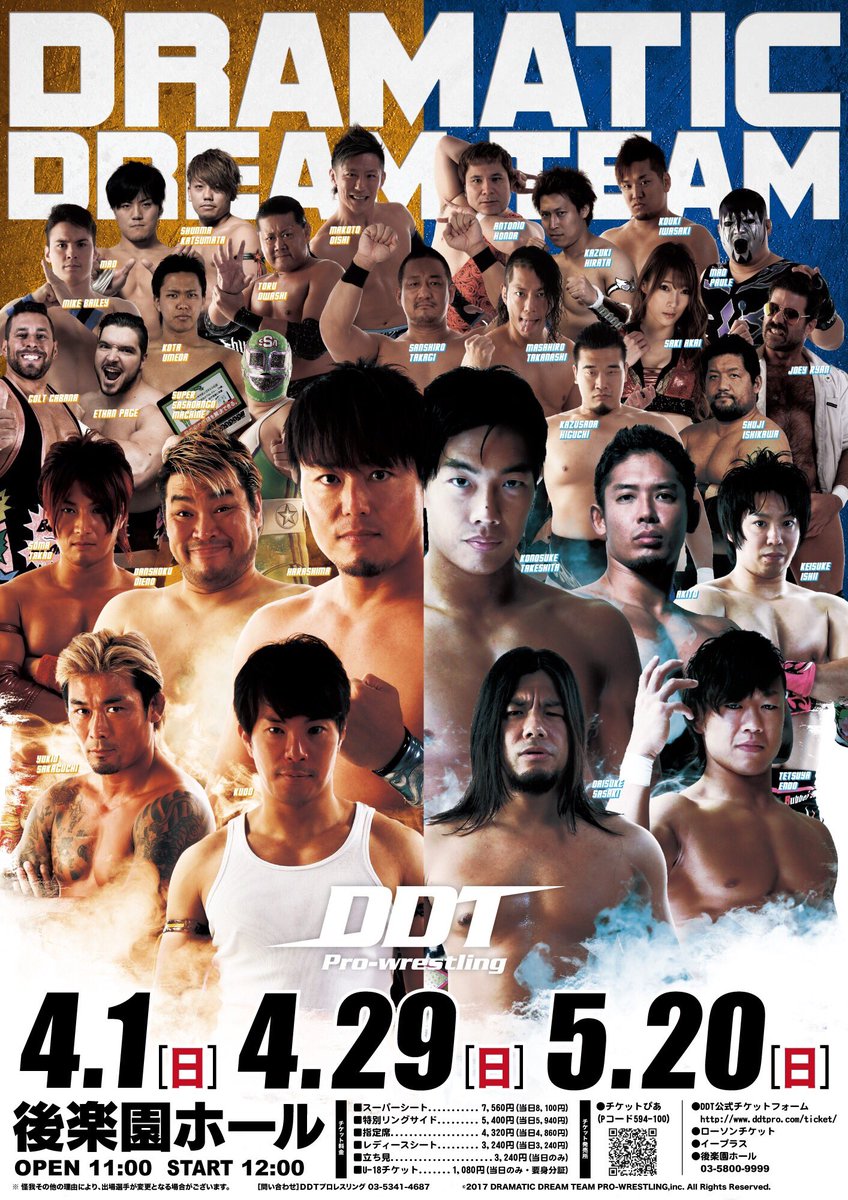 DDT "April Fool 2018", 4/1/2018 [Sun] 12:00 @ Korakuen Hall in Tokyo
972 Spectators
(0) Tomomitsu Matsunaga vs. Rekka
◆Winner: Matsunaga (6:22) following a Backdrop.
(1) Kota Umeda, Yuki Ueno & Koju Takeda vs. Kazusada Higuchi, Kouki Iwasaki & Mizuki Watase
◆Winner: Umeda (8:37) following the Umeda Driver on Watase.
(2) Gota Ihashi Trial Series: Gota Ihashi vs. Koji Kanemoto (FREE)
◆Winner: Kanemoto (11:42) with an Ankle Hold.
~ Though the loss, Ihashi offered Kanemoto a spot in his "Anti-Choshu Alliance".
(3) Loser Exile Special Battle Royal Match: Sanshiro Takagi, Toru Owashi, Tetsuya Endo, Mad Paulie, Keisuke Ishii, Masahiro Takanashi, Saki Akai, Kazuki Hirata, MAO & Antonio Honda
~ Paulie defeated Hirata (2:37) with a Body Press.
~ Endo defeated Hirata (2:50) followin a Moonsault Senton.
~ Keisuke defeated Hirata (3:16) following a Fisherman Buster.
~ MAO defeated Hirata (3:29) with the Hollywood Star Rolling Senton.
~ Masahiro Takanashi defeated Saki Akai (6:21) with a School Boy.
~ Saki Akai defeated Hirata (6:58) with a School Boy.
~ 2: 1 Handicap Match : Sanshiro Takagi & Toru Owashi vs. Kazuki Hirata
◆Winner: Hirata (8:01) with a Backslide on Takagi.
~ Due to the loss the founder of DDT Sanshiro Takagi will be exiled from DDT.
~ Though it was announced that Françoise Takagi will be competing on 4/29 at the Korakuen Hall.
(4) Japan & USA Gay Wrestling Summit! 2018: Danshoku Dieno, Super Sasadango Machine & Makoto Oishi vs. Colt "Boom Boom" Cabana, Joey Ryan & Ethan Page
◆Winner: Cabana (12:18) with a Superman Dive on Oishi.
(5) 4WAY Tag Match: Konosuke Takeshita & Shunma Katsumata vs. HARASHIMA & Soma Takao vs. Daisuke Sasaki & Shuji Ishikawa vs. KUDO & Yukio Sakaguchi
◆Winner: Sakaguchi (11:06) with a Arm capture Triangle Choke on Katsumata.
(6) DDT EXTREME Championship Ladder Match: [40th Champion] Yuko Miyamoto (666) vs. [Challenger] Mike Bailey
◆Winner: Miyamoto (15:11) captured the belt.
~ 2nd successful title defense.
~ HARASHIMA came forward to challenge Miyamoto. The match will be taking place on April 29.
(7) Special Single Match: Shigehiro Irie vs. Akito
◆Winner: Irie (14:20) following the Beast Bomber.
~ With the win, Irie earns the right to challenge Takeshita on April 29.
http://puroresuspirit.net/tag/ddt/
Upcoming…
DDT "MAX BUMP 2018", 4/29/2018 [Sun] 12:00 @ Korakuen Hall in Tokyo
(-) DDT EXTREME Championship Match: [40th Champion] Yuko Miyamoto (666) vs. [Challenger] HARASHIMA
~ 3rd title defense.
(-) KO-D Openweight Championship Match: [61st Champion] Konosuke Takeshita vs. [Challenger] Shigehiro Irie
~ 12th title defense.