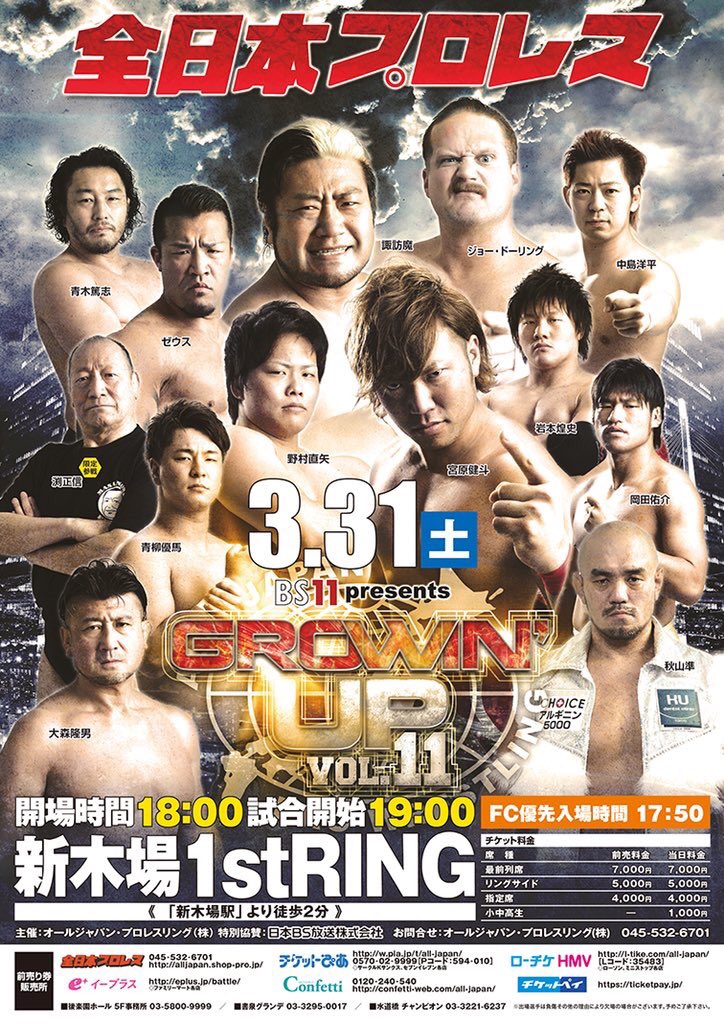 All Japan Pro-Wrestling "BS11 presents GROWIN' UP vol. 11", 3/31/2018 [Sat] 19:00 @ Shinkiba 1stRING in Tokyo
321 Spectators (overcrowded)
(1) Koji Iwamoto vs. Keiichi Sato (FREE)
◆Winner: Iwamoto (4:51) with the Koko no Geijutsu.
~ Iwamoto left Keiichi with a question, on if the rookie will just remain under Kotaro Suzuki's wing forever?
(2) Yusuke Okada vs. Black Tiger VII (FREE)
◆Winner: Black Tiger (8:48) with a Camel Clutch.
(3) Takao Omori vs. Atsushi Maruyama
◆Winner: Omori (8:43) following an Axe Bomber.
(4) Yohei Nakajima vs. Kotaro Suzuki (FREE)
◆Winner: Kotaro (7:56) with a Tiger Driver.
(5) Atsushi Aoki & Hikaru Sato vs. Ishikiri (LAND'S FREE) & Josh Bodom (UK)
◆Winner: Hikaru (12:31) with a Capture style Cross Armbar on Ishikiri.
~ Bodom made his intentions known of challenging for the World Junior belt, as Aoki stated that he welcomes the challenge if he earns the chance.
(6) The Road to 2018 Champion Carnival Special 10 Man Tag Match: Kento Miyahara, Suwama, KAI (FREE), Ryoji Sai (LAND'S END) & Dylan James (New Zealand) vs. Naoya Nomura, Yoshitatsu (FREE), Shuji Ishikawa (FREE), Zeus & Jun Akiyama
◆Winner: Zeus (19:39) with a Jackhammer on Miyahara.
~ Zeus claimed the direct win over the Triple Crown champion before the Champion Carnival begins next month. The two will be in different blocks come the league, but he stated that his intention is to win and challenge for the belt.
http://puroresuspirit.net/2018/02/ajpw-event-cards-for-march-april-2018/