Mr. Gannosuke Produce ~ Kishindo Returns Final, 3/27/2018 [Tue] 19:00 @ Shinkiba 1stRING in Tokyo
314 Spectators (overcrowded)
(1) Papillon Akemi vs. Makoto (FREE)
◆Winner: Makoto (6:18) with a Japanese Leg Roll Clutch.
(2) Manabu Hara (FREE) vs. Fuminori Abe (BASARA)
◆Winner: Hara (8:08) via TKO, following a Right High Kick.
(3) Shota (GUTS World) vs. Antonio Honda (DDT/FREE)
◆Winner: Honda (12:48) following a Diving Fist Drop.
(4) Mineo Fujita (Chinko) vs. Kei Brahman (FREE)
◆Winner: Mineo (13:39) following a Swanton Bomb.
(5) Buffalo (Makai) vs. Jiro "Ikemen" Kuroshio (W-1)
◆Winner: Kuroshio (12:38) with the Ikemen Clutch.
(6) Kenichiro Arai (DG) vs. Yasu Urano (FREE)
◆Winner: Arai (17:31) following a Jumping Piledriver.
(7) Mr. Gannosuke (GUTS World) & Hayabucha (SWS) vs. Yuko Miyamoto (666) & Isami Kodaka (BASARA)
◆Winner: Miyamoto (20:22) following a Fire Thunder on Gannosuke.
~ Gannosuke stated that he gives the rights of "Kishindo" to Yuko Miyamoto, as his former student and now his successor.
~ Gannosuke thanked everyone for competing today on his final produce show, funny bit where he revealed Hayabucha as DDT's HARASHIMA, though Hayabucha tried to deny it. Though Haybucha stated that he was just a big fan of Hayabusa and thanked Gannosuke for giving him a platform to show it.
~ Gannosuke stated that there are only a handful of matches left for him to still compete before his official retirement on GUTS World's final show on April 15.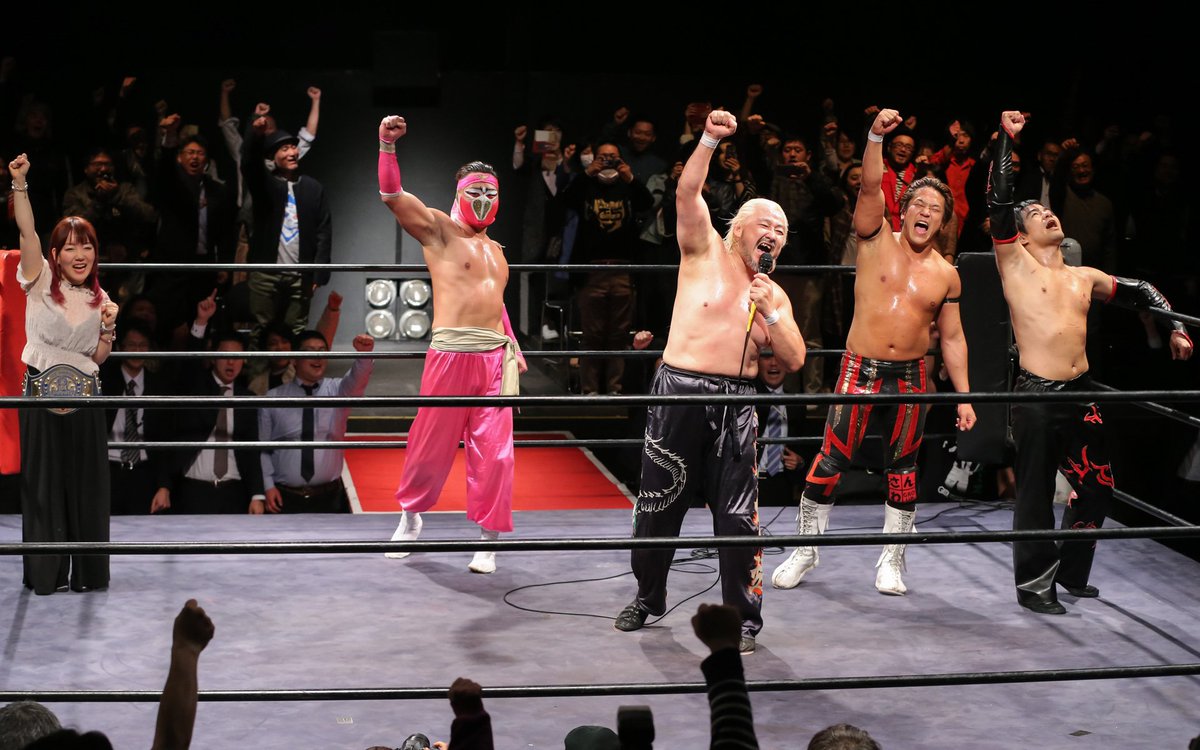 http://puroresuspirit.net/tag/guts-world/
http://puroresuspirit.net/tag/mr-gannosuke
Upcoming…
Drake Morimatsu Produce "GUTS World vol. 116 Osaka Final", 4/1/2018 [Sun] 12:30 @ Osaka Shiritsu Miyakojima Kumin Center
() Masked Mystery vs. Keito Murota
() Drake Morimatsu & Drake Takai vs. Kuishinbo Kamen & Papillon Akemi
() Joji Otani & Fuminori Abe vs. Michio Kageyama & CHANGO
() Buffalo vs. YUJI KITO
() Drake Morimatsu & Takako Inoue vs. Kyusei Ninja Ranmaru & Hibiscus Mii
() GUTS Ishijima, Kenichiro Arai & TORU vs. Mr. Gannosuke, Keizo Matsuda & Shota
GUTS World THE FINAL ~Bukotsu-shuen (Unrefined Demise)~, 4/15/2018 [Sun] 18:00 @ Shinjuku FACE in Tokyo