Doutonbori Pro-Wrestling, 3/25/2018 [Sun] 17:30 @ Hirano Kumin Hall in Osaka
(1) Yuto Kikuchi & Kandai Koyama vs. Takashi Tachibana & Yuki Tanaka
◆Winner: Yuki (11:01) following the Hirakata Cutter on Yuto.
(2) Wang Fei vs. Hasegawa
◆Winner: Fei (4:50) with an Oklahoma Stampede.
(3) Magnitude Kishiwada, Osamu Suganuma & Kengo Takai vs. HUB, Takaku Fuke & Ultimate Spider Jr.
◆Winner: Spider (10:47) with a German Suplex Hold on Suganuma.
(4) WDWW Next Challenger Decision Battle Royal: Taiyoto Kamen, Konamon, Amemura, Mede Tiger Mask, Mede TiGirl, Mr. Furyu, Inunakin, Super Gato, Hideaki Sumi & Mizuki
◆Winner: Mizuki (9:13) following a Swanton Bomb on Mede Tiger.
(5) Touhou Eiyuden vs Osaka Heroes: Chang Jian Feng, Lin Dong Xuan & MA Zhu Jiang vs. Kuuga, Billyken Kid & Kinryu
◆Winner: Feng (11:07) with a Blue Thunder on Kinryu.
(6) WDWW Championship Match: [1st Champion] Akagi vs. [Challenger] Super Delfin
◆Winner: Akagi (11:00) with a School Boy.
~ 5th successful title defense.
~ Akagi's masked was removed during the match revealing him to be Hayato Nanjo.
~ Mizuki will be the next challenger for the belt after winning the battle royal earlier in the day.
(7) TORU, Kazuaki Mihara & Katsumi Oribe vs. Ra-pid, Diablo & Orochi
◆Winner: Ra-pid (17:38) following a Diving Double Knee Drop on Oribe.
~ Ra-pid challenge TORU to put the belt on the line on May 27 at the EDION Arena, 2nd Stadium.
~ TORU accepted the match as he also declared that on that day he will end the "Rage" faction as well.
~ The show will be in collaboration with the China based promotion "Touhou Eiyuden" (Oriental Heroes).
http://puroresuspirit.net/tag/doutonbori
Upcoming…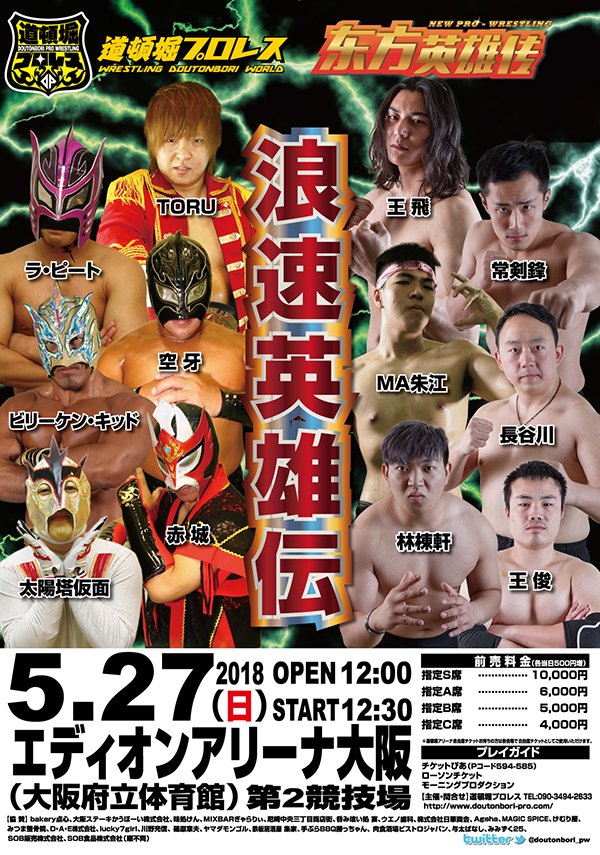 Doutonbori, 5/27/2018 [Sun] 13:00 @ EDION Arena Osaka, 2nd Stadium
(-) WDW Championship Match: [5th Champion] TORU vs. [Challenger] Ra-pid