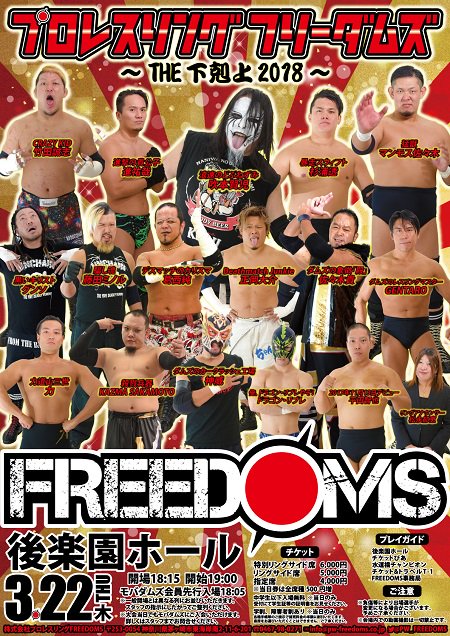 Pro-Wrestling FREEDOMS, "THE Gekokujo 2018", 3/22/2018 [Thu] 19:00 @ Korakuen Hall in Tokyo
(0) Trainee M vs. GENTARO
◆Winner: GENTARO (1-0)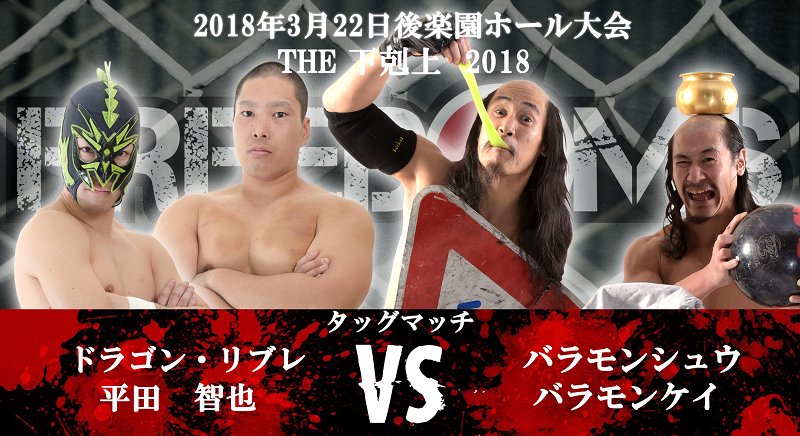 (1) Dragon Libre & Tomoya Hirata vs. Brahman Shu & Brahman Kei (both FREE)
◆Winner: Kei (7:28) with the Full Body Dissatisfaction on Hirata.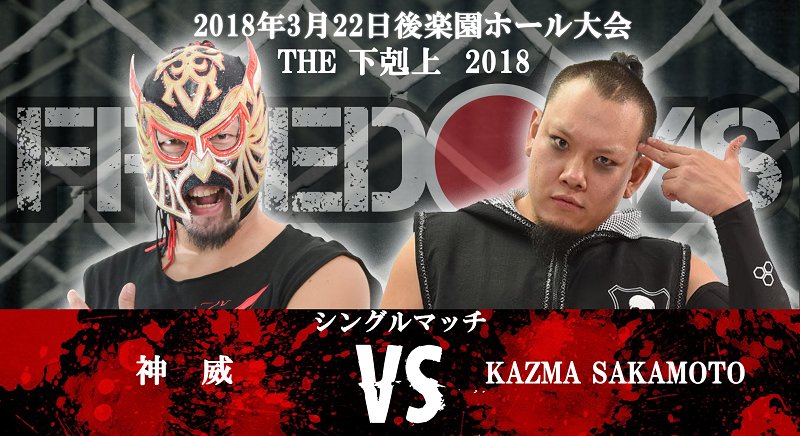 (2) Kamui vs. KAZMA SAKAMOTO (FREE)
◆Winner: KAZMA (6:55) with a Michinoku Driver II onto a chair.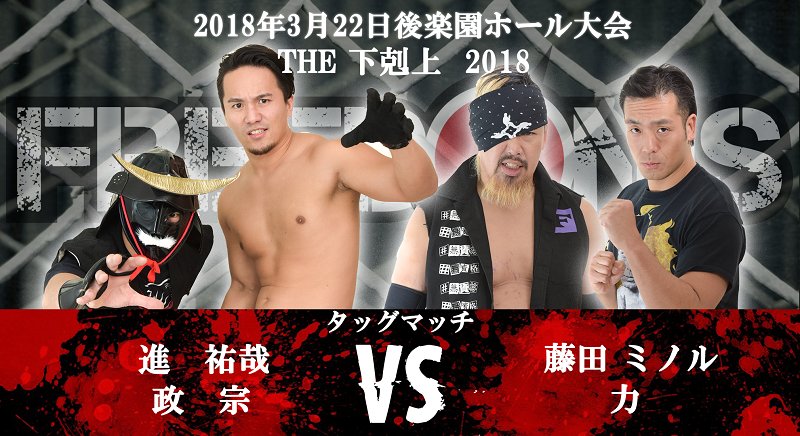 (3) Yuya Susumu & Masamune (FREE) vs. Minoru Fujita (FREE) & Chikara (Riki Enterprise)
◆Winner: Masamune (8:06) with the Honebami on Chikara.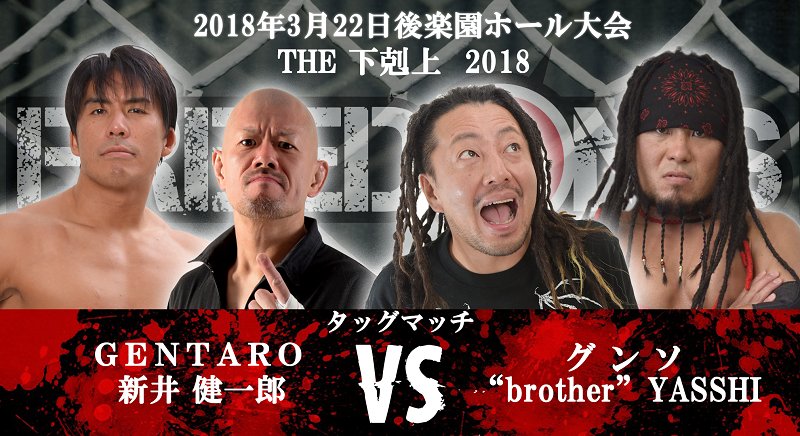 (4) GENTARO & Kenichiro Arai (DG) vs. Gunso (DOVE) & 'brother' YASSHI (FREE)
◆Winner: No Contest (10:04) After GENTARO was bleeding profusely and attacked his own partner Arai in the confusion.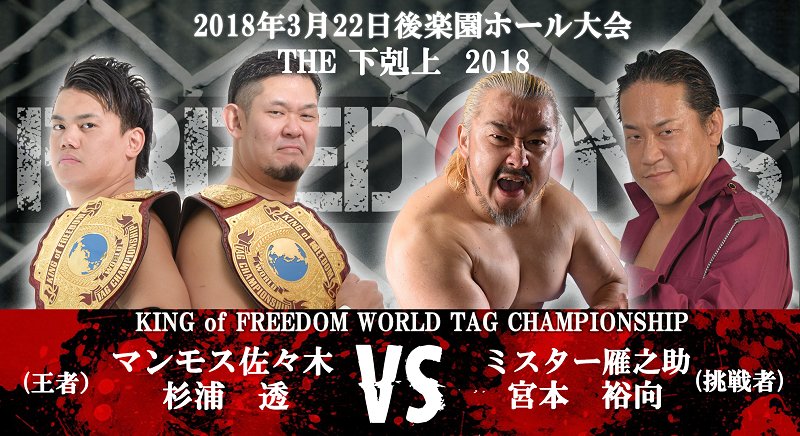 (5) KING of FREEDOM WORLD TAG CHAMPIONSHIP Match: [13th Champions] Mammoth Sasaki & Toru Sugiura vs. [Challengers] Mr. Gannosuke (GUTS) & Yuko Miyamoto (666)
◆Winner: Mammoth (13:18) with a Falcon Arrow on Gannosuke.
~ Mammoth G Bombers with their 10th successful title defense.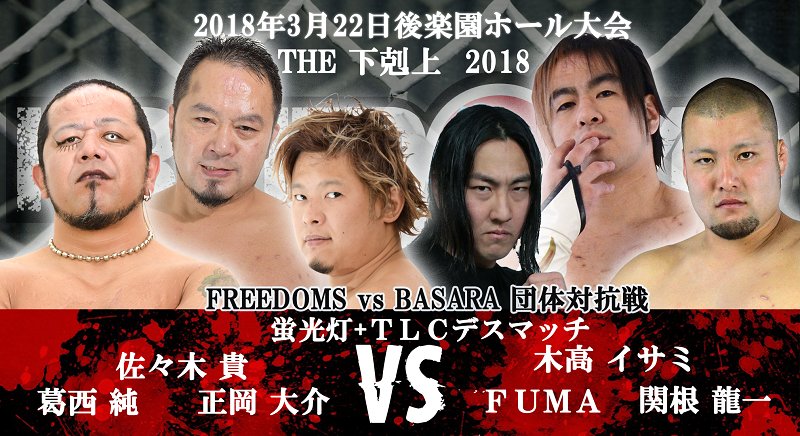 (6) FREEDOMS vs BASARA Fluorescent Light-tubes + TLC Death Match: Jun Kasai, Takashi Sasaki & Daisuke Masaoka vs. FUMA, Isami Kodaka & Ryuichi Sekine
◆Winner: Kasai (15:28) following a Vertical Drop style Reverse Tiger Driver on FUMA.
~ FUMA declared that this is not over yet, the war is just beginning, though Kasai and Takashi stated that their win today meant otherwise.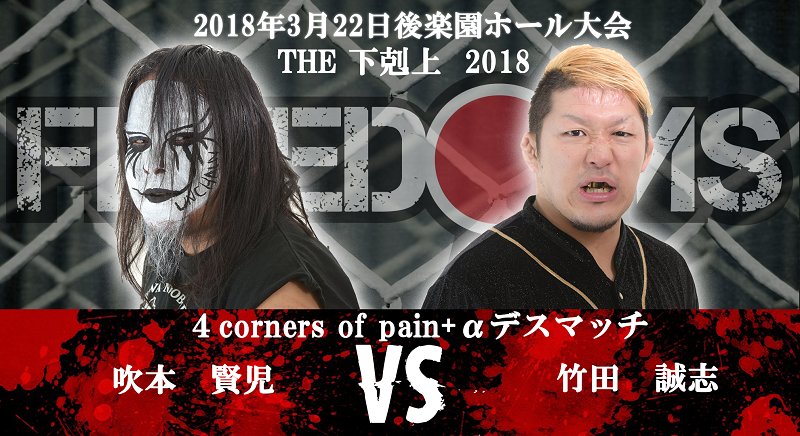 (7) 4 corner of Pain + Alpha Death Match: Kenji Fukimoto vs. Masashi Takeda (FREE)
◆Winner: Takeda (15:28) following the Megaraba with a saw to the throat.
~ Violento Jack appeared after the match and attacked Takeda and then he took out Fukimoto with a Package Piledriver.
~ Jack asserted himself as the reigning and defending champion.
~ The shocker then came as Daisuke Masaoka aligned himself with Jack. Jack then declared that this is war against anyone who opposes them.
~ This lead to the rest of the FREEDOMS roster to come out and question Masaoka's actions.