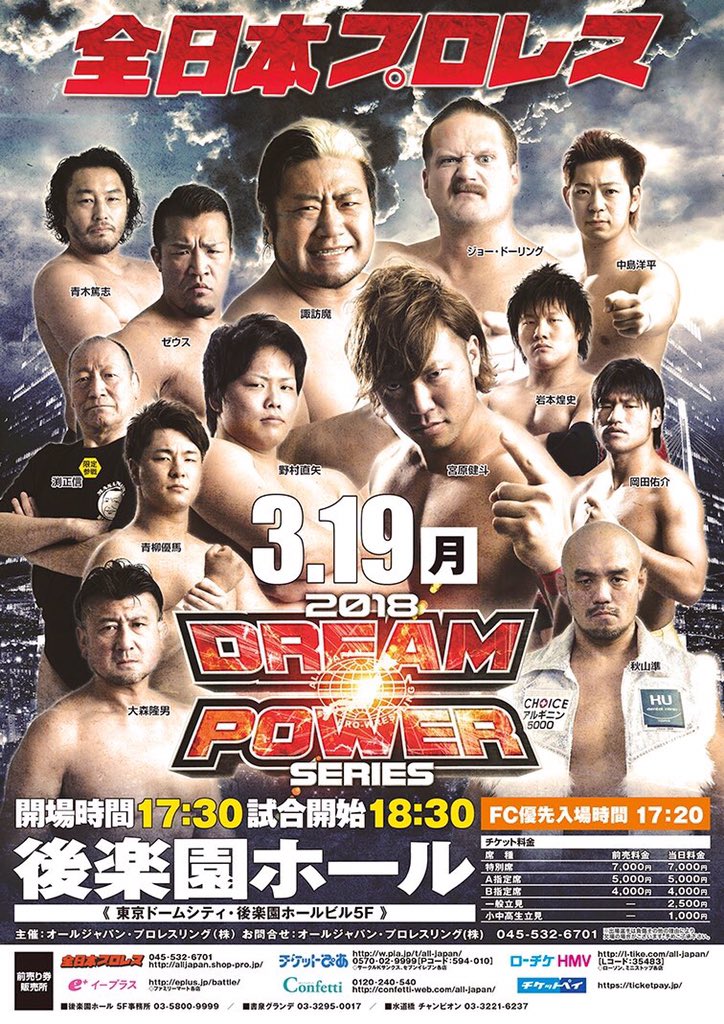 All Japan Pro-Wrestling "2018 Power Dream Series", 3/19/2018 [Mon] 18:30 @ Korakuen Hall in Tokyo
1,235 Spectators
---
AJPW TV is now active https://www.ajpw.tv/
~ There is an English option at the top of the site (basic translate) though it should offer enough to get anyone through the basic sign-up process. (Side note : The "Login ID" is your email address not your nickname.)
~ You will need to provide your "credit card" or "paypal" to view the videos. You will not be charged for the month of March, but April will see the first charge of service.
~ Currently only events from 2017 are posted on the service, but the main highlight of this month will be the Saitama show on 3/25.
---
(0) GAROA TV Championship Next Challenger Battle Royal: Atsushi Maruyama, Tsuyoshi Kikuchi, Tetsuya Izuchi, HII, Katsumi Oribe, KaniK☆ING, Yuji Kidoh, Naoshi Sano, Survival Tobita, Shinose Mitoshichi, Tako-Nyuudou, Takahiro Tababa, Takemaru, CHANGO, Choun Shiryu, Junichi Hanawa, Big Bear & Taro Yamada
◆Winner: Survival Tobita (11:21) with the Golden Armbar on Tababa.
~ Saitama Pro wrestler Survival Tobita earns a future chance at the GAORA TV belt. (It appears the match will take place on 5/19 in Kitakami, Iwate.)
(1) Masanobu Fuchi, Koji Iwamoto & Osamu Nishimura (FREE) vs. Ultimo Dragon, Kotaro Suzuki & Keiichi Sato (all FREE)
◆Winner: Dragon (9:23) with a La Magistral on Fuchi.
(2) Atsushi Aoki & Shuji Ishikawa (FREE) vs. Atsushi Maruyama & Yutaka Yoshie (FREE)
◆Winner: Ishikawa (6:15) following a Fire Thunder on Maruyama.
(3) Jun Akiyama, Yohei Nakajima & Black Tiger VII (FREE) vs. Suwama, Hikaru Sato & Yusuke Okada
◆Winner: Hikaru (14:28) with a Capture style Cross Armbar on Black Tiger.
~ Suwama's Evolution trio secures the win, as Suwama stated that he expects this same outcome come the match against Hagure IGF on the 25th.
(4) World Tag Prelude Match: The Bodyguard (FREE) vs. Dylan James
◆Winner: James (3:52) following a Lariat.
~ James (formerly known as James Raideen) makes his return to the All Japan ring with a near-dominating win over the World Tag Champion.
(5) World Tag Prelude Match: Zeus vs. Ryoji Sai (LAND'S END)
◆Winner: Zeus (19:56) following a Powebomb.
~ Following yesterday's loss, Zeus bounces back with a solid win even though his partner suffered a significant blow in the match prior.
(6) Triple Crown Prelude Match: Joe Doering, TAJIRI (FREE) & KAI (FREE) vs. Kento Miyahara, Yoshitatsu (FREE) & Naoya Nomura
◆Winner: Miyahara (14:41) with the Shutdown German Suplex Hold on Doering.
~ Miyahara claims the direct win over the Triple Crown champion before the challenge on the 25th in Saitama.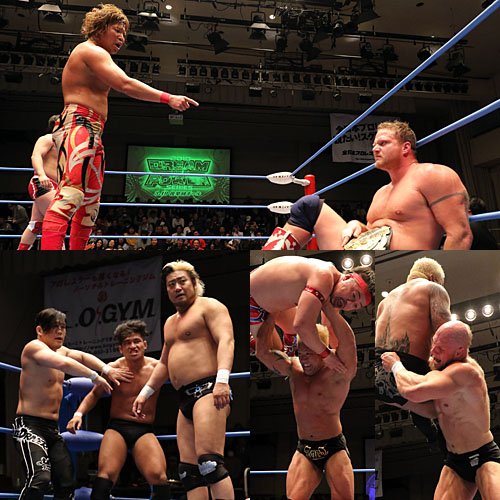 http://puroresuspirit.net/2018/02/ajpw-event-cards-for-march-april-2018/