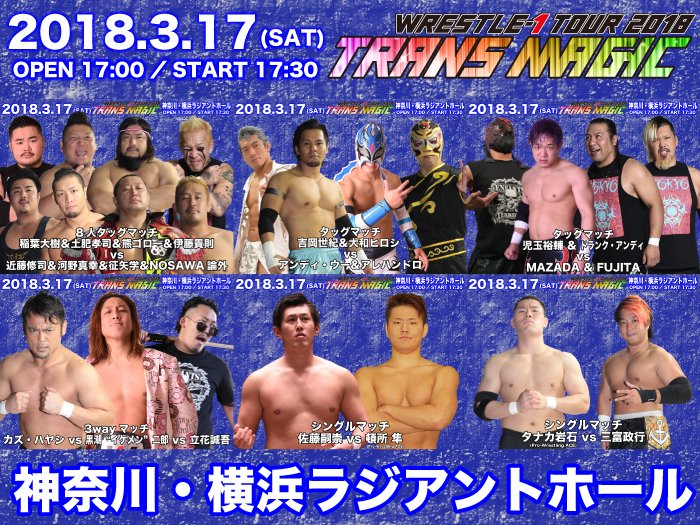 WRESTLE-1 TOUR 2018 TRANS MAGIC, 3/17/2018 [Sat] 17:30 @ Yokohama Radiant Hall in Kanagawa
(1) Ganseki Tanaka (ACE) vs. Masayuki Mitomi (EPW)
◆Winner: Ganseki (6:50) following the Ganseki-Otoshi.
(2) Tsugataka Sato vs. Jun Tonsho (ACE)
◆Winner: Tonsho (5:53) with a Rolling Clutch Hold.
(3) 3WAY : Kaz Hayashi vs. Jiro "Ikemen" Kuroshio vs. Seigo Tachibana
◆Winner: Tachibana (11:02) with a Small Package Hold on Kuroshio.
~ Tachibana with the win over the Result Champion, though it appears that he did not assert himself as a challenger at the moment.
(4) Yusuke Kodama & Drunk Andy vs. MAZADA & FUJITA (both Gurentai)
◆Winner: FUJITA (13:46) with a Diving Body Press on Drunk.
(5) Seiki Yoshioka & Hiroshi Yamato vs. Alejandro & Andy Wu
◆Winner: Yoshioka (12:25) following the SK on Wu.
(6) Daiki Inaba, Koji Doi, Kumagoro & Takanori Ito vs. Manabu Soya, Shuji Kondo, Masayuki Kono & NOSAWA Rongai (Gurentai)
◆Winner: Soya (21:16) following the Wild Bomber on Doi.
~ Soya claims the win over the W-1 Tag Champion, as he further asserted a right for the next title challenge.
http://puroresuspirit.net/tag/w-1/
Upcoming…
Pro-Wrestling A.C.E. vol. 11, 4/1/2018 [Sun] @ GEN Sports Palace, W-1 Dojo in Tokyo
() Takumi Baba vs. Shoki Kitamura (ZERO1)
() Jun Tonsho & Akiyori Takizawa (ASUKA) vs. Daiki Shimomura & Nobuhiro Shimatani (both DNA)
WRESTLE-1 TOUR 2018 CHERRY BLOSSOM, 4/18/2018 [Wed] 19:00 @ Korakuen Hall in Tokyo
(-) WRESTLE-1 Cruiserweight Championship Match: [11th Champion] Seiki Yoshioka vs. [Challenger] Alejandro
~ 4th title defense.