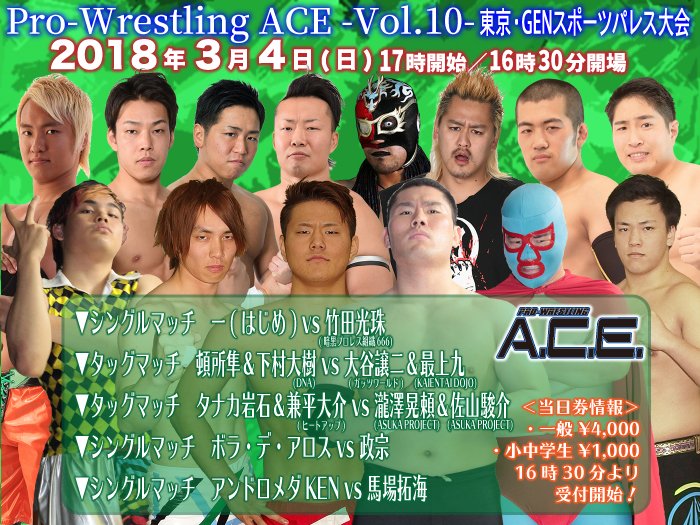 Pro-Wrestling ACE -Vol.10, 3/4/2018 [Sun] 16:30 @ GEN Sports Palace, W-1 DOJO, in Tokyo
(1) Andromeda KEN vs. Takumi Baba
◆Winner: Baba (7:01) with a Michinoku Driver.
(2) Bola de Arozz vs. Masamune (FREE)
◆Winner: Masamune (8:05) with a School Boy.
(3) Ganseki Tanaka & Daisuke Kanehira (HEAT-UP) vs. Akiyori Takizawa & Shunsuke Sayama (both ASUKA PROJECT)
◆Winner: Ganseki (12:06) with a Cross Face on Shunsuke.
(4) Jun Tonsho & Daiki Shimomura (DNA) vs. Joji Otani (GUTS) & Kyu Mogami (K-DOJO)
◆Winner: Joji (18:03) with a Wrist Clutch style Northern Lights Suplex Hold on Tonsho.
(5) Hajime vs. Koju Takeda (666)
◆Winner: Hajime (10:18) with the Gardenia (Modified Death Valley Bomb).
~ Hajime called out for a singles match against Joji Otani, though GUTS World has a show scheduled on the same day as the next ACE show on 4/1. Otani accepted a singles match in the future.
~ This lead to Shimomura coming out and challenging Hajime, which Hajime accepted and a ACE vs DNA tag match will be taking place on the 4/1 show. Currently their partner's are unknown at this time.
http://puroresuspirit.net/tag/w-1/
Upcoming…
WRESTLE-1 TOUR 2018 TRANS MAGIC, 3/14/2018 [Wed] 19:00 @ Korakuen Hall in Tokyo
() Seigo Tachibana vs. Masayuki Mitomi
() Tsugataka Sato & Kenshin Chikano vs. Yusuke Kodama & Drunk Andy
() Daiki Inaba, Seiki Yoshioka & Jiro "Ikemen" Kuroshio vs. Kaz Hayashi, Shuji Kondo & Ryuji Hijikata
()  UWA World 6 Tag Championship Match: [61st Champions] Koji Doi, Kumagoro & Takanori Ito vs. [Challengers] NOSAWA Rongai, MAZADA & FUJITA
~ 5th title defense.
(-) Special 8 Man Tag Match: Keiji Mutoh, Ryota Hama (BJW), SUSHI (FREE) & Kazushi Miyamoto (FREE) vs. Masayuki Kono, Hiroshi Yamato, Yasufumi Nakanoue (BJW) & KAI (FREE)
(-) WRESTLE-1 CRUISER FES 2018 Final Match: Andy Wu vs. Alejandro
(-) WRESTLE-1 Championship Match: [11th Champion] Shotaro Ashino vs. [Challenger] Manabu Soya
~ 8th title defense.