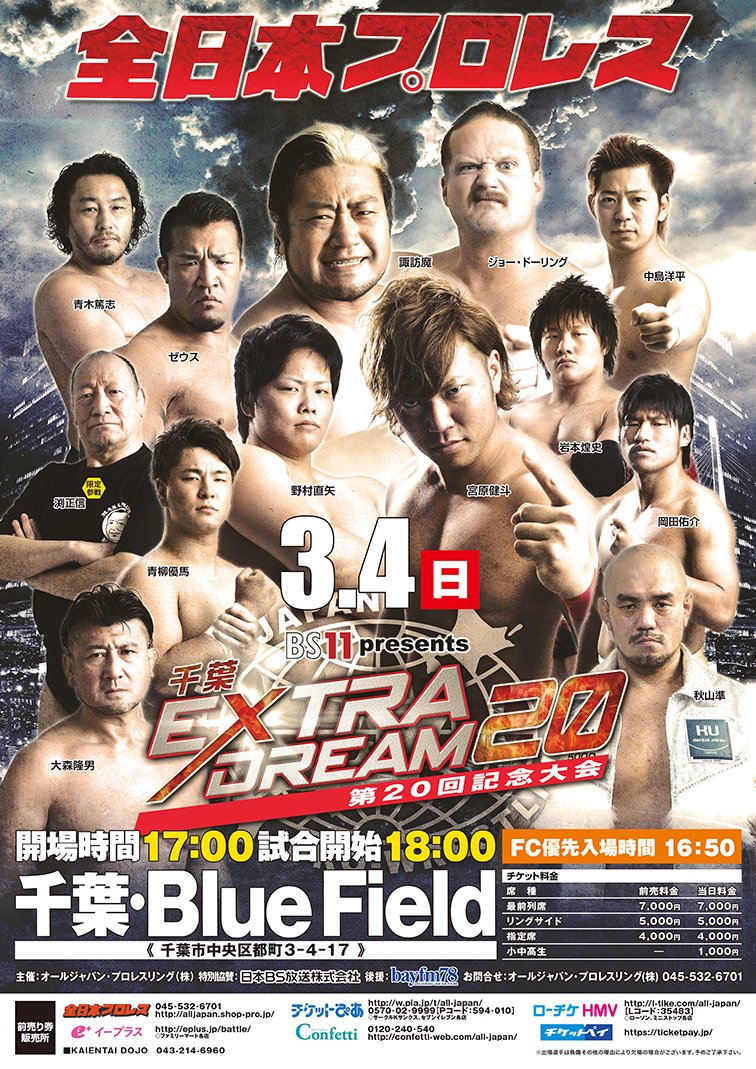 All Japan Pro-Wrestling "Chiba EXTRA DREAM 20 ~ 20th Show Anniversary", 3/4/2018 [Sun] 18:00 @ Blue Field in Chiba
(1) Yohei Nakajima vs. Yoshihiro Horaguchi (K-DOJO)
◆Winner: Yohei (6:47) following the Tobiuishiro-mawashigiri.
(2) Atsushi Aoki vs. Marines Mask (K-DOJO)
◆Winner: Aoki (6:07) with a Jumping Rolling Cross Armbar.
~ Aoki with the win over the K-DOJO rookie, but he stated that he cannot take any chances of showing weakness. As his focus is overcoming and defending the World Junior belt against Kondo in Saitama.
(3) Atsushi Maruyama & Hikaru Sato vs. TAJIRI & KAI (both FREE)
◆Winner: KAI (8:25) with a Small Package Hold on Maruyama.
(4) Black Tiger VI (FREE)I vs. Kaji Tomato (K-DOJO)
◆Winner: Kaji (11:10) with the Speed.
(5) Suwama & Yusuke Okada vs. Naoya Nomura & Ryoji Sai (LAND'S END)
◆Winner: Nomura (14:34) with a Frog Splash on Yusuke.
~ During the backstage interview, Sai stated that Nomura is a strong challenger for the Asia Heavy belt, which the two will compete on 3/21.
(6) Jun Akiyama, Koji Iwamoto & Taishi Takizawa (K-DOJO) vs. Kento Miyahara, Yoshitatsu (FREE) & Tank Nagai (K-DOJO)
◆Winner: Miyahara (18:16) with a German Suplex Hold on Iwamoto.
~ Miyahara continues to rack up wins heading into the Triple Crown challenge on 3/25, as he continues to state that he will capture the leading role in All Japan once again.
http://puroresuspirit.net/2018/02/ajpw-event-cards-for-march-april-2018/