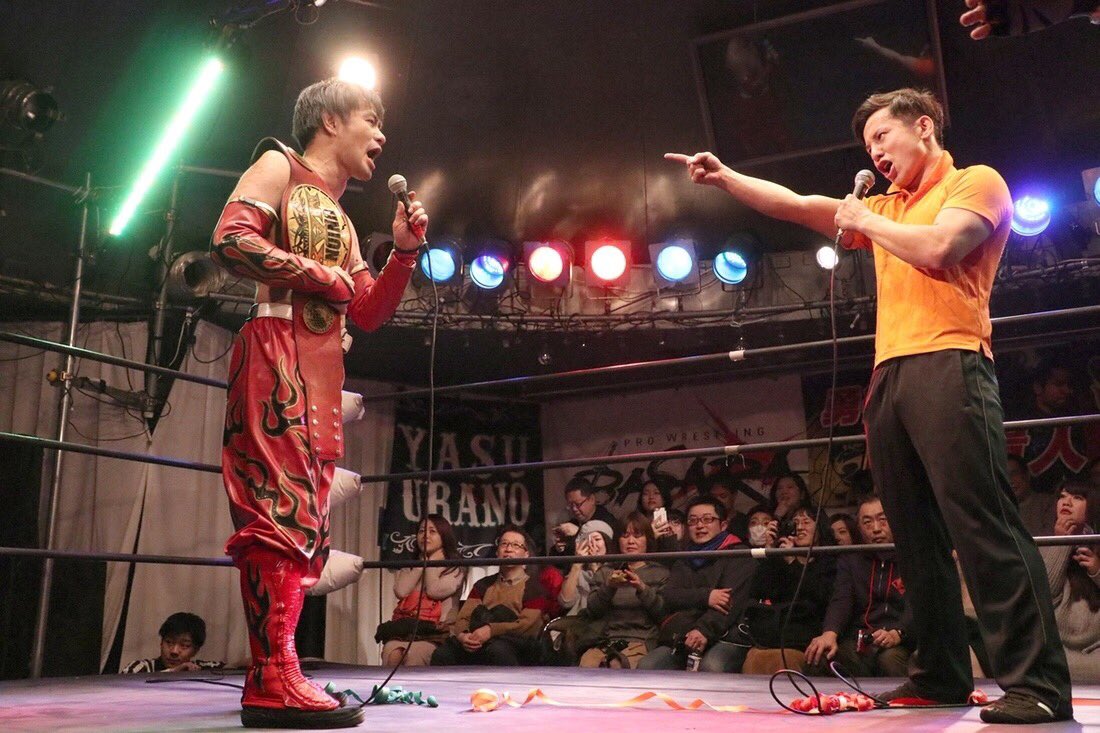 BASARA, 3/3/2018 [Sat] 18:30 @ Seijo Hall in Tokyo
300 Spectators (overcrowded/sold out)
(1) Daichi Kazato & Yoji "Dokonjo" Kondo (HEAT-UP) vs. Kazuhiro Tamura (HEAT-UP) & Daiki Shimomura
◆Winner: Kazato (8:45) over Shimomura, following the AnnaCutter from Kazato and Pyonkichi Splash from Dokonjo.
(2) Gyakuten Pro-Wrestling Trial: (Defense) Goma Ryu vs. (Prosecutor) Hercules Senga (FREE) vs. (Suspect) Sanshiro Takagi (DDT)
◆Winner: Takagi (9:38) following a Double Stone Cold Stunner on Goma and Senga.
(3) Ryuichi Sekine & Yuji Hino (FREE) vs. Takato Nakano & Akiyori Takizawa (ASUKA)
◆Winner: Sekine (9:51) with the Let's Combine on Nakano.
(4) Hardcore 6 Man Match: FUMA, Yusuke Kubo & SAGAT vs. Takumi Tsukamoto, Masashi Takeda (FREE) & Yasu Urano (FREE)
◆Winner: Tsukamoto (15:42) following the Zudon on SAGAT, onto cans and a chair.
(5) Trans Am ★ Ryuichi (BJW) vs. Fuminori Abe
◆Winner: Ryuichi (12:28) with a Perfect Plex.
(6) Ryota Nakatsu vs. Manabu Hara (FREE)
◆Winner: Hara (13:04) with a Chicken Wing Arm Lock.
(7) Union MAX Championship Match: [9th Champion] Isami Kodaka vs. [Challenger] Tsutomu Oosugi (FREE)
◆Winner: Kodaka (18:20) following the Isami-ashi-zan.
~ 4th successful title defense.
~ The two shook hands after the match, as Kodaka even signaled that he would accept another match against Oosugi in the future.
~ Best Stretch Man came out after the match and helped Oosugi out of the ring. As he hinted that Oosugi will be the next to "henshin (transform)."
http://puroresuspirit.net/tag/basara/
Upcoming…
BASARA, 3/18/2018 [Sun] 13:00 @ Nagoya Biwajima Sports Center in Aichi
() Yusuke Kubo vs. Akiyori Takizawa
() Daichi Kazato vs. Kazuhiro Tamura
() Gyakuten Pro-Wrestling Trial: (Defense) Goma Ryu vs. MC.33 (prosecutor) vs. X (accused)
() FUMA vs. Takato Nakano vs. Yasu Urano
() Ryuichi Sekine & Ryota Nakatsu vs. Fuminori Abe & Yusaku Ito
() Isami Kodaka & Takumi Tsukamoto vs. SAGAT & Trans Am ★ Shinya