HEAT-UP, 2/24/2018 [Sat] 19:00 @ Nagoya Sportiva Arena in Aichi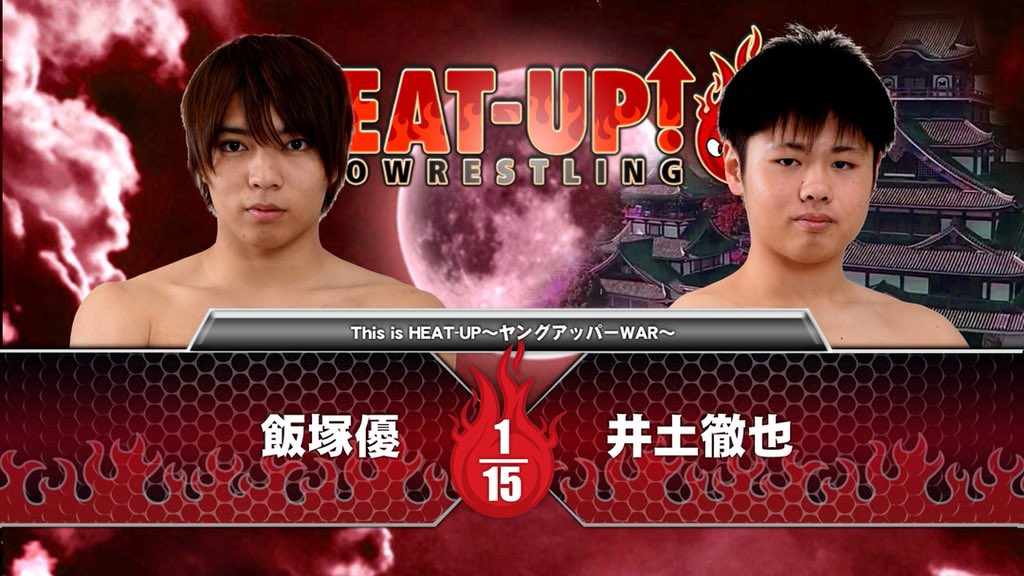 (1) This is HEAT-UP ~ Young Upper WAR ~ : Yu Iizuka vs. Tetsuya Ido
◆Winner: Iizuka (7:43) with a Jumping Cross Heel Hold.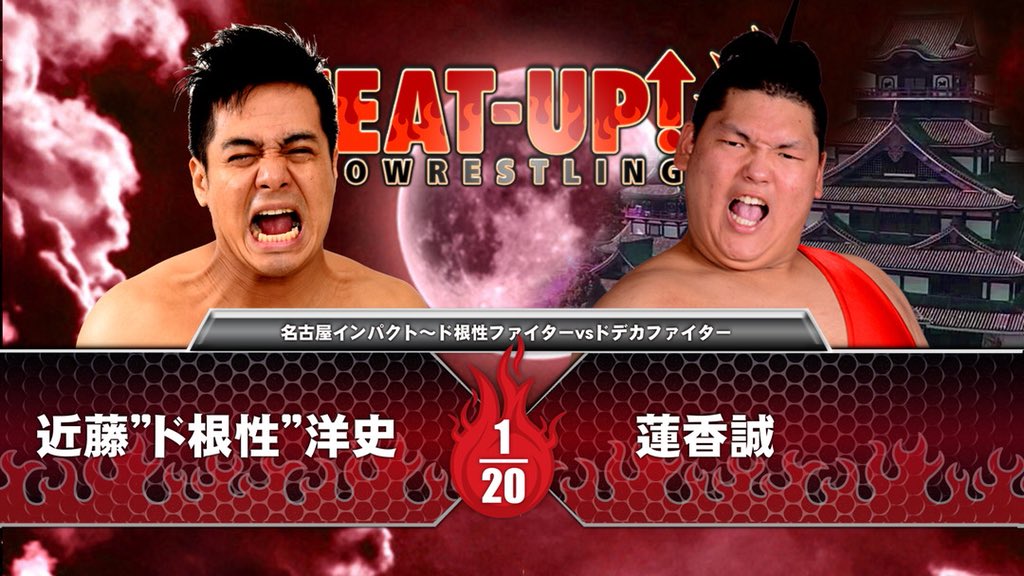 (2) Yoji "Dokonjo" Kondo vs. Makoto Renka (Team Dera)
◆Winner: Kondo (9:50) with the Pyonkichi Splash.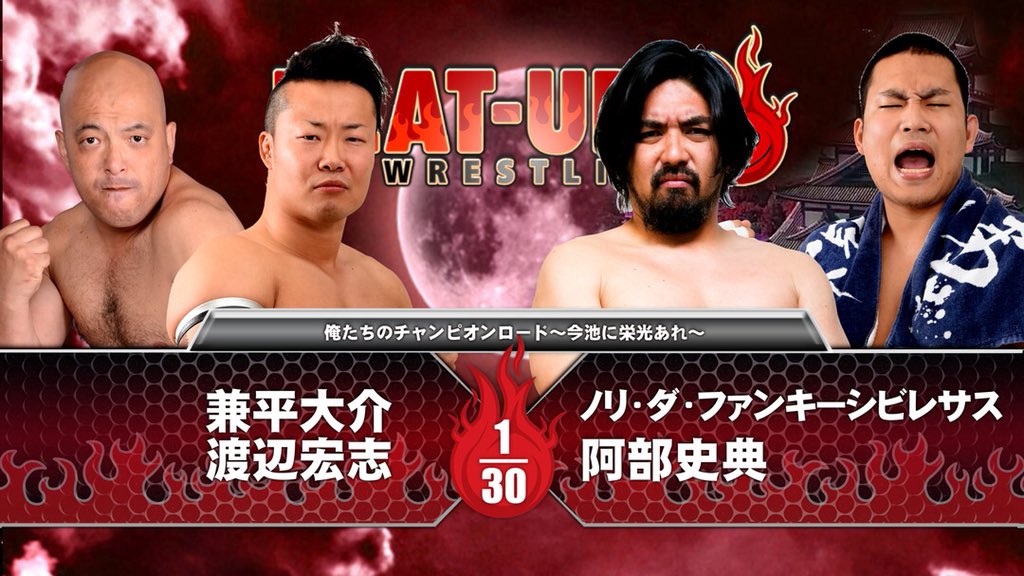 (3) Our Champion Road ~ Glory to Imaike: Nori da Funky Shibiresath & Fuminori Abe (BASARA) vs. Daisuke Kanehira & Hiroshi Watanabe
◆Winner: Nori (18:01) with an Aussie Suplex Hold on Kanehira.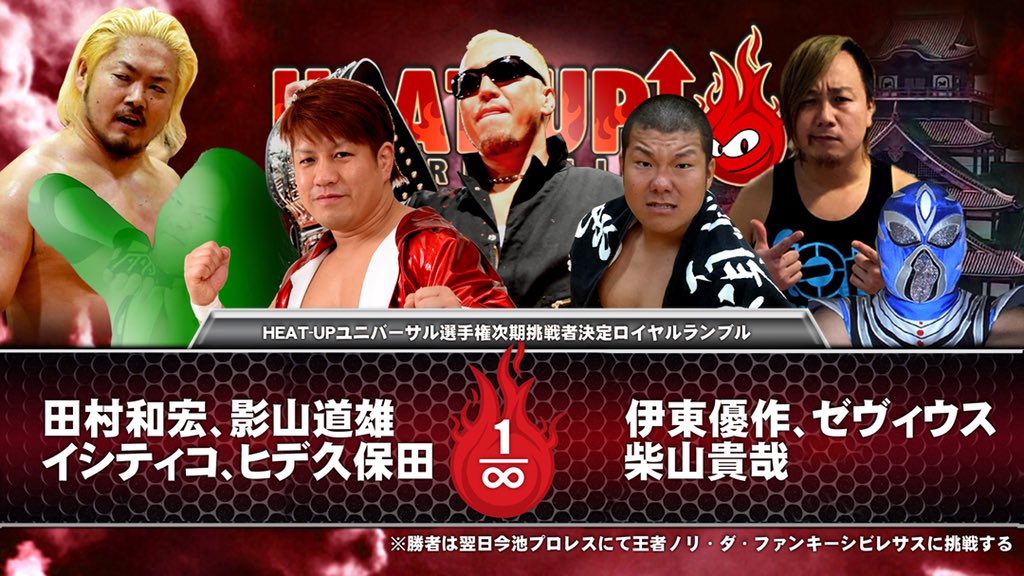 (4) HEAT-UP Universal Championship Next Challenger Decision Royal Rumble: Michio Kageyama, Ishitiko, Kazuhiro Tamura, Hide Kubota, Yusaku Ito, Takuya Shibyama & Xevious
◆Winner: Yusaku Ito (15:32) following a go2sleep on Kazuhiro Tamura.
~ Ito will challenge Nori at tomorrow's Imaike Pro-Wrestling show.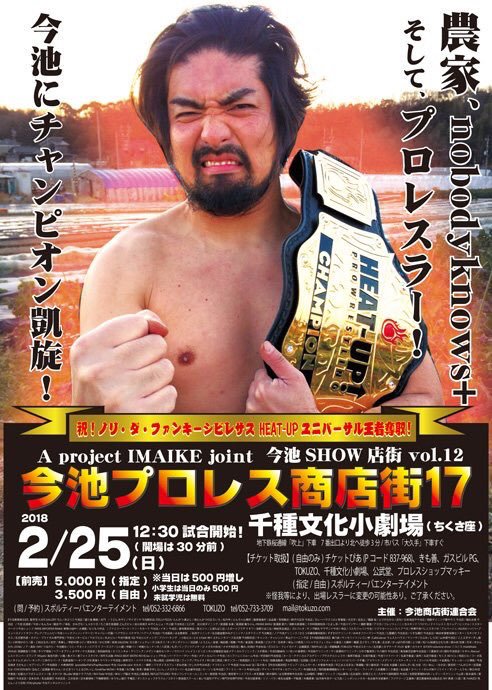 http://puroresuspirit.net/tag/heat-up
Upcoming…
HEAT-UP Judgement Vol. 2, 3/21/2018 [Wed] 18:30 @ Takashimadaira Hall in Tokyo
(1) Yuu Iizuka vs. Takahiro Tababa (FWU)
(2) Tetsuya Ido vs. Koju Takeda (666)
(3) Hiroshi Watanabe vs. Kuishinbo Kamen (Osaka)
(4) Yoji "Dokonjo" Kondo vs. Prince Kawasaki
(5) Kazuhiro Tamura vs. Ricky Fuji (K-DOJO)
(6) Daisuke Kanehira vs. Daisuke Nakamura (U-zukido-Honpo)