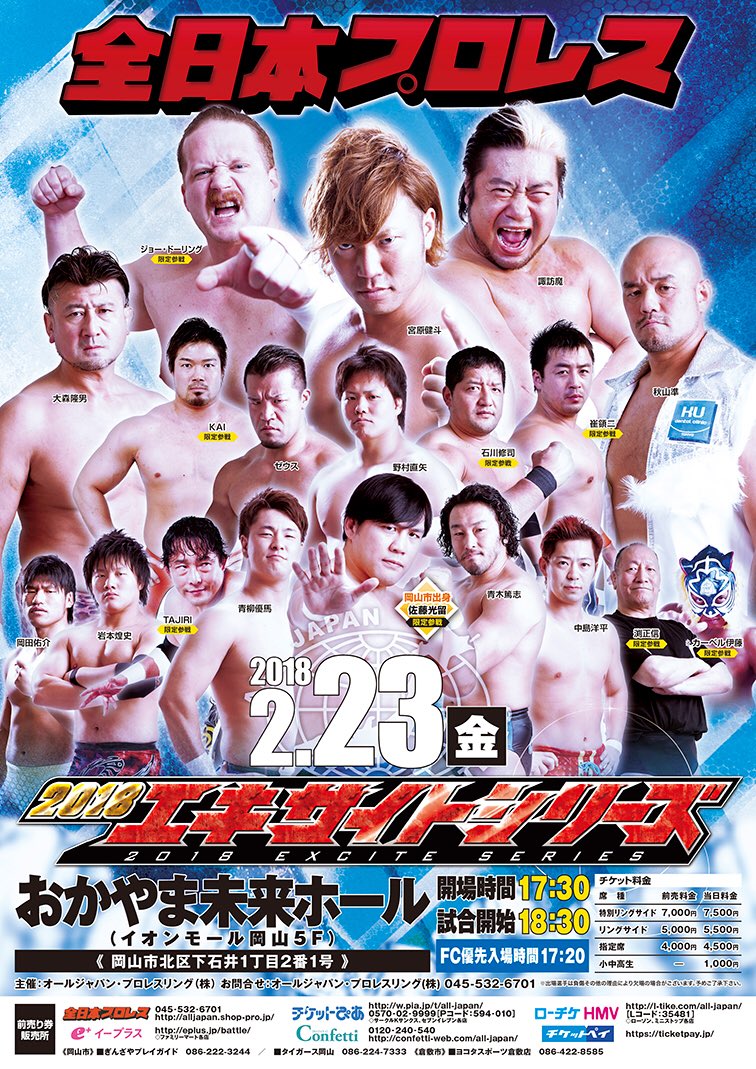 All Japan Pro-Wrestling "2018 Excite Series ~ Jr BATTLE OF GLORY", 2/23/2018 [Fri] 18:30 @ Okayama Mirai Hall
580 Spectators (overcrowded/sold out)
(1) Jr. League A BLOCK: Yusuke Okada vs. Atsushi Maruyama
◆Winner: Maruyama (5:58) with a Tiger Suplex Hold.
~ Maruyama [2 wins, 2 losses = 4 points]
~ Yusuke [1 win, 4 losses = 2 points]
(2) Jr. League A BLOCK: Shuji Kondo (W-1) vs. Soma Takao (DDT)
◆Winner: Takao (5:12) with a Solarina.
~ Takao [3 wins, 1 loss = 6 points]
~ Kondo [3 wins, 1 loss = 6 points]
~ Kondo was took focused on going for the kill early in the match that Takao ending up catching him with the capture pin-fall.
(3) Jun Akiyama, Yohei Nakajima & CarBell Ito vs. Kotaro Suzuki (FREE), Keiichi Sato (FREE) & Shachihoko BOY (DG)
◆Winner: Yohei (6:52) following the Tobiushiro-Mawashigeri on Keiichi.
(4) Suwama, Shuji Ishikawa & Atsushi Aoki vs. Zeus, Koji Iwamoto & KAI
◆Winner: Suwama (7:52) with the Manriki Sleeper on Iwamoto.
(5) Jr. League B BLOCK: Hikaru Sato vs. Mineo Fujita (Chinko)
◆Winner: Hikaru (14:13) with a Capture style Cross Armbar.
~ Hikaru [2 wins, 2 losses = 4 points]
~ Mineo [2 wins, 3 losses = 4 points]
~ Hikaru with the much needed win which this also being in his hometown.
(6) Joe Doering, TAJIRI (FREE), Black Tiger VII (FREE) & KAZMA SAKAMOTO (FREE) vs. Kento Miyahara, Yoshitatsu (FREE), Naoya Nomura & Ryoji Sai (LAND'S END)
◆Winner: Miyahara (17:43) with a German Suplex Hold on Black Tiger.
~ Next up is the final show of the on-going junior league on the 25th in Osaka.
~ Iwamoto, TAJIRI, Hikaru, and Kotaro all stand with a make or break in the B BLOCK and then a 3WAY tie now sits between Aoki, Kondo, and Takao.
http://puroresuspirit.net/2017/12/ajpw-event-cards-for-january-february-2018/
http://puroresuspirit.net/2018/02/ajpw-event-cards-for-march-april-2018/