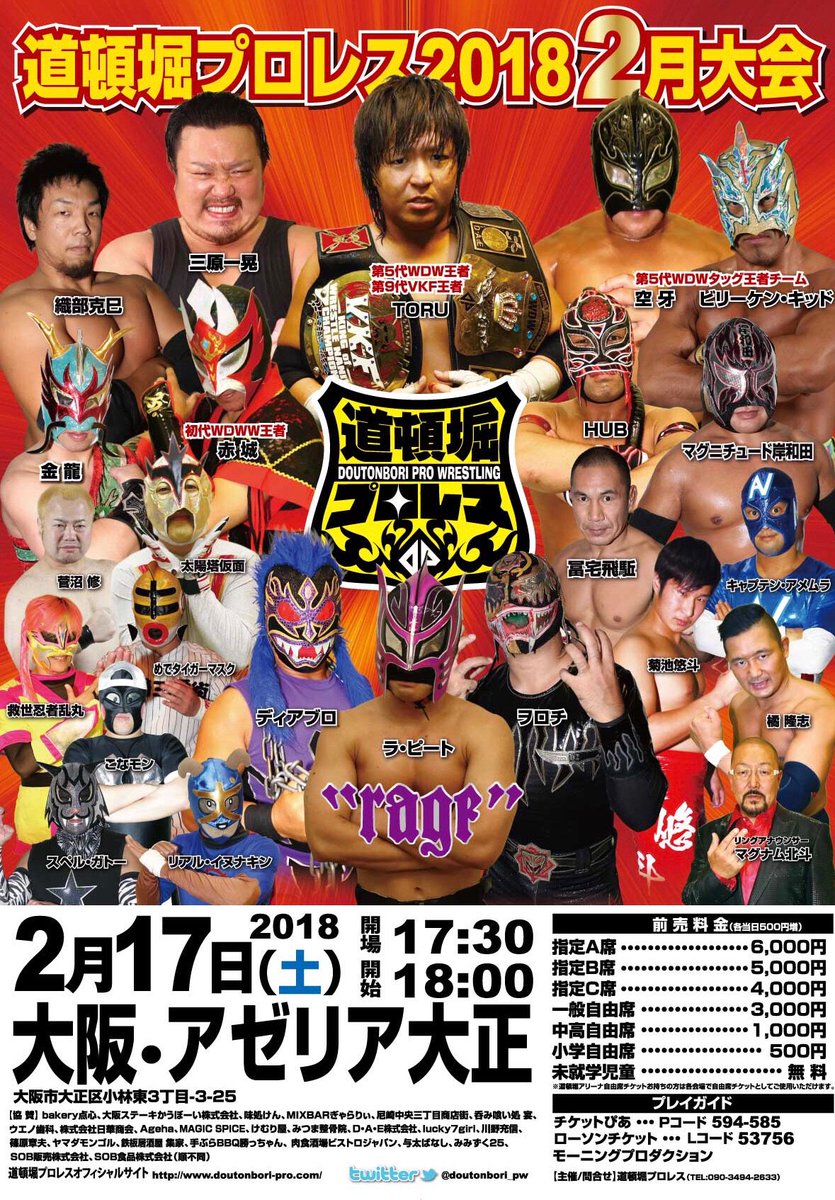 Doutonbori Pro-Wrestling, 2/17/2018 [Sat] 18:00 @ Azalea Taisho Hall in Osaka
(1) Yuto Kikuchi vs. Takashi Tachibana
◆Winner: Tachibana (9:53) following a Diving Tornado Knee Drop.
(2) Ultimate Spider Jr., Captain Amemura, Super Gato, Kyusei Ninja Ranmaru & Sumire Natsu vs. akagi, Taiyoto Kamen, Mede Tiger Mask, Mede Tigirl & Kengo Takai
◆Winner: Natsu (12:06) following the Yoran on Tigirl.
(3) Takaku Fuke & Kinryu vs. Osamu Saganuma & Hiroto Okubo
◆Winner: Fuke (10:56) with a Sleeper Hold on Okubo.
(4) Kuuga vs. Diablo
◆Winner: Kuuga (9:31) via foul, Ra-pid interferred.
(5) HUB & Katsumi Oribe vs. Ra-pid & Orochi
◆Winner: Oribe (13:03) via foul, following a low blow from Ra-pid.
(6) Billyken Kid & Kazuaki Mihara vs. TORU & Magnitude Kishiwada
◆Winner: Mihara (18:01) following a Lariat on TORU.
~ Ra-pid got involved in the match and allowed Mihara the opening to take out TORU.
~ TORU was anger at the idea at the loss, and the idea that Mihara might be connected to "Rage". Mihara denied the collusion.
~ Mihara made a claim for a rematch against TORU for the Doutonbori Championship belt.