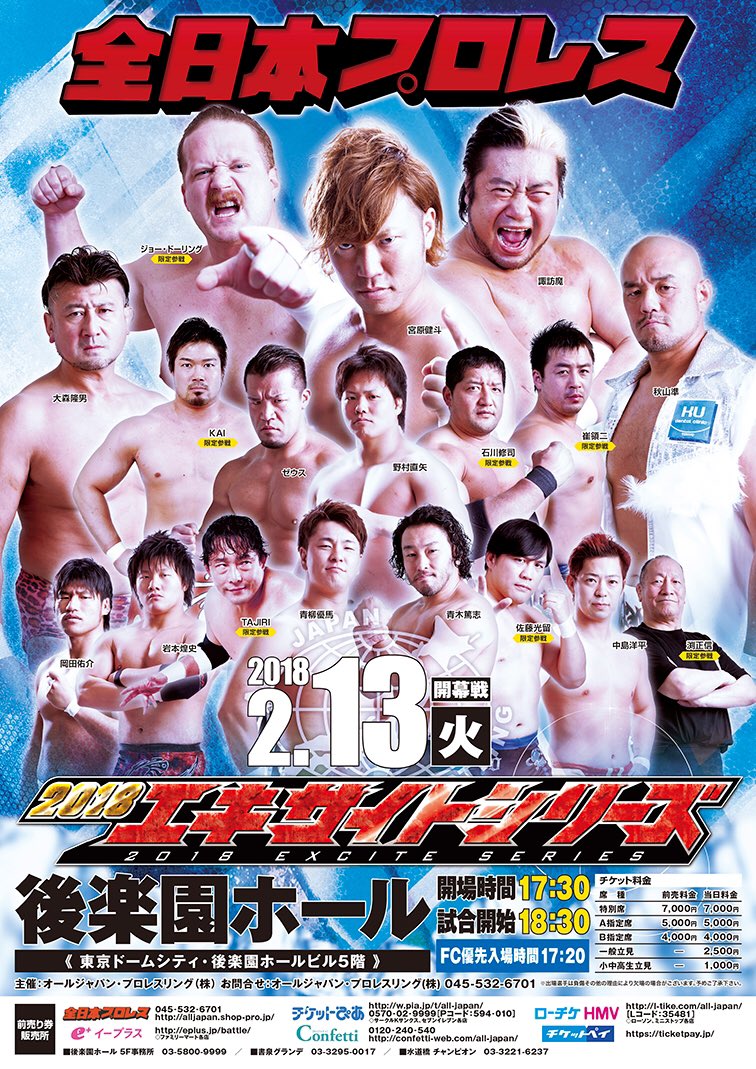 All Japan Pro-Wrestling "2018 Excite Series ~ Jr BATTLE OF GLORY", 2/13/2018 [Tue] 18:30 @ Korakuen Hall in Tokyo
1,003 Spectators
(1) Jr. League A BLOCK: Yusuke Okada vs. Keiichi Sato (FREE)
◆Winner: Yusuke (4:25) following a Modified Fisherman Buster.
~ Yusuke [1 win = 2 points]
~ Keiichi [1 loss = 0 points]
~ Yusuke kicks off the league by finally capturing a singles win over Keiichi.
(2) Jr. League B BLOCK: Yohei Nakajima vs. Kotaro Suzuki (FREE)
◆Winner: Yohei (4:01) with a Huracan Rana Invertida
~ Yohei [1 win = 2 points]
~ Kotaro [1 loss = 0 points]
(3) GAORA TV Championship 6 Man Tag Match: [15th Champion] Jun Akiyama, Ultimo Dragon & Atsushi Maruyama vs. [Challenger] Osamu Nishimura (FREE), Masanobu Fuchi & Fuminori Abe (BASARA)
◆Winner: Akiyama (8:17) with a School Boy on Fuchi.
~ 7th successful title defense.
(4) Joe Doering, Black Tiger VII (FREE), Soma Takao (DDT) & Revlon (LAND'S END) vs. Suwama, Shuji Ishikawa (FREE), Ishikiri (LAND'S END) & Mineo Fujita (Chinko Pro)
◆Winner: Doering (7:30) with a Running Body Attack on Ishikiri.
~ Suwama's focus was kept on Black Tiger, as he looked for some payback following the Kazuyuki Fujita assault in Yokohama.
(5) Jr. League B BLOCK: Koji Iwamoto vs. Hikaru Sato
◆Winner: Iwamoto (10:52) with the Koko no Geijutsu.
~ Iwamoto [1 win = 2 points]
~ Hikaru [1 loss = 0 points]
~ Iwamoto off to a strong start as he continues his aim to become a consecutive league victory.
(6) Kento Miyahara, Yoshitatsu (FREE), Naoya Nomura & Ryoji Sai vs. Zeus, The Bodyguard (FREE), TAJIRI (FREE) & KAI (FREE)
◆Winner: Zeus (11:31) with a Jackhammer on Miyahara.
~ Zeus with the win over the World Tag Champion before the title challenge on the 25th.
(7) Jr. League A BLOCK: Atsushi Aoki vs. Shuji Kondo (WRESTLE-1)
◆Winner: Kondo (13:29) following a Short-range style King Kong Lariat.
~ Kondo [1 win = 2 points]
~ Aoki [1 loss = 0 points]
~ Kondo kicks off the league with the win over the World Junior Champion. Kondo claimed that if this is the best that All Japan has to offer that he shall surely win the league.
http://puroresuspirit.net/2017/12/ajpw-event-cards-for-january-february-2018/