FREEDOMS, 2/11/2018 [Sun] 18:00 @ Hiroshima Sangyo Kaikan Nishidate West Building
481 Spectators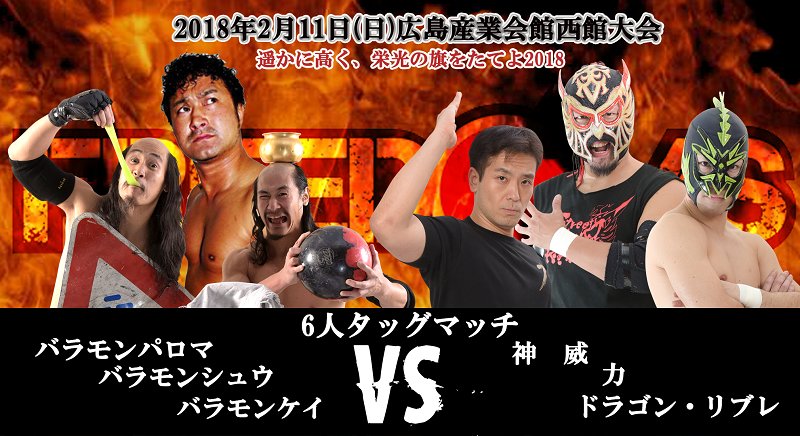 (1) Brahman Paloma, Brahman Shu & Brahman Kei vs. Chikara (Riki Enterprise), Kamui & Dragon Libre
◆Winner: Chikara (9:04) following a Saber Chop on Kei.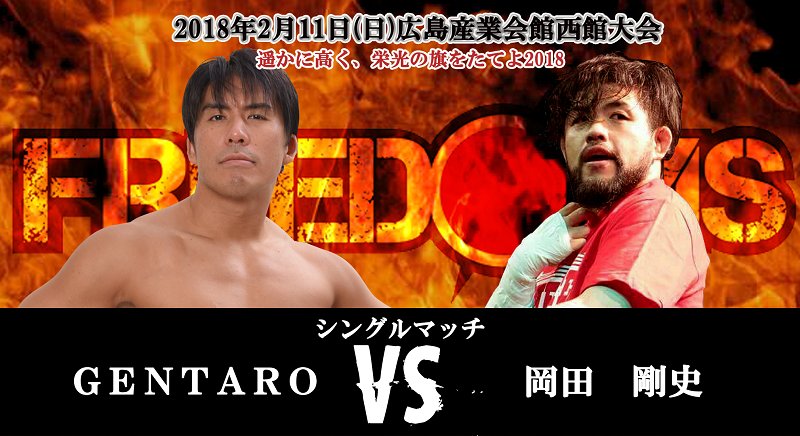 (2) GENTARO vs. Takeshi Okada (TK Esperanza)
◆Winner: GENTARO (8:13) via ring out.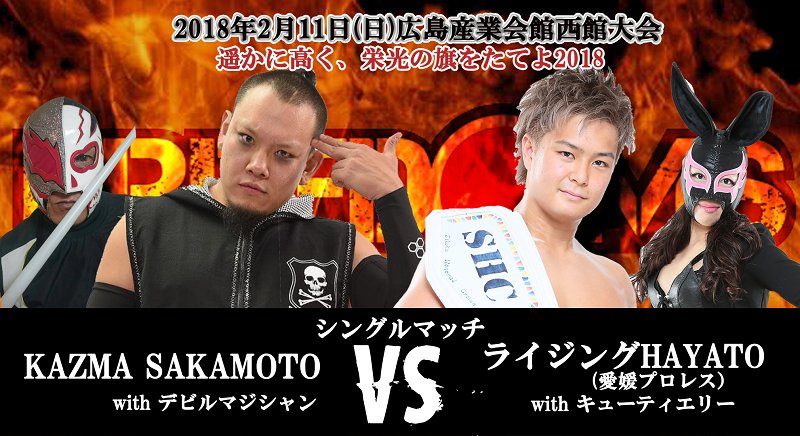 (3) KAZMA SAKAMOTO (FREE) w/ Devil Magician vs. Rising HAYATO (Ehime Pro) w/ Cutie Elly
◆Winner: KAZMA (8:24) with a Michinoku Driver II.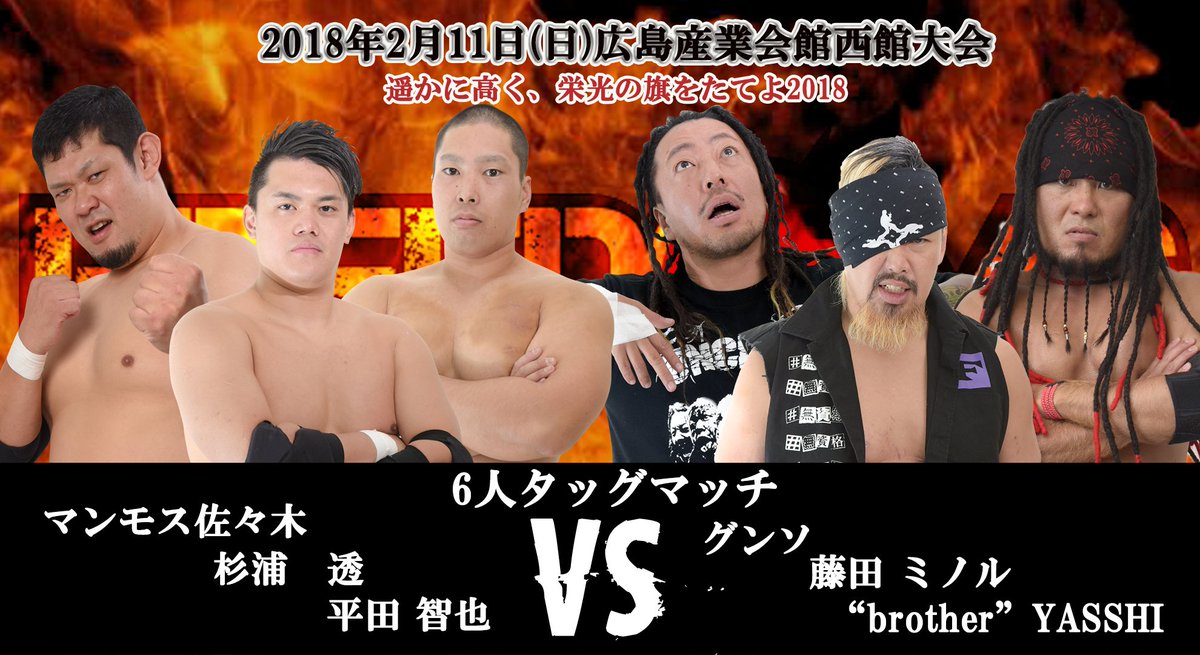 (4) Mammoth Sasaki, Toru Sugiura & Tomoya Hirata vs. Minoru Fujita (Gurentai), Gunso (DOVE) & 'brother' YASSHI (FREE)
◆Winner: YASSHI (13:49) with the Nice German on Tomoya.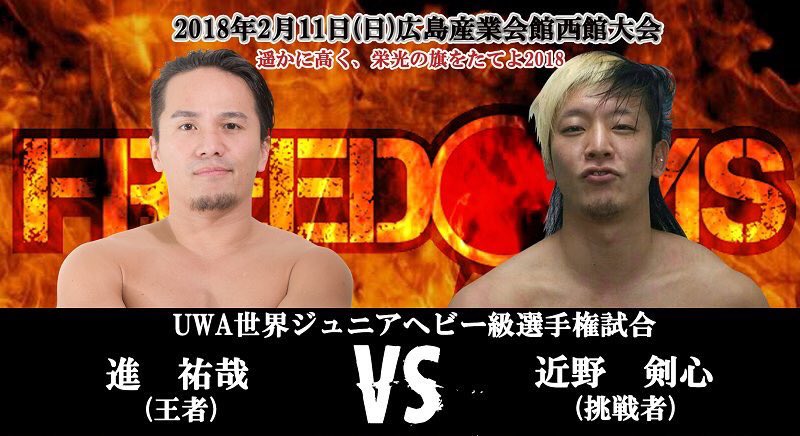 (5) UWA World Junior Heavyweight Championship Match: [31st Champion] Yuya Susumu vs. [Challenger] Kenshin Chikano (DOVE)
◆Winner: Susumu (15:53) with a Calf Lock.
~ 5th successful title defense.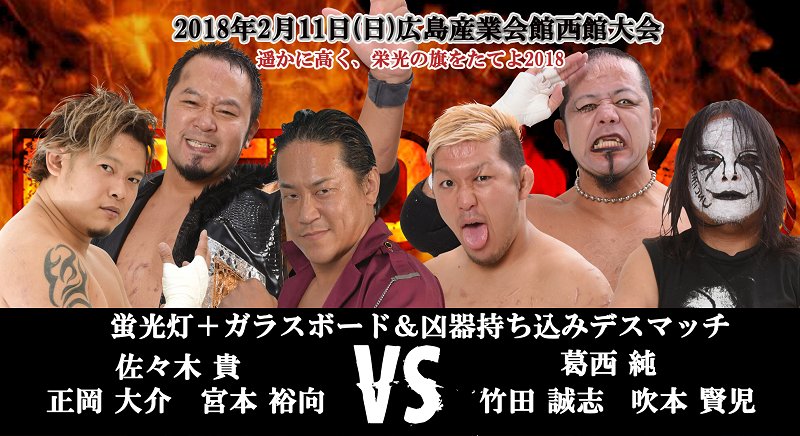 (6) Fluorescent Light-tubes + Glass Board & Bring Your Own Weapons Death Match: Takashi Sasaki, Daisuke Masaoka & Yuko Miyamoto (666) vs. Jun Kasai, Masashi Takeda (FREE) & Kenji Fukimoto
◆Winner: Masaoka (17:01) following the Rokkura Kai on Fukimoto.
http://puroresuspirit.net/tag/freedoms/
Upcoming…
Pro-Wrestling FREEDOMS "This is our era 2018", 3/1/2018 [Thu] 19:00 @ Shinkiba 1stRING in Tokyo
~ no matches currently announced