All Japan Pro-Wrestling "2018 YOKOHAMA TWILIGHT BLUES SPECIAL", 2/3/2018 [Sat] 17:00 @ Yokohama Cultural Gymnasium in Kanagawa
1,998 Spectators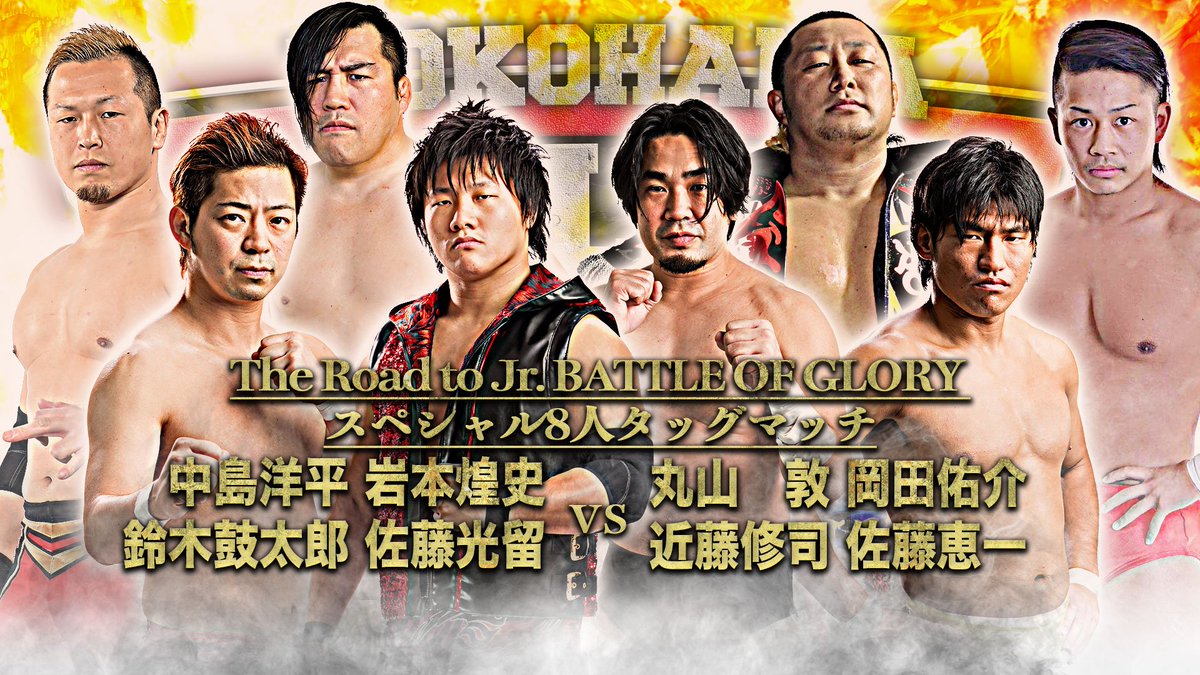 (1) The Road to Jr. BATTLE OF GLORY Special 8 Man Tag Match: Koji Iwamoto, Kotaro Suzuki (FREE), Hikaru Sato & Yohei Nakajima vs. Atsushi Maruyama, Yusuke Okada, Shuji Kondo (WRESTLE-1) & Keiichi Sato (FREE)
◆Winner: Hikaru (7:37) with a Cross Armbar on Keiichi.
~ Heat was shown between Iwamoto and Kondo throughout the match and the two were remain battling outside the ring as the bell rang at the finish.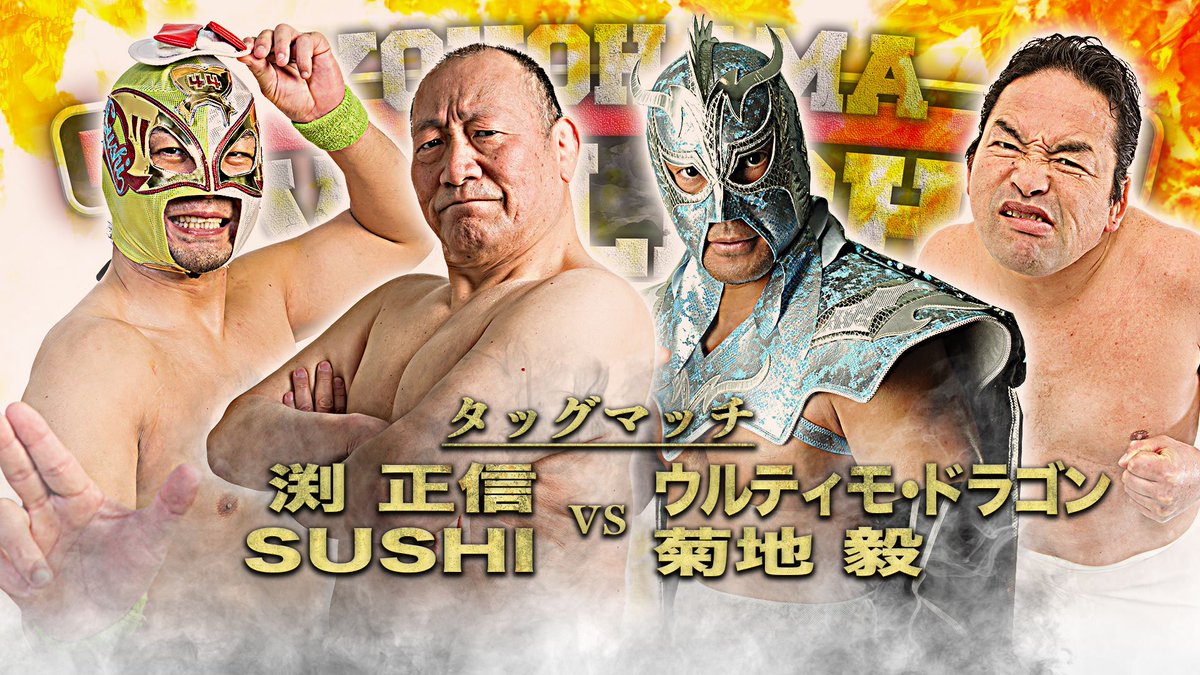 (2) Masanobu Fuchi & SUSHI (FREE) vs. Ultimo Dragon & Tsuyoshi Kikuchi (FREE)
◆Winner: Dragon (10:21) with a La Magistral on SUSHI.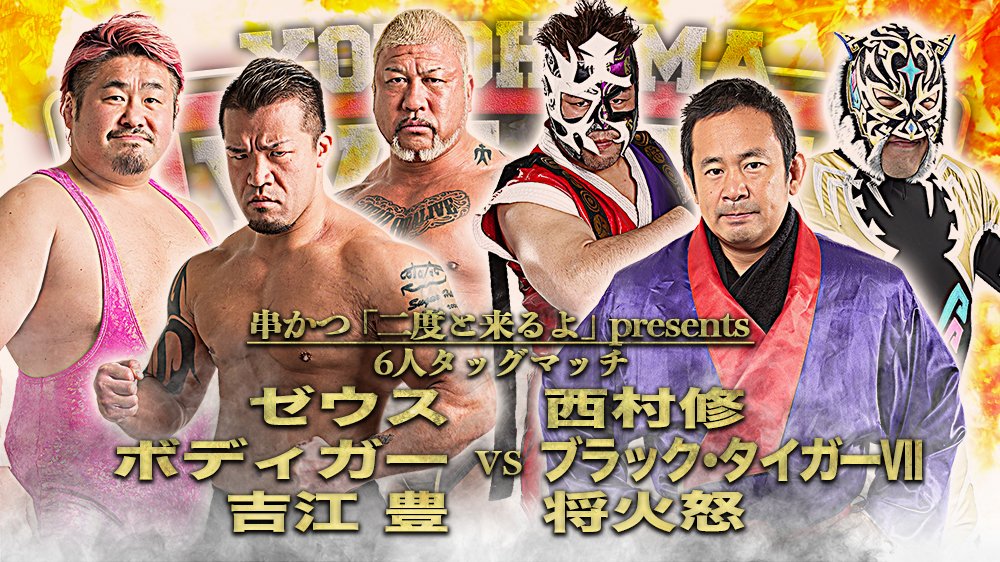 (3) Zeus, The Bodyguard & Yutaka Yoshie vs. Osamu Nishimura, Black Tiger VII (FREE) & Masakado (LAND'S END)
◆Winner: Zeus (8:38) following the Biceps Explosion on Black Tiger.
---
~ All Japan will be introducing their own online distribution service called "All Japan Pro-Wrestlin TV" and will begin in March, the service will cost 900 yen a month.
~ The split blocks for this years Champion Carnival were announced. This years Carnival is set to begin on April 7 and will run throughout the course of the month with the final on April 30.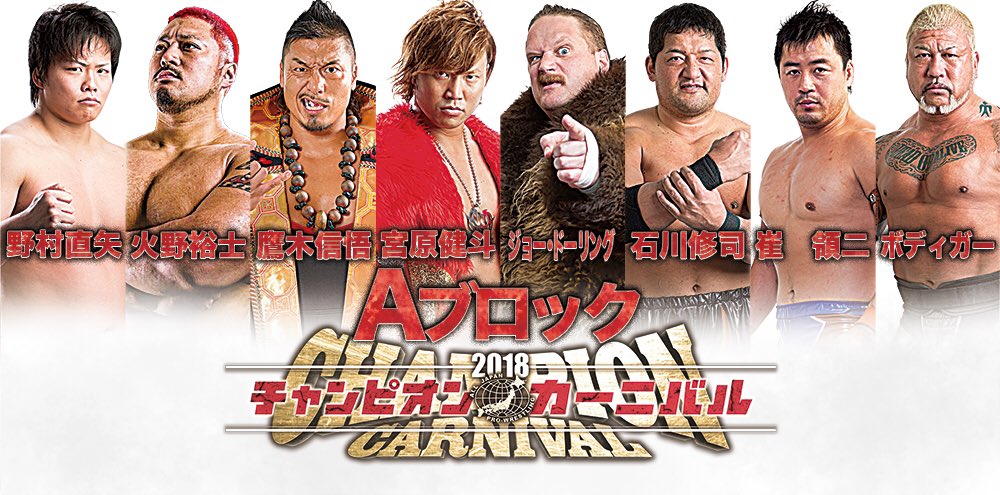 ~ A BLOCK : Naoya Nomura, Yuji Hino (FREE), Shingo Takagi (DRAGON GATE), Kento Miyahara, Joe Doering, Shuji Ishikawa (FREE) Ryoji Sai (LAND'S END) & The Bodyguard (FREE)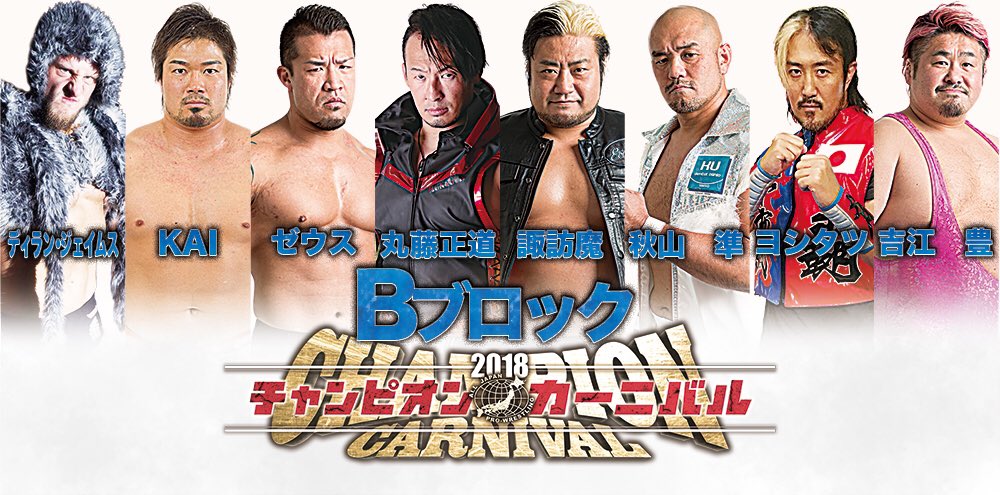 ~ B BLOCK : Dylan James (New Zealand), KAI (FREE), Zeus, Naomichi Marufuji (NOAH), Suwama, Jun Akiyama, Yoshitatsu (FREE) & Yutaka Yoshie (FREE)
---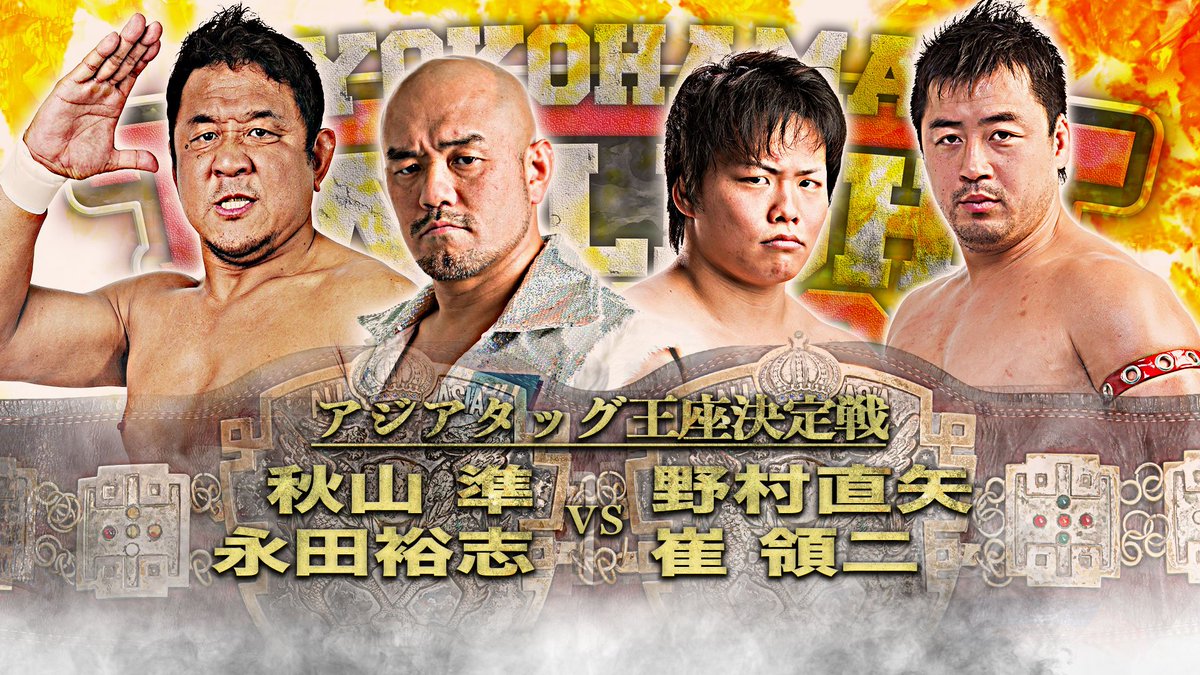 (4) Asia Tag Championship Decision Match: Jun Akiyama & Yuji Nagata (NJPW) vs. Naoya Nomura & Ryoji Sai (LAND'S END)
◆Winner: Akiyama (20:15) following a Wrist Clutch style Exploder on Nomura.
~ Akiyama & Nagata become the 104th champions.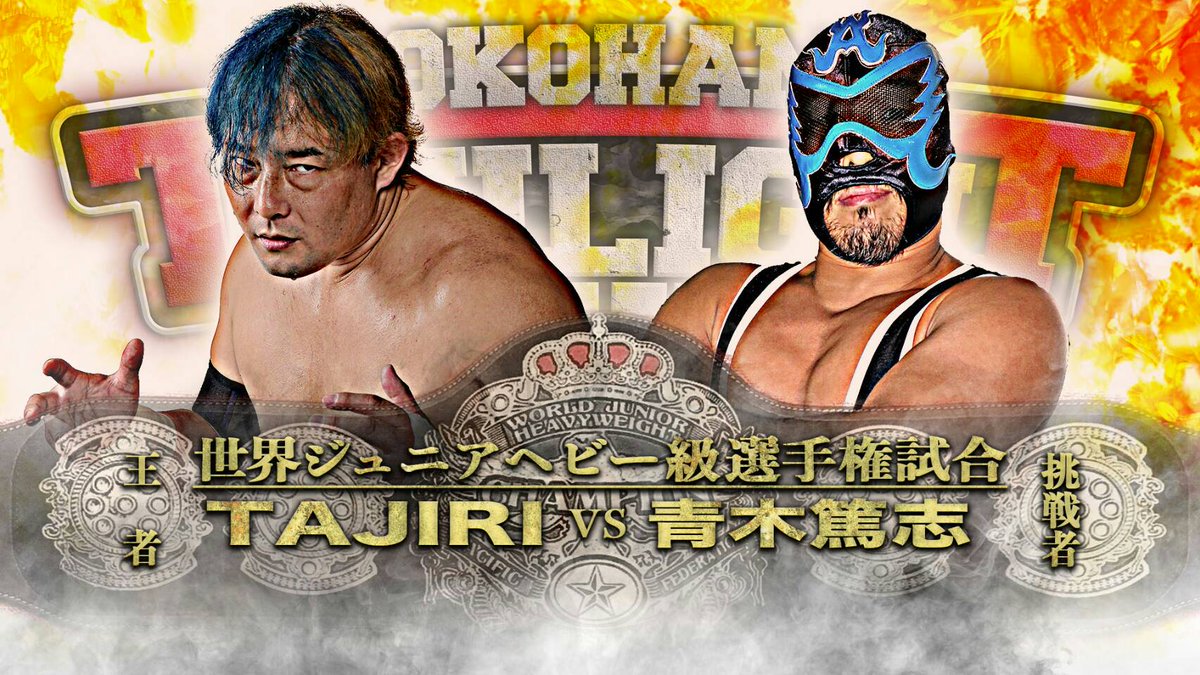 (5) World Junior Heavyweight Championship Match: [46th Champion] TAJIRI (FREE) vs. [Challenger] Atsushi Aoki
◆Winner: Aoki (16:27) with a Cross Armbar.
~ Champion falls on his 4th title defense. Aoki becomes the 47th champion.
~ Aoki capture the belt before the upcoming "Jr. BATTLE OF GLORY" which begins this month.
~ This lead to Iwamoto stating that he aims to win the league once again this year and challenge Aoki.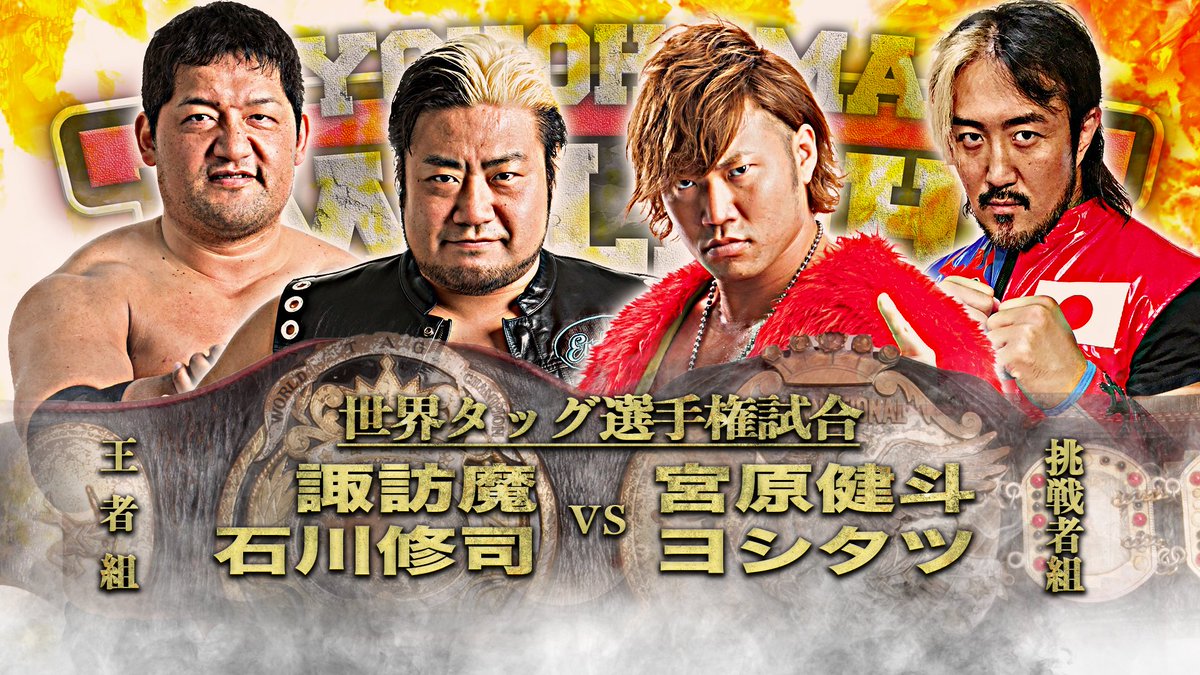 (6) World Tag Championship Match: [78th Champions] Suwama & Shuji Ishikawa (FREE) vs. [Challengers] Kento Miyahara & Yoshitatsu (FREE)
◆Winner: Miyahara (20:17) with the Shutdown German Suplex Hold on Suwama.
~ Champions fall on their 1st title defense. Miyahara & Yoshitatsu become the 79th champions.
~ Big Guns (Zeus & Bodyguard) came out to challenge the new champions. The champion first defense was announced to be on February 25 in Osaka.
~ Kazuyuki Fujita did indeed appear, after a month of rumors once more circulating, as he attacked Suwama along with Kendo Kashin and NOSAWA Rongai.
~ Yusuke Okada and Hikaru Sato made the save for Suwama and helped fend off the invaders.
~ Suwama was left in both confusion and anger that the invaders turned left the arena so quickly.
~ During the backstage interview, Hikaru stated that he is not affiliated with Suwama again, but he could not stand back and let these guys attempt to tarnish the All Japan ring.
~ Though Suwama also looked to have finally accepted Yusuke into Evolution. As he aims to rebuild Evolution to take on the invaders.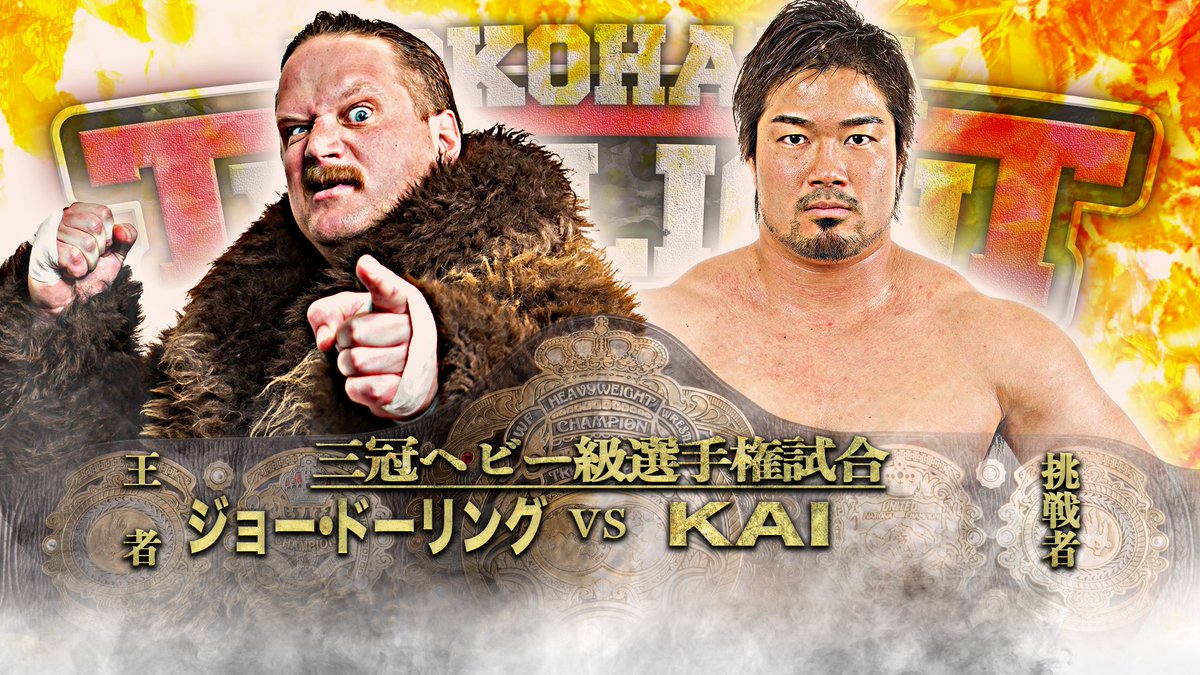 (7) Triple Crown Heavyweight Championship Match: [59th Champion] Joe Doering vs. [Challenger] KAI (FREE)
◆Winner: Doering (14:31) with a Revolution Bomb.
~ 3rd title defense.
~ Kento Miyahara stepped forward to challenge Doering, Doering replied "OK!" as he accepted.
http://puroresuspirit.net/2017/12/ajpw-event-cards-for-january-february-2018/