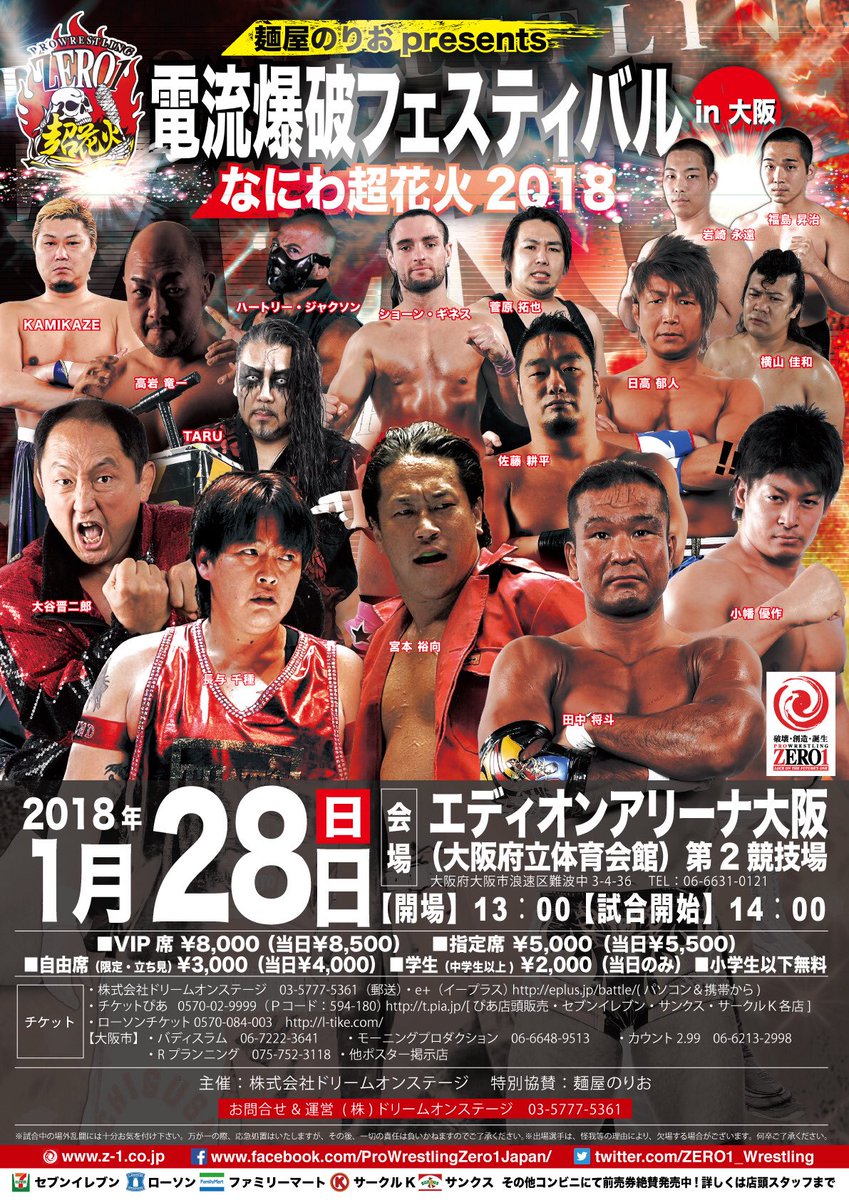 Cho-Hanabi / ZERO1, 1/28/2018 [Sun] 14:00 @ EDION Arena Osaka, 2nd Stadium
(0) Dark Match: Shoji Fukushima vs. Yoya Iwasaki
◆Winner: Iwasaki (8:51) with a Boston Crab.
(1) KAMIKAZE vs. Yoshikazu Yokoyama
◆Winner: KAMIKAZE (7:51) following a Super Kick.
(2) Sean Guinness & SUGI vs. Tatsuhito Takaiwa & Ikuto Hidaka
◆Winner: Guinness (11:11) with a Cross Armbar on Takaiwa.
(3)  Ice Ribbon Offer Match: Risa Sera & Maya Yukihi vs. Tequila Saya & Tsukushi
◆Winner: Yukihi (14:02) following a Swanton Bomb on Saya.
(4) Shinjiro Otani & Shogun Okamoto vs. Masato Tanaka & Takuya Sugawara
◆Winner: Otani (11:41) following a Kaesagiri Chop on Sugawara.
(5) Kohei Sato vs. Yuji Hino (FREE)
◆Winner: Hino (10:16) following the Fucking BOMB.
(6) World Heavyweight & Bakuha-oh Double Championship Match: [22nd World Champion] Yusaku Obata vs. [8th Bakuha-oh Champion] Yuko Miyamoto (666)
◆Winner: DRAW (14:00) via Double KO, following a Bomb Blast.
~ Obata defends his belt in a draw, 1st successful defense and a 1st successful defense for Miyamoto as well.
(7) Bakuha-Joshi-Oh Championship 4WAY Match: Chigusa Nagayo vs. Yoshiko vs. Akane Fujita vs. Voodoo Lady Mask
◆Winner: Yoshiko (15:21) following a Diving Centon on Akane.
~ Yoshiko becomes the 2nd Champion.
http://puroresuspirit.net/tag/zero1/
Upcoming…
ZERO1, 2/12/2018 [Mon] 19:00 @ Shinkiba 1stRING in Tokyo
() World Heavyweight Championship Match: [Champion] Yusaku Obata vs. [Challenger] Isami Kodaka