KAIENTAI DOJO "CLUB-K 3000", 1/20/2018 [Sat] @ Blue Field in Chiba
(1) Daigoro Kashiwa vs. Yoshihiro Horaguchi
◆Winner: Kashiwa (9:59) with the Mapputatsu.
(2) 3WAY Match: Ayumu Honda vs. Shiori Asahi vs. Ayame Sasamura
◆Winner: Ayumu (8:52) with a Cross Armbar on Sasamura.
(3) TAKA Michinoku, Ricky Fuji & Massimo vs. Kotaro Yoshino, Dinosaur Takuma & Bambi
◆Winner: TAKA (12:35) following the Super K in Bambi.
(4) Taishi Takizawa vs. Marines Mask
◆Winner: Takizawa (12:30) following an Implant.
(5) Tank Nagai, Kunio Toshima & Kyu Mogami vs. Kaji Tomato, GO Asakawa & Yuma
◆Winner: Mogami (17:37) following the X-Kurodo on Yuma, onto a chair.
~ After the match, Marines Mask came out and helped RoS stop Magatsuki from their continued assault. Marines was accepted as the newest member of the RoS group.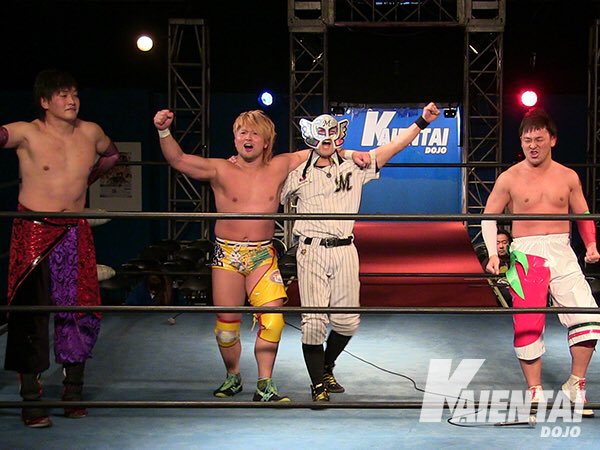 http://puroresuspirit.net/tag/k-dojo/
Upcoming…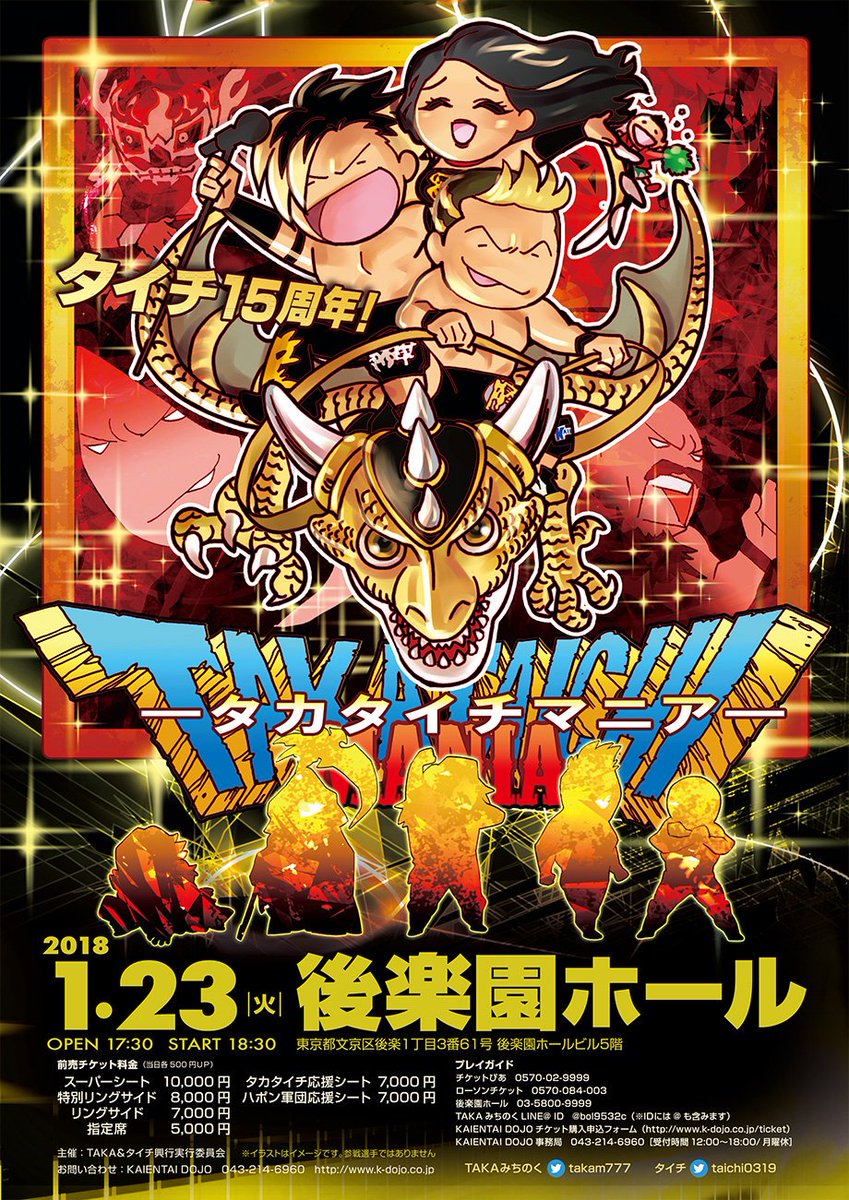 TakaTaichiMania, 1/23/2018 [Tue] 18:30 @ Korakuen Hall in Tokyo
() KAIENTAI DOJO Special 6 Man Tag Match: Kotaro Yoshino, Dinosaur Takuma & Marines Mask vs. Tank Nagai, Ayumu Honda & Kyu Mogami
() Joshi Special Tag Match: Bambi & Ayame Sasamura vs. Saori Anno (Actress Girl'Z) & Koharu Hinata (FREE)
() Special 6 Man Tag Match: Minoru Suzuki (SZKG/Pancrase MISSION), Yoshinobu Kanemaru (SZKG/FREE) & Hikaru Sato (Pancrase MISSION) vs. Yoshitatsu (FREE), Taishi Takizawa (K-DOJO) & GO Asakawa (K-DOJO)
() Special Singles Match: Takashi Iizuka (SZKG/NJPW) vs. Jun Kasai (FREEDOMS)
() Special Tag Match: TAKA Michinoku (SZKG/K-DOJO) & Kaji Tomato (K-DOJO) vs. BUSHI & Hiromu Takahashi (both LIJ/NJPW)
() Taichi's 15th Anniversary Match: Taichi (SZKG/NJPW) vs. Tetsuya Naito (LIJ/NJPW)
http://puroresuspirit.net/tag/taka-taichi-produce/
KAIENTAI DOJO "CLUB-K SUPER in TKP Garden City Chiba", 2/25/2018
() CHAMPION OF STRONGEST-K Match: [Champion] Taishi Takizawa vs. [Challenger] Kotaro Yoshino