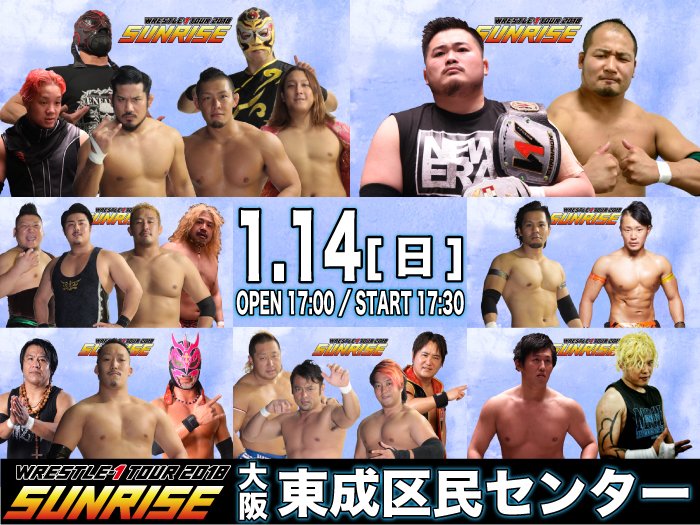 WRESTLE-1 TOUR 2018 SUNRISE, 1/14/2018 [Sun] 17:30 @ Osaka Higashinari Kumin Center
(1) Seiki Yoshioka vs. Tomohiro Ueno (J2000)
◆Winner: Yoshioka (8:08) following the S.K.
(2) Kaz Hayashi & Shuji Kondo vs. Masayuki Mitomi & Hiroaki Moriya (J2000)
◆Winner: Kondo (8:39) following a King Kong Lariat on Mitomi.
(3) Masayuki Kono vs. MAZADA (Gurentai)
◆Winner: Kono (7:06) following the Giant Knee Drop.
(4) Manabu Soya vs. Seigo Tachibana
◆Winner: Soya (7:42) following a Death Valley Bomb.
(5) Koji Doi, Kumagoro & Daisuke Masaoka (FREEDOMS) vs. Daiki Inaba, Tsugataka Sato & K-ness. (DG)
◆Winner: Kumagoro (13:39) following a Diving Senton on Tsugataka.
(6) W-1 Result Championship Match: [4th Champion] Takanori Ito vs. [Challenger] Dyna Mido (B168)
◆Winner: Ito (10:39) with a German Suplex Hold.
~ 3rd successful title defense.
(7) Shotaro Ashino, Yusuke Kodama & Drunk Andy vs. Jiro "Ikemen" Kuroshio, Andy Wu & Alejandro
◆Winner: Andy Wu (17:09) with the Fei-Hung on Drunk Andy.
~ Wu recovered one of the masks that Drunk had previously stolen from him.
~ Kuroshio challenged Ito for a chance at the Result belt.
http://puroresuspirit.net/tag/w-1/
Upcoming…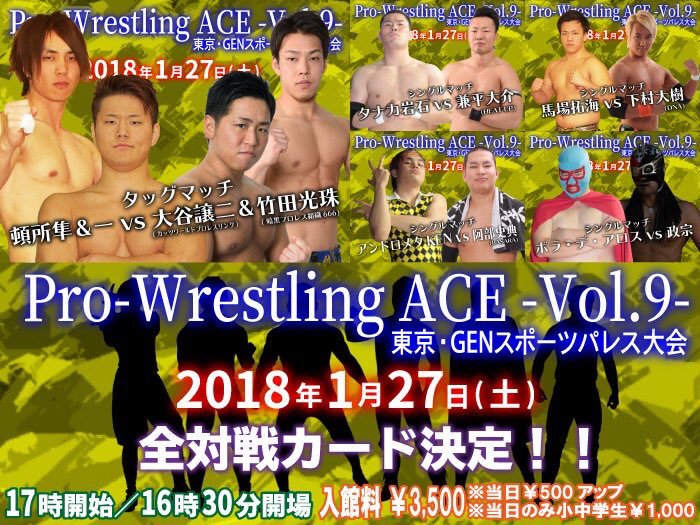 Pro-Wrestling ACE – Vol.9, 1/27/2018 [Sat] 17:00 @ GEN Sports Palace, W-1 Dojo in Tokyo
() Jun Tonsho & Hajime vs. Joji Otani (GUTS World) & Koju Takeda (666)
() Ganseki Tanaka vs. Daisuke Kanehira (HEAT-UP)
() Takumi Baba vs. Daiki Shimomura (DNA)
() Bora de Aros vs. Masamune (FREE)
() Andromeda KEN vs. Fuminori Abe (BASARA)