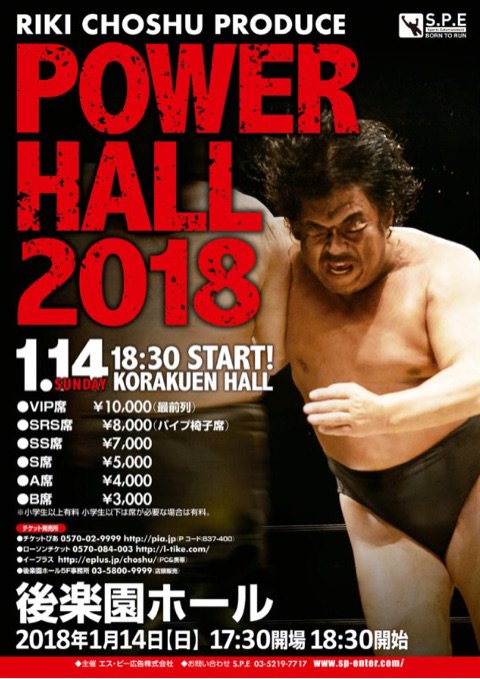 Riki Choshu Produce "POWER HALL 2018 ~ Set Back the Clock", 1/14/2018 [Sun] 18:30 @ Korakuen Hall in Tokyo
1,657 Spectators (crowded)
(1) CROSSING THE LINE: Katsuhiko Nakajima (NOAH) vs. Keisuke Okuda (IGF)
◆Winner: Nakajima (6:49) following the Vertical Spike.
(2) WORLD OF IMPACT: Daisuke Harada & Tadasuke (NOAH) vs. Andrew Everett (Impact) & Jay Bradley (USA)
◆Winner: Everett (9:34) with a Shooting Star Press on Tadasuke.
(3) BEYOND THE BORDER: Takashi Sugiura (NOAH), Yoshinari Ogawa (NOAH) & LEONA (DRADITION) vs. Mayabch Taniguchi (NOAH), Hajime Ohara (NOAH) & Mitsuhiro Yoshida (GJP)
◆Winner: LEONA (11:58) with a Backslide on Yoshida.
(4) Hesei Ishin-gun vs Gowan Strongs: Shiro Koshinaka (FREE), AKIRA (Makai) & Akitoshi Saito (NOAH) vs. Go Shiozaki (NOAH), Quiet Storm (NOAH) & Masa Kitamiya (NOAH)
◆Winner: Shiozaki (13:22) following a Short-range Gowan style Lariat on Saito.
(5) Double Main Event – I~HYBRID EVOLUTION: Naomichi Marufuji (NOAH) & Shingo Takagi (DG) vs. Masato Tanaka (ZERO1) & Masa Kitamiya (NOAH)
◆Winner: Marufuji (14:27) following a Shiranui on Kitamiya.
~ Marufuji and Shingo both hinted that they would not be apposed to a singles confrontation in the future.
(6) Double Main Event – JOIN THE REVOLUTION: Riki Choshu (RikiPro), Kota Ibushi (IbushiPro) & Gota Ihashi (DDT) vs. Tatsumi Fujinami (DRADITION), TAKA Michinoku (K-DOJO) & Daisuke Sekimoto (BJW)
◆Winner: Ibushi (14:20) with a Sidown style Last Ride on TAKA.
~ Choshu raised Ibushi's hand after he secured the win, but during the backstage interview Choshu was hard on Gota Ihashi. He does not believe Ihashi should be in the main event scene. Though Ihashi was thankful for learning experience and the opportunity.
~ Choshu was happy with the success of today's show, as this being his first hosted show in nearly three years. That everyone did their best and the fans in attendance were clearly happy.