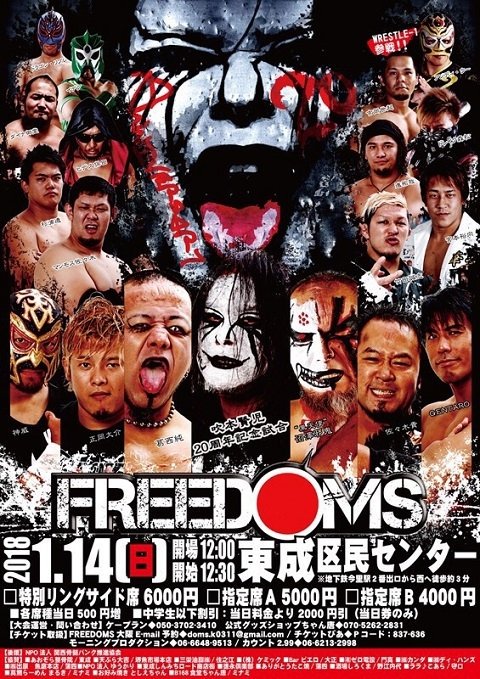 FREEDOMS "Kenji Fukimoto 20th Anniversary Show", 1/14/2018 [Sun] 12:30 @ Osaka Higashinari Kumin Center
384 Spectators
(1) Kenji Fukimoto & Karate Brahman vs. Drake Morimatsu & Idea
◆Winner: Drake (8:41) following a Lariat on Karate.
(2) Takashi Sasaki & GENTARO vs. Yuya Susumu & Dragon Libre
◆Winner: GENTARO (10:21) via pin-fall on Libre, following a Flying Body Attack counter.
(3) Yuko Miyamoto (666) vs. Tomoya Hirata
◆Winner: Miyamoto (11:58) with a Single Leg Crab.
(4) Hardcore Match: Mammoth Sasaki, Toru Sugiura & Dyna Mido (B168) vs. Gunso (DOVE), Hide & Yasu Kubota (both FREE)
◆Winner: Gunso (11:27) following a Diving Guillotine Drop on Mido, with a ladder.
(5) Daisuke Masaoka & Kamui vs. Seiki Yoshioka & Andy Wu (both W-1)
◆Winner: Yoshioka (15:42) with a La Magistral on Kamui.
(6) Fukimoto 20th Anniversary ~ 045 Junkie's vs unchain Fluorescent Light-tube + Alpha Death Match: Kenji Fukimoto & Masashi Takeda (FREE) vs. Jun Kasai & Jaki Numazawa (BJW)
◆Winner: Kasai (21:13) following a Vertical Drop style Reverse Tiger Driver on Fukimoto, onto a saw board.
http://puroresuspirit.net/tag/freedoms/
Upcoming…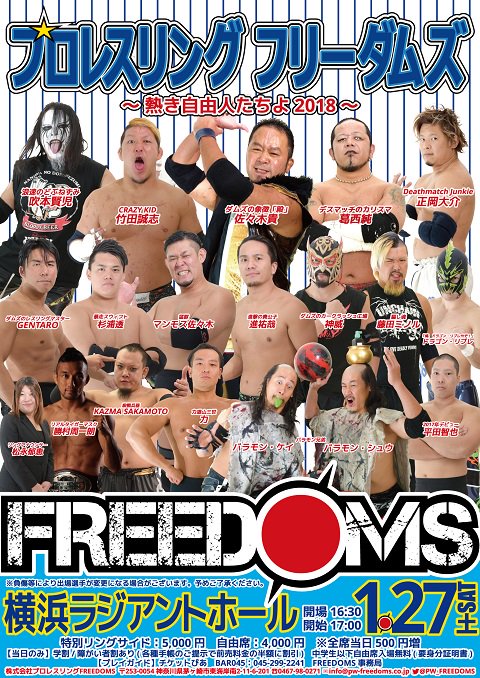 FREEDOMS, 1/27/2018 [Sat] 17:00 @ Yokohama Radiant Hall in Kanagawa
() Super Special Exhibition Match: Takashi Sasaki & Trainee vs. Shu & Kei Brahman
() KAZMA SAKAMOTO & Chikara vs. Kenichiro Arai & Dragon Libre
() Mammoth Sasaki & Tomoya Hirata vs. Yuya Susumu & Shuichiro Katsumura (Reversal Gym Yokohama)
() FREEDOMS vs. unchain: Kamui vs. Gunso (DOVE)
() FREEDOMS vs. unchain: Toru Sugiura vs. Minoru Fujita
() FREEDOMS vs. unchain 6 Man Tag Match: Takashi Sasaki, GENTARO & Daisuke Masaoka vs. Jun Kasai, Masashi Takeda & Kenji Fukimoto