BASARA NEWS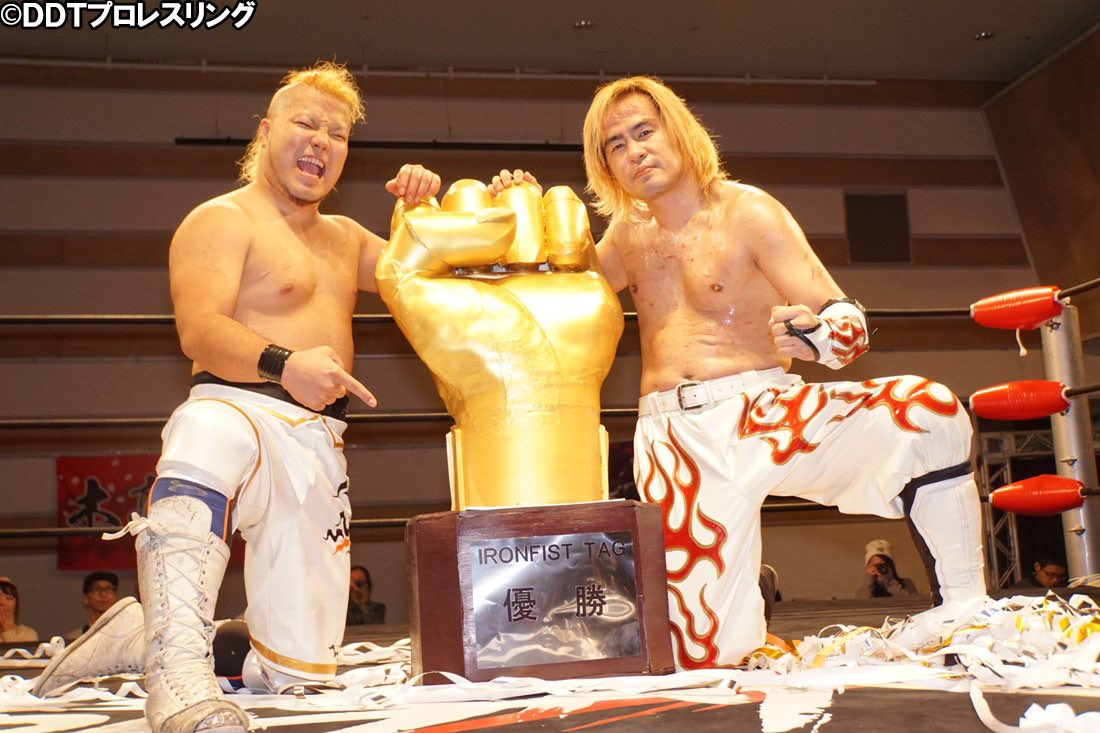 ~ The "IRON FIST TAG TOURNAMENT" was announced to be held this year with the first round matches taking place February 11 at the Oji BASEMENT MONSTAR in Tokyo and then the finals on February 19 at the Shinkiba 1stRING in Tokyo. No teams have been announced at this time but 8 teams will indeed be competing in the single elimination tournament.
~ Then the full event card was announced for the January 14 show in Sendai.
BASARA, 1/14/2018 [Sun] 17:30 @ Miyagino Ward Cultural Center in Miyagi
() Fuminori Abe vs. Daiki Shimomura (DNA)
() Best Stretch Man V3 & Tsutomu Oosugi vs. Shisaoh (FREE) & Hercules Senga
() Masamune (FREE) vs. Takato Nakano
() Special Single Match: Takumi Tsukamoto vs. Yasu Urano (FREE)
() Isami Kodaka, Ryuichi Sekine & Ryota Nakatsu vs. FUMA, Yusuke Kubo & SAGAT
http://puroresuspirit.net/tag/basara
---
DDT NEWS
~ More matches were announced for the Korakuen Hall show on January 28.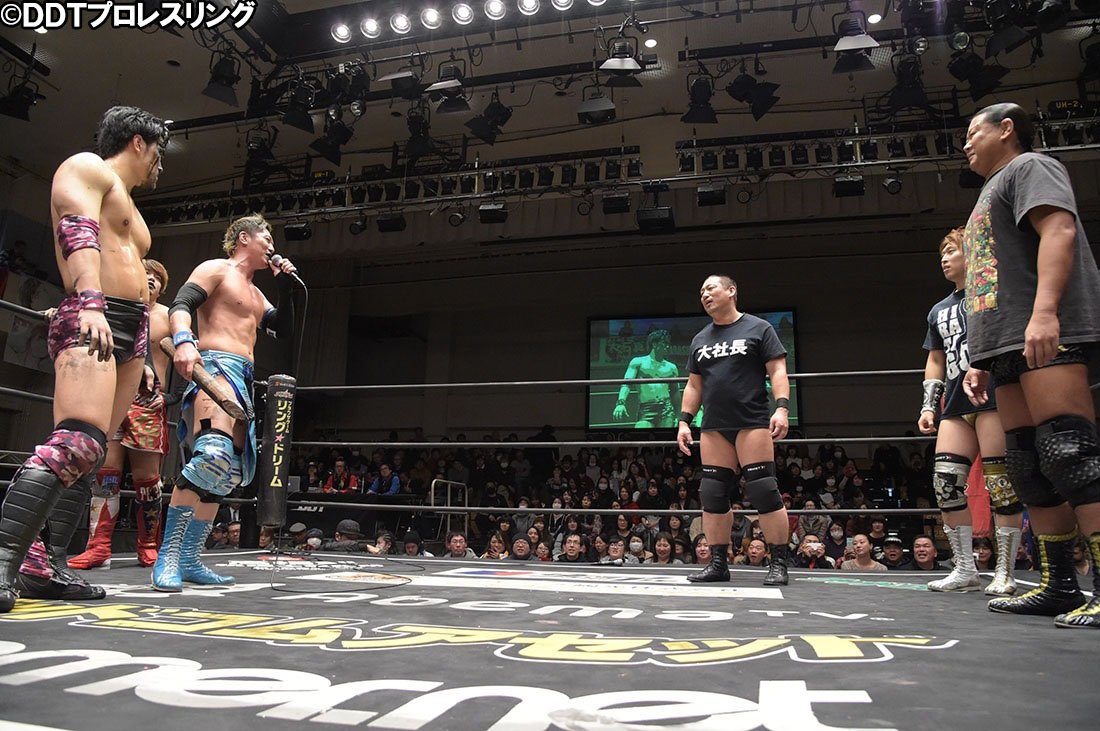 DDT Pro-Wrestling "D-oh GRAND PRIX 2018", 1/28/2018 [Sun] 12:00 @ Korakuen Hall in Tokyo
() NωA FINAL CONCERT in Korakuen Hall ~ NωA Dissolution Match: Makoto Oishi, Shunma Katsumata & MAO vs. Sanshiro Takagi, Toru Owashi & Kazuki Hirata
() GP Final Match: (A #1) vs. (B #1)
http://puroresuspirit.net/tag/ddt/
DNA NEWS
~ Some matches were announced for the January 21 show in Kawaguchi.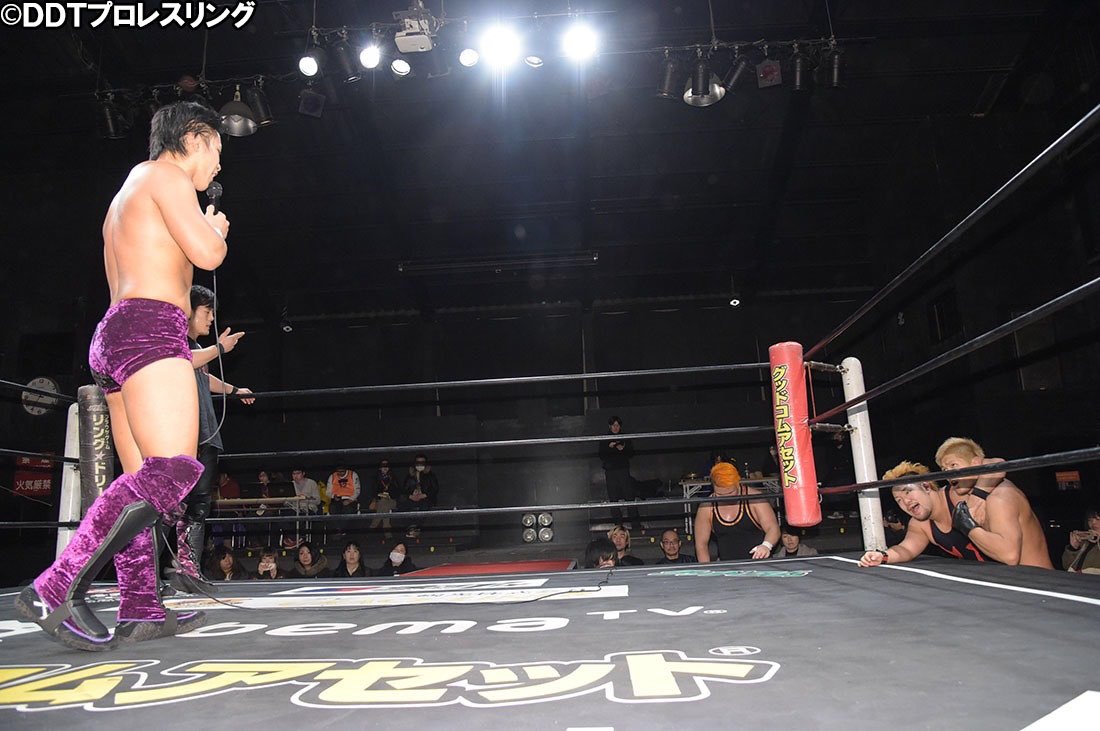 DNA 40, 1/21/2018 [Sun] 13:00 @ Kawaguchi Sangyo Gijutsu Sogo Center in Saitama
() Yuki Ueno & Koju Takeda vs. Tetsuya Endo & Mad Paulie
() Gran MilliMeters vs Speed of Sounds: Daiki Shimomura & Nobuhiro Shimatani vs. Tsutomu Oosugi & Hercules Senga
() DNA Army vs Yoshimura Gundan Elimination 6 Man Tag Match: Kota Umeda, Kouki Iwasaki & MAO vs. Naomi Yoshimura, Keisuke Okuda & Akira Joh
http://puroresuspirit.net/tag/dna/
---
FREEDOMS NEWS
~ The full event card was announced for the January 27 show in Yokohama.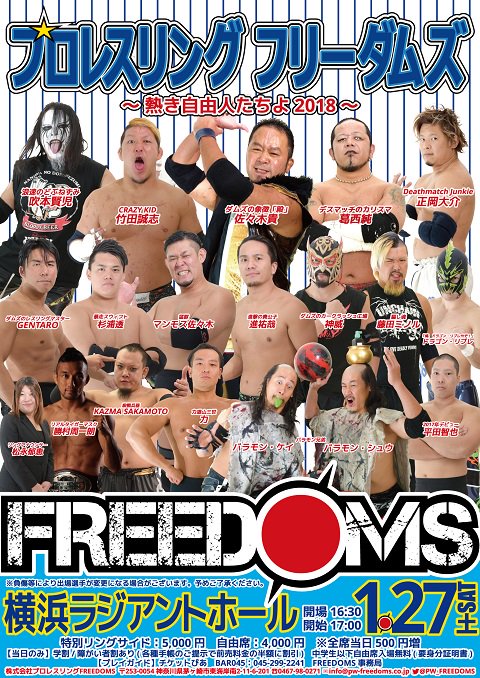 FREEDOMS, 1/27/2018 [Sat] 17:00 @ Yokohama Radiant Hall in Kanagawa
() Super Special Exhibition Match: Takashi Sasaki & Trainee vs. Shu & Kei Brahman
() KAZMA SAKAMOTO & Chikara vs. Kenichiro Arai & Dragon Libre
() Mammoth Sasaki & Tomoya Hirata vs. Yuya Susumu & Shuichiro Katsumura (Reversal Gym Yokohama)
() FREEDOMS vs. unchain: Kamui vs. Gunso (DOVE)
() FREEDOMS vs. unchain: Toru Sugiura vs. Minoru Fujita
() FREEDOMS vs. unchain 6 Man Tag Match: Takashi Sasaki, GENTARO & Daisuke Masaoka vs. Jun Kasai, Masashi Takeda & Kenji Fukimoto
http://puroresuspirit.net/tag/freedoms/
---
NJPW NEWS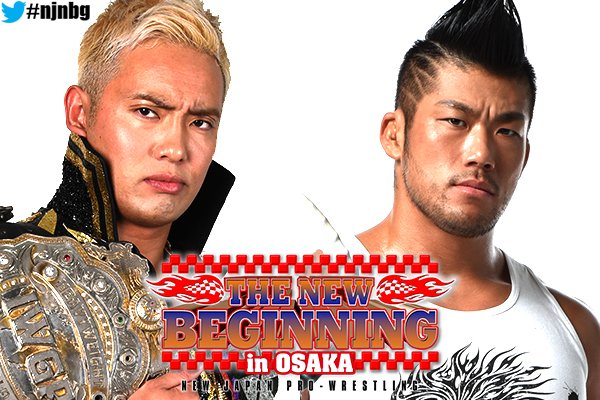 ~ New Japan announced several updates as they head into the end of the tour big show on February 10 in Osaka. That show will feature a main event of Okada defending the IWGP Heavy belt against SANADA. Though before that SANADA & EVIL will defend the IWGP Tag belts against the team of Okada & Goto on February 6 at the Korakuen Hall. Also announced for the 2/10 show will be Goto defending the NEVER Openweight belt against EVIL and then Ospreay defending the IWGP Jr. belt against Hiromu Takahashi.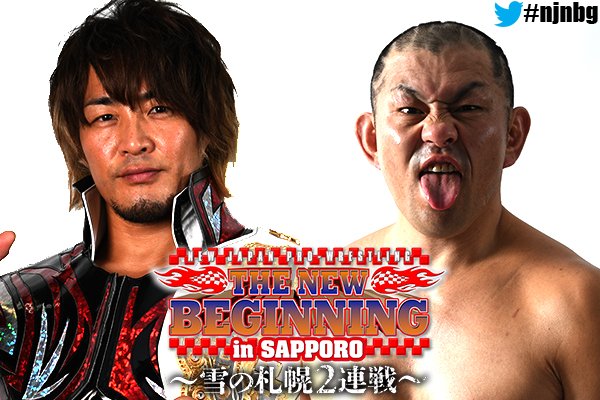 On January 27 in Sapporo, Tanahashi will defend the IWGP IC belt against Suzuki. Then the NEVER 6 Tag belts will also be in defense on the show.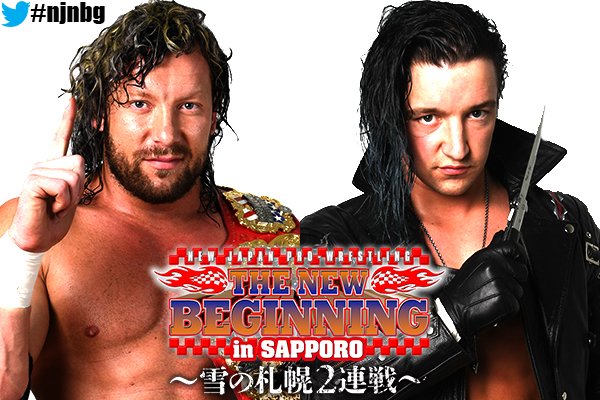 On January 28 which will also be in Sapporo, Omega will defend the IWGP US belt against Jay White and the Bucks will defend the IWGP Jr. Tag belts against RPG3K.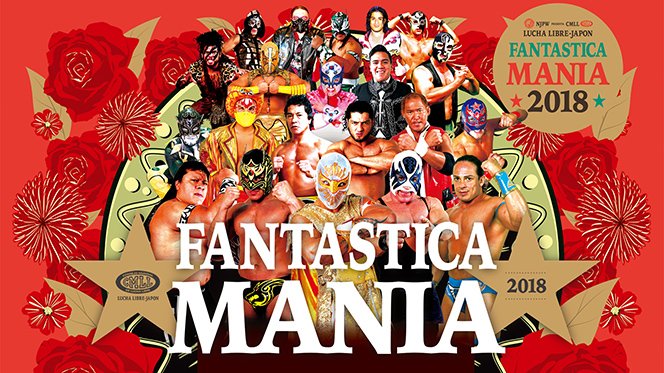 The cards for the CMLL FANTASTICA MANIA shows were also announced. Which they will run with 8 shows from January 12 through January 22. The later shows being held for 3 days at the Korakuen Hall with several CMLL sanctioned title matches taking place. Then Hirai Kawato will be heading overseas following the FANTASTICA MANIA show on the 22nd.
http://puroresuspirit.net/2017/11/njpw-event-cards-for-january-february-2018/
---
NOAH NEWS
~ The event cards have been updated for the January tour of shows as Kaito Kiyomiya's return has caused a major change to the previously announced tour.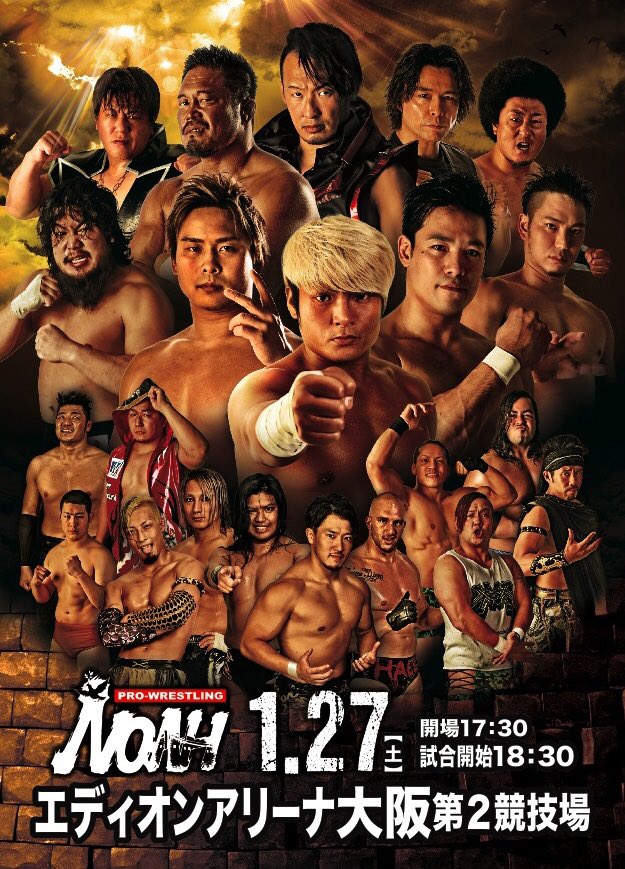 ~ Both Kenoh and Takashi Sugiura have forcefully expelled their former protege from their side with Shiozaki taking the young up-and-comer under his wing. Kiyomiya will have a rematch with Kenoh on January 20 and then a singles match against Takashi Sugiura on January 27.
http://puroresuspirit.net/2017/12/noah-event-cards-for-january-february-2018/
---
WRESTLE-1 NEWS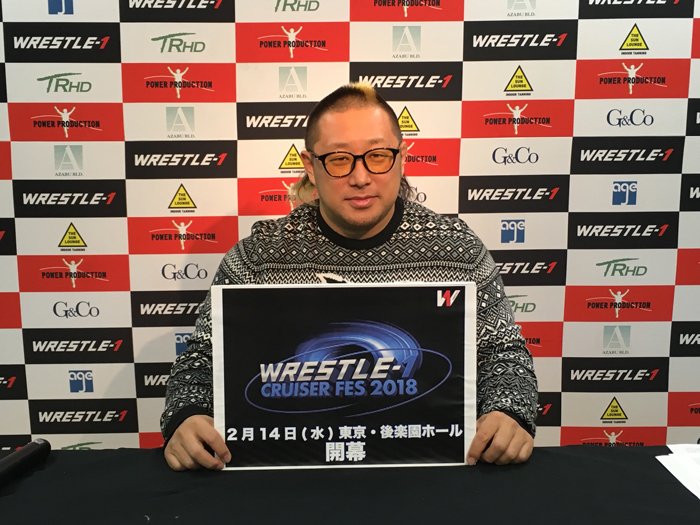 ~ 8 wrestlers were announced "WRESTLE-1 CRUISER FES 2018" with the first round to be held on February 14 at Korakuen, the semi's on February 18 in Shizuoka, through March 14 at Korakuen.
Announced to be involved : Kaz Hayashi, Ryuji Hijikata (FREE), Andy Wu, MAZADA (Gurentai), Alejandro, Yusuke Kodama, Drunk Andy & Kenshin Chikano (DOVE).
~ Then the card for the January 14 in Osaka has been updated with the debut of Alejandro and his allegiance to the NEW ERA.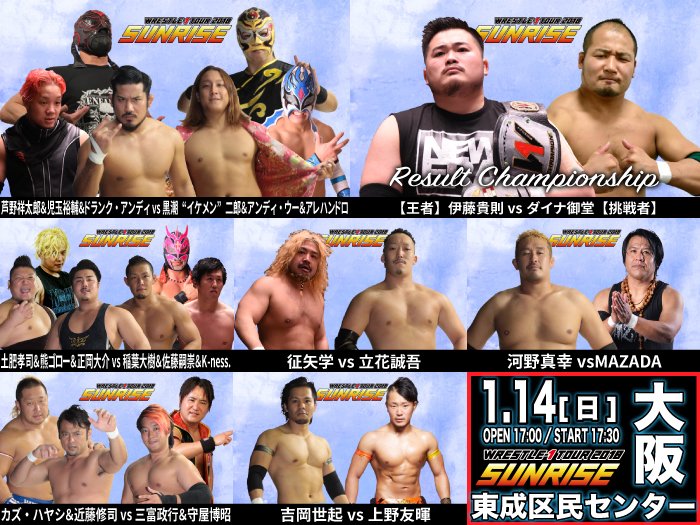 WRESTLE-1 TOUR 2018 SUNRISE, 1/14/2018 [Sun] 17:30 @ Osaka Higashinari Kumin Center
(1) Seiki Yoshioka vs. Tomohiro Ueno (J2000)
(2) Kaz Hayashi & Shuji Kondo vs. Masayuki Mitomi & Hiroaki Moriya (J2000)
(3) Masayuki Kono vs. MAZADA (Gurentai)
(4) Manabu Soya vs. Seigo Tachibana
(5) Koji Doi, Kumagoro & Daisuke Masaoka (FREEDOMS) vs. Daiki Inaba, Tsugataka Sato & K-ness. (DG)
(6) W-1 Result Championship Match: [4th Champion] Takanori Ito vs. [Challenger] Dyna Mido (B168)
~ 3rd title defense.
(7) Shotaro Ashino, Yusuke Kodama & Drunk Andy vs. Jiro "Ikemen" Kuroshio, Andy Wu & Alejandro
http://puroresuspirit.net/tag/w-1/
---
ZERO1 NEWS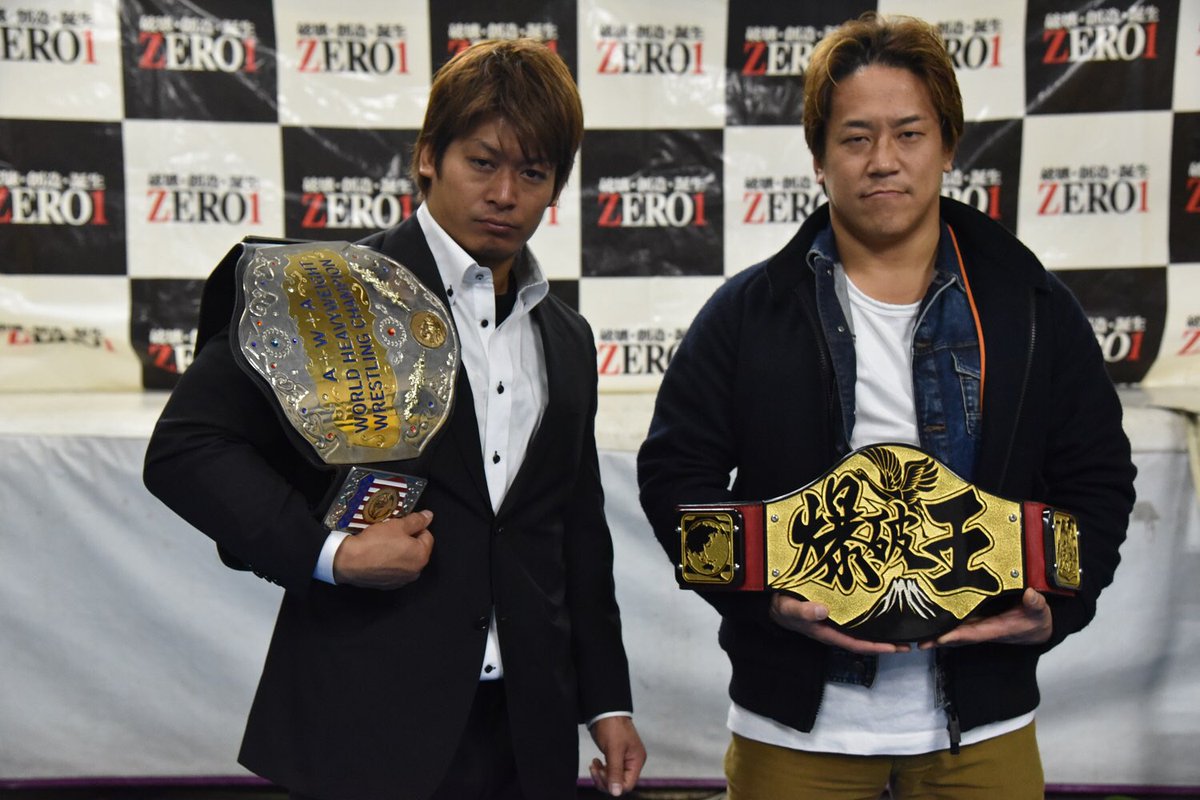 ~ It was announced that Isami Kodaka will be receiving the challenge for the World Heavyweight belt on February 12 at the Shinkiba 1stRING. Though who he will challenge is still ye to be determined as Yusaku Obata and Yuko Miyamoto have a double title match first on January 27.
Cho-Hanabi / ZERO1, 1/28/2018 [Sun] 14:00 @ EDION Arena Osaka, 2nd Stadium
() World Heavyweight & Bakuha-oh Double Championship Match: [22nd World Champion] Yusaku Obata vs. [8th Bakuha-oh Champion] Yuko Miyamoto
ZERO1, 2/12/2018 [Mon] 19:00 @ Shinkiba 1stRING in Tokyo
() World Heavyweight & Bakuha-oh Double Championship Match: [Champion] (winner of 1/28) vs. [Challenger] Isami Kodaka
http://puroresuspirit.net/tag/zero1/