WRESTLE-1 TOUR 2018 SUNRISE, 1/8/2018 [Mon] 19:00 @ Korakuen Hall in Tokyo
985 Spectators
(1) Tsugataka Sato vs. Seigo Tachibana
◆Winner: Tachibana (6:18) with the Silver Lock.
(2) Jun Tonsho, Hajime & Takumi Baba vs. Masayuki Mitomi (Ehime), Joji Otani (GUTS World) & Koju Takeda (666)
◆Winner: Joji (9:02) with a Wrist Clutch style Northern Lights Suplex Hold on Hajime.
(3) Shotaro Ashino, Yusuke Kodama & Drunk Andy vs. Seiki Yoshioka, Andy Wu & Ryuji Hijikata (FREE)
◆Winner: Andy Wu (9:15) with a Rolling Clutch Hold on Drunk.
~ A mysterious masked man by the name of Alejandro appeared and aided NEW ERA after the match.
(4) Jiro "Ikemen" Kuroshio vs. Masayuki Kono vs. MAZADA (Gurentai)
◆Winner: Kuroshio (8:49) with a Moonsault Press on MAZADA.
~ Hana Kimura joined W-1 as of this year, , who becomes the first female talent officially under the promotion, previously under ACE, as she stated that she will be competing on the 2/14 show at Korakuen Hall. She will be competing with Saori Anno to take on Mika Shirahime & Natsumi Maki.
(5) Manabu Soya & NOSAWA Rongai (Gurentai) vs. Ganseki Tanaka & AKIRA (Makai)
◆Winner: AKIRA (15:14) with the Musasabi Press on Soya.
~ Soya remains unable to shake the recent string of losses with the dawn of the new year, though he acknowledged that he needs to change.
(6) WRESTLE-1 Tag Championship Match: [12th Champions] Koji Doi & Kumagoro vs. [Challengers] Daiki Inaba & Takanori Ito
◆Winner: Doi (15:09) following a Vertical Drop style Brainbuster on Ito.
~ 2nd successful title defense.
(7) Kaz Hayashi 25th Anniversary Match: Kaz Hayashi, Shuji Kondo & Dick Togo (FREE) vs. Keiji Mutoh, The Great Sasuke (Michinoku) & Ultimo Dragon (Toryumon MEXICO)
◆Winner: Mutoh (14:40) following a Shining Wizard on Hayashi.
~ Hayashi thanked Mutoh for taking part in this match as he also thanked him for allowing him the platform to train and build up younger wrestlers.
http://puroresuspirit.net/tag/w-1/
Upcoming…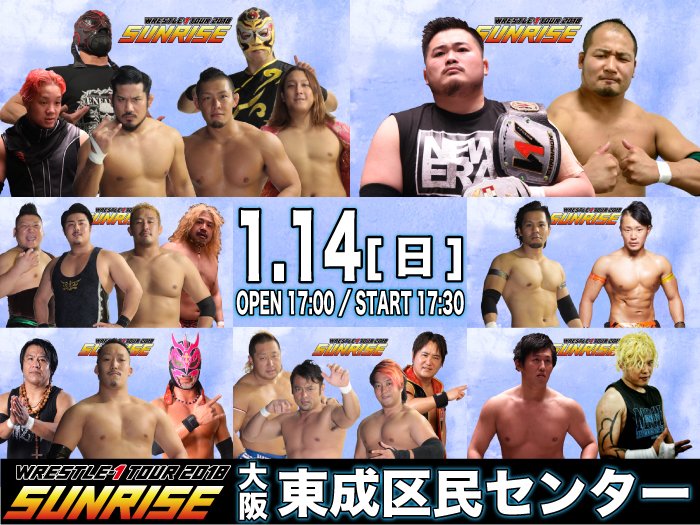 WRESTLE-1 TOUR 2018 SUNRISE, 1/14/2018 [Sun] 17:30 @ Osaka Higashinari Kumin Center
(1) Tsugataka Sato vs. Daisuke Masaoka (FREEDOMS)
(2) Kaz Hayashi & Shuji Kondo vs. Masayuki Mitomi & Hiroaki Moriya (J2000)
(3) Seigo Tachibana vs. MAZADA vs. K-ness.
(4) Seiki Yoshioka vs. Tomohiro Ueno (J2000)
(5) Koji Doi & Kumagoro vs. Masayuki Kono & Manabu Soya
(6) W-1 Result Championship Match: [4th Champion] Takanori Ito vs. [Challenger] Dyna Mido (B168)
~ 3rd title defense.
(7) Shotaro Ashino, Yusuke Kodama & Drunk Andy vs. Daiki Inaba, Jiro "Ikemen" Kuroshio & Andy Wu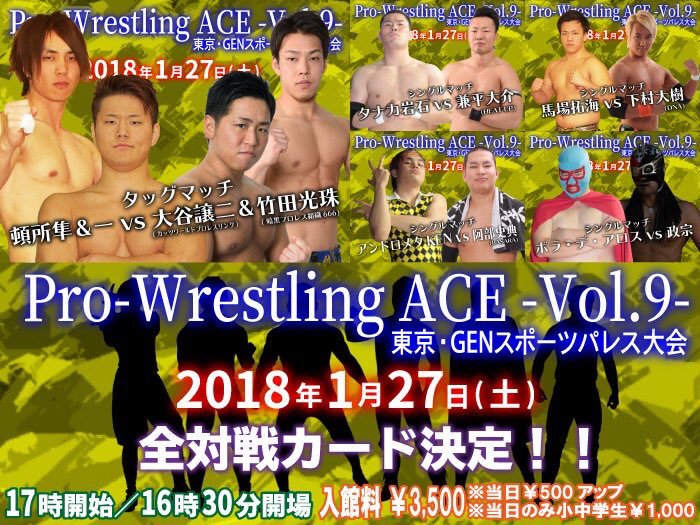 Pro-Wrestling ACE – Vol.9, 1/27/2018 [Sat] 17:00 @ GEN Sports Palace, W-1 Dojo in Tokyo
() Jun Tonsho & Hajime vs. Joji Otani (GUTS World) & Koju Takeda (666)
() Ganseki Tanaka vs. Daisuke Kanehira (HEAT-UP)
() Takumi Baba vs. Daiki Shimomura (DNA)
() Bora de Aros vs. Masamune (FREE)
() Andromeda KEN vs. Fuminori Abe (BASARA)