K-DOJO "New Year Fight", 1/7/2018 [Sun] 13:00 @ Shinkiba 1stRING in Tokyo
(1) Taishi Takizawa & GO Asakawa vs. Ricky Fuji & Marines Mask
◆Winner: Takizawa (9:59) with a Tiger Driver on Marines.
(2) One Count Gauntlet Match: Kaji Tomato, Shiori Asahi, Massimo, Yuma, Yoshihiro Horaguchi, Ayumu Honda, Bambi & Koharu Hinata
◆Winner: Ayumu Honda (10:04) with the sa_i_ta on Hinata.
(3) New Year Hardcore Match: Kyu Mogami vs. Toru Sugiura (FREEDOMS)
◆Winner: Toru (10:59) following ladder and hammer strike.
(4) DinoStones New Year Lottery Special Tag Match: Kotaro Yoshino & Dinosaur Takuma vs. Shu & Kei Brahman
◆Winner: Kei (9:39) with the Gotai-Fumanzoku on Takuma.
(5) Daigoro Kashiwa vs. Kunio Toshima
◆Winner: Toshima (12:04) with an Ura-STF.
(6) STRONGEST-K TAG Championship Match: [36th Champions] Tank Nagai & Isami Kodaka vs. [Challengers] TAKA Michinoku & MEN'S Teioh (FREE)
◆Winner: Tank (19:37) following a Spear Tackle Ki on Teoh.
~ 1st successful title defense.
(7) New Year's Battle Royal:
◆Winner: Kotaro Yoshino (9:05) with an Air Scissors Drop on Taishi Takizawa.
~ With the win Yoshino will challenge Takizawa for the CHAMPION OF ST-K belt on February 25 in Chiba.
~ Ayato Yoshida will also be making his return, following a jaw fracture injury last year, on the 2/25 show as well.
http://puroresuspirit.net/tag/k-dojo/
Upcoming…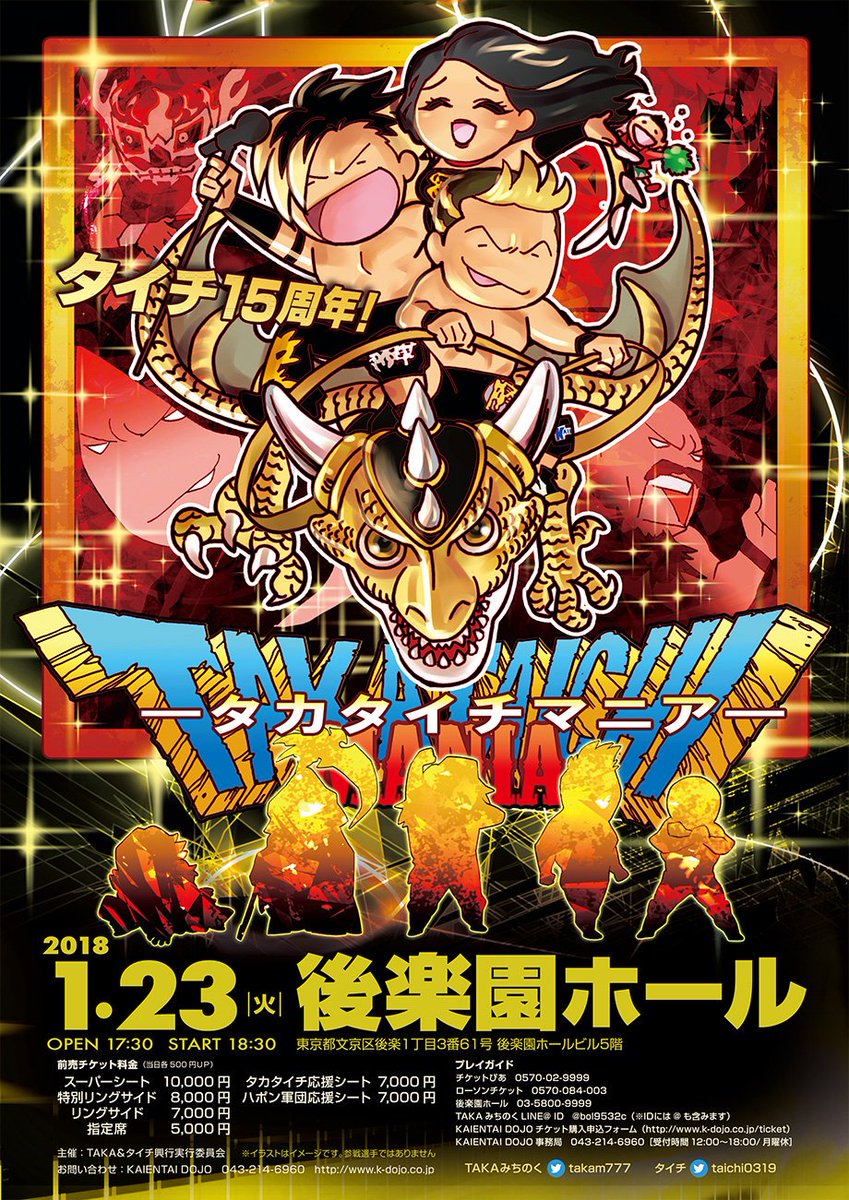 TakaTaichiMania, 1/23/2018 [Tue] 18:30 @ Korakuen Hall in Tokyo
() Special Singles Match: Takashi Iizuka (SZKG/NJPW) vs. Jun Kasai (FREEDOMS)
() Special Tag Match: TAKA Michinoku & Kaji Tomato vs. BUSHI & Hiromu Takahashi
() Taichi's 15th Anniversary Match: Taichi vs. Tetsuya Naito
http://puroresuspirit.net/tag/taka-taichi-produce/
KAIENTAI DOJO "CLUB-K SUPER in TKP Garden City Chiba", 2/25/2018
() CHAMPION OF STRONGEST-K Match: [Champion] Taishi Takizawa vs. [Challenger] Kotaro Yoshino