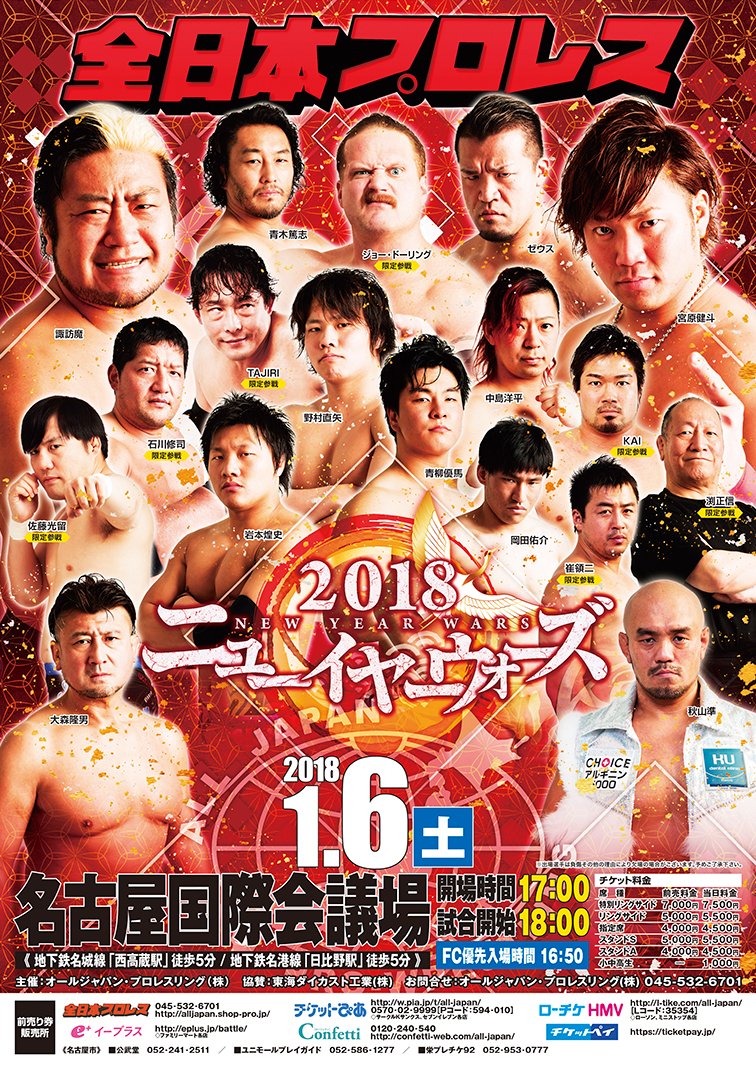 All Japan Pro-Wrestling "2018 New Year Wars", 1/6/2018 [Sat] 18:00 @ Nagoya International Conference Hall
(1) Yusuke Okada vs. Shinya Ishida (Sportiva)
◆Winner: Ishida (5:33) following the Delta Drive (Rolling Neckbreaker Drop).
(2) Ultimo Dragon & Koji Iwamoto vs. Black Tiger VII & Michio Kageyama (Team Dera)
◆Winner: Dragon (8:36) with a La Magistral on Black Tiger.
(3) Yohei Nakajima vs. Atsushi Maruyama
◆Winner: Maruyama (7:17) with a Rolling Clutch Hold.
(4) Hikaru Sato vs. Kotaro Suzuki (FREE)
◆Winner: Kotaro (12:21) with a Tiger Driver.
(5) Joe Doering & Ryoji Sai (LAND'S END) vs. Zeus & KAI (FREE)
◆Winner: Sai (10:37) following the Sidmouth on Zeus.
~ Doering and KAI brawled before the start of the match, and this continued at the end as well. As Sai had the opening to capture the win.
(6) Suwama, Shuji Ishikawa & Atsushi Aoki vs. Kento Miyahara, Yoshitatsu (FREE) & TAJIRI (FREE)
◆Winner: Aoki (16:47) with a Jumping Rolling Cross Armbar on TAJIRI.
~ Aoki with the direct win over TAJIRI before their upcoming title match on 2/3.
(7) Asia Tag Championship Match: [103rd Champions] Naoya Nomura & Yuma Aoyagi vs. [Challengers] Jun Akiyama & Takao Omori
◆Winner: Aoyagi (17:44) with a Jacknife Hold on Omori.
~ 4th successful title defense.
http://puroresuspirit.net/2017/12/ajpw-event-cards-for-january-february-2018/