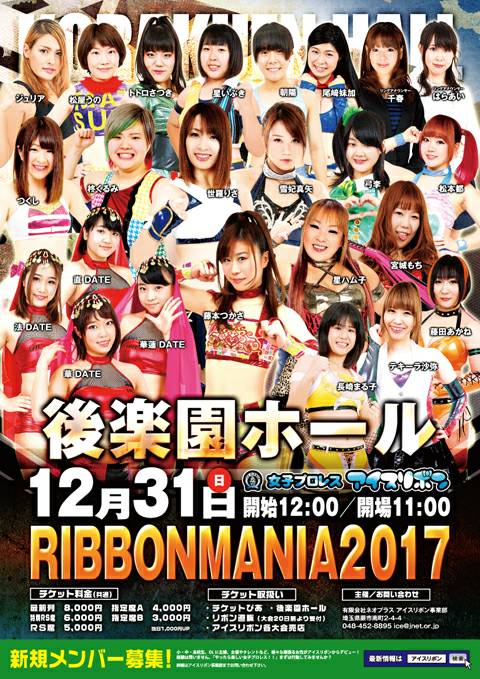 Ice Ribbon "RibbonMania 2017" 12/31/17 [Sun] 12:00 @ Korakuen Hall in Tokyo
1,235 spectators
(1) Tsukushi Re-Debut Match: Tsukushi vs Tsukasa Fujimoto
♦Winner: Fujimoto (9:53) with the Japanese Ocean Cyclone Suplex Hold
(2) 6-Woman Elimination Tag Match: Satsuki Totoro, Karen DATE & Julia vs Hana DATE, Ibuki Hoshi & Mammoth Ineko
Elimination Order:
() Julia () via OTR (Mammoth)
() Mammoth () with a Boston Crab from Totoro
() Ibuki () with a Casadora from Karen
♦Winner: Totoro () with a Diving Senton on Hana
(3) Hamuko Hoshi, Mochi Miyagi & Uno Matsuya vs Maya Yukihi, Makoto (REINA) & Tequila Saya
♦Winner: Matsuya (11:05) via pinfall on Saya
(4) Arisa Nakajima (SEAdLINNNG) vs Akane Fujita
♦Winner: Nakajima (10:23) with a Moonsault Press
(5) Hideki Suzuki vs Miyako Matsumoto
♦Winner: Suzuki (0:06) via pinfall
~ Matsumoto demanded a rematch.
♦Winner: Suzuki (0:05) via pinfall
~ Matsumoto wanted another rematch.
♦Winner: Suzuki (6:28) with a Romero Special
(6) Saori Annou & Tae Honma (Actwres girl'Z) vs Kyuri & Maika Ozaki
♦Winner: Ozaki (10:56) with the Maika Buster on Annou
(7) Young Ice Tournament Finals: Nao DATE vs Maruko Nagasaki
♦Winner: Nao (8:06) with the Yoga Tower Fall
~ Nao DATE wins the Young Ice Tournament.
(8) ICEx∞ Championship Match: [24th Champion] Risa Sera vs [Challenger] Kurumi Hiragi
♦Winner: Hiragi (13:33) with the Nutcracker
~ Champion falls on her 8th defense. Kurumi Hiragi becomes the 25th champion.
~ Nao DATE, who won the Young Ice Tournament, issued a challenge to the new champion. The match will take place on 1/6 at Yokohama Radiant Hall.