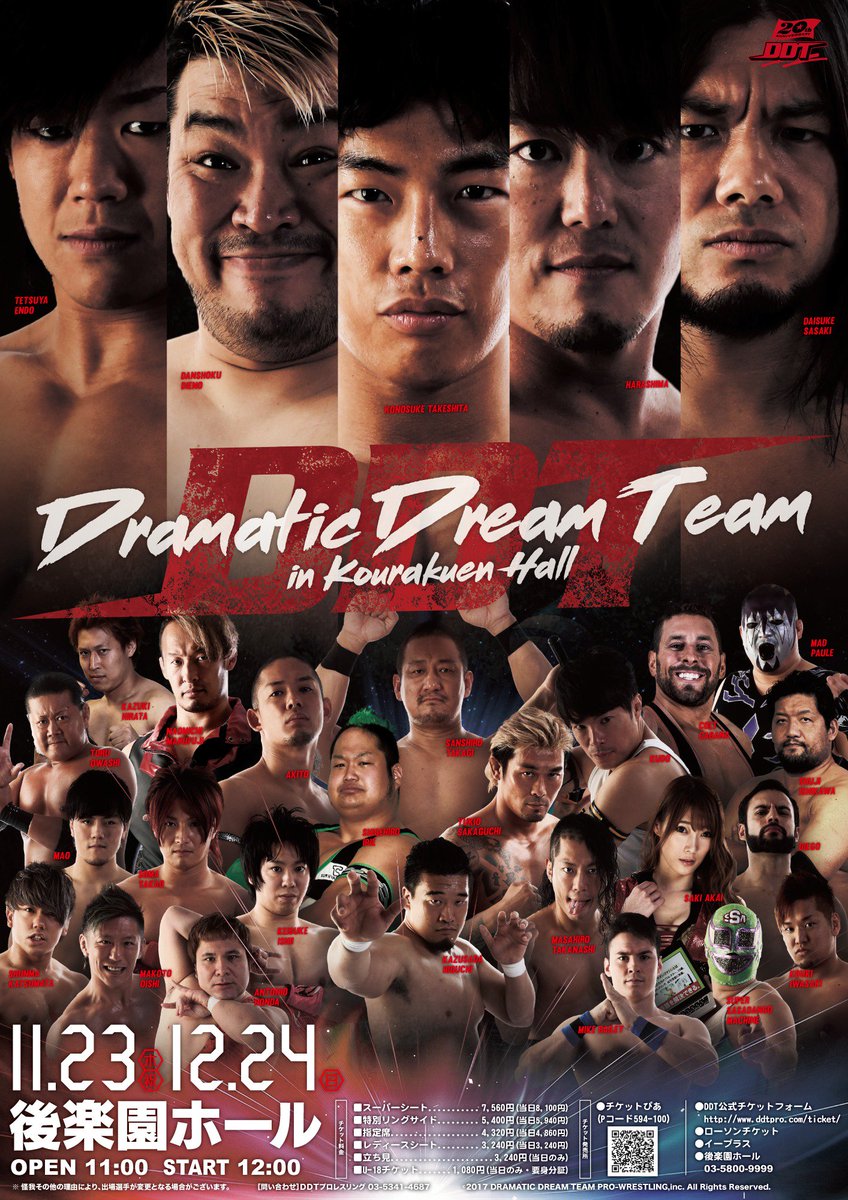 DDT "NEVERMIND 2017", 12/24/2017 [Sun] 12:00 @ Korakuen Hall in Tokyo
2017 Spectators (crowded)
(0) Dark Match: Mad Paulie vs. Gota Ihashi
◆Winner: Paulie (5:08) with a Reverse Splash.
(1) Shigehiro Irie & Keisuke Okuda (IGF) vs. Soma Takao & Daiki Shimomura
◆Winner: Okuda (8:58) with a Ground Manjigatame on Shimomura.
(2) T2hee Joshi vs Tokyo Joshi: Francoise ☆ Takagi, Margaret ★ Owashi & Kazuko Hirata vs. Miyu Yamashita, Yuka Sakazaki & Yuna Manase
◆Winner: Yamashita (9:07) following the Crash Rabbit Heat on Hirata.
~ Though with the loss, Hirata challenged Yamashita to put the Ironman belt on the line which he would capture and become the 1,277th champion.
(3) KUDO, Yukio Sakaguchi, Masahiro Takanashi & Saki Akai vs. Keisuke Ishii, Tomomitsu Matsunaga, Tomoya & Nobuhiro Shimatani
◆Winner: Sakaguchi (5:47) with the Rengoku on Shimatani.
(4) Makoto Oishi, Shunma Katsumata & MAO vs. Danshoku Dieno, Super Sasadango Machine & Antonio Honda
◆Winner: Oishi (10:30) with a Sankakujime on Honda.
~ NωA did not suffer the loss, so they will remain as a team until roughly this time next month. Though on 1/3 it was announced that they will be taking on the team of Danshoku Dieno and The Brahman Brothers.
(5) Hasta la vista, Diego! Special 6 Man Tag Match: Diego, Akito & Kazusada Higuchi vs. Kouki Iwasaki, Mizuki Watase & Rekka
◆Winner: Diego (11:59) following the V.H.S. on Rekka.
~ In one of his last acts, Diego took out Hirata to become the 1,278th Ironman Heavy Metalweight Champion.
~ Outside talent was announced for the "Judgement 2018" at the Ryogoku Kokugikan. Naomichi Marufuji, Daisuke Sekimoto, Jiro "Ikemen" Kuroshio, Shuji Ishikawa, Mike Bailey, Joey Ryan, Colt Cabana & LiLiCo.
(6) KO-D Tag Championship Match: [62nd Champions] HARASHIMA & Naomichi Marufuji (NOAH) vs. [Challengers] Daisuke Sasaki & Tetsuya Endo
◆Winner: HARASHIMA (18:47) following the Somato on Daisuke.
~ 5th successful title defense.
(7) KO-D Openweight Championship Match: [61st Champion] Konosuke Takeshita vs. [Challenger] Colt Cabana
◆Winner: Takeshita (22:23) with a Roll Through style German Suplex Hold.
~ 10th successful title defense.
http://puroresuspirit.net/tag/ddt/
Upcoming…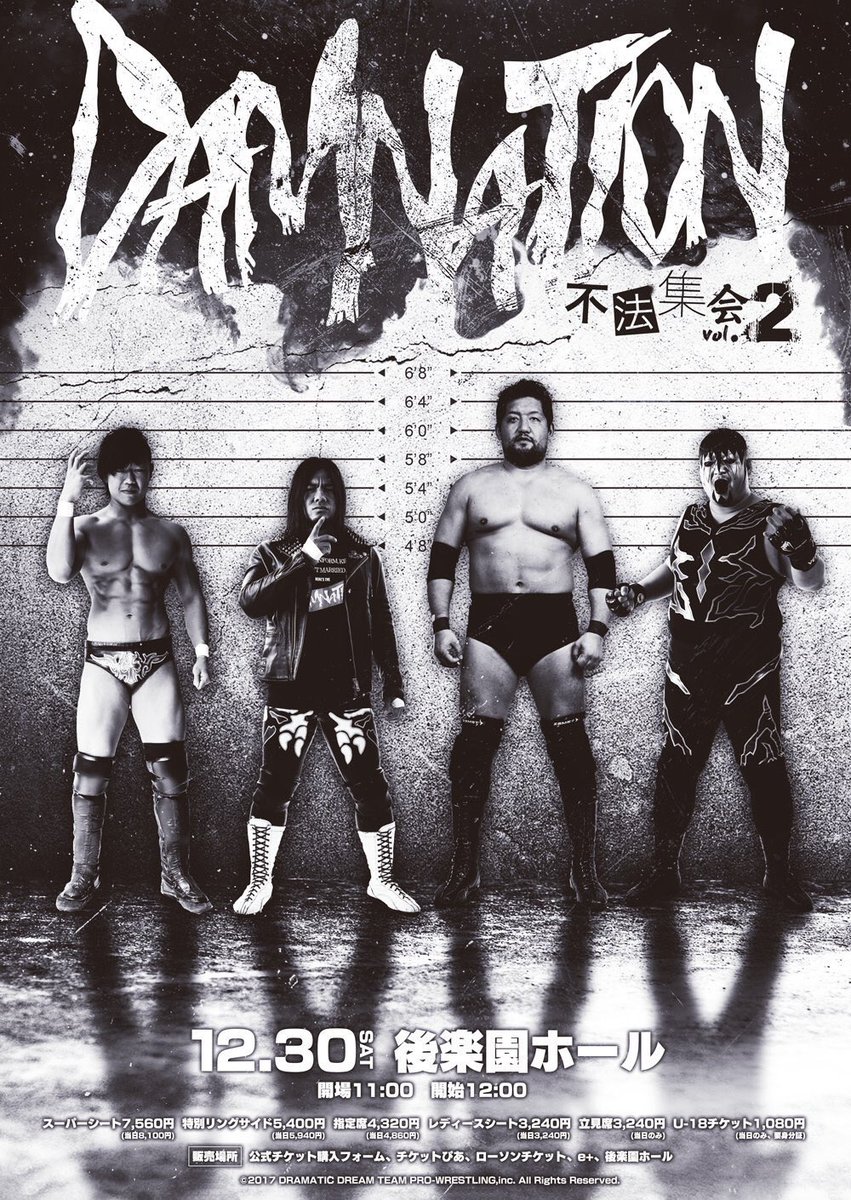 DAMNATION Produce vol. 2, 12/30/2017 [Sat] 12:00 @ Korakuen Hall in Tokyo
() Costume Change Battle Royal: HARASHIMA, Gota Ihashi, and more
() Paulies vs. KUDO, Yukio Sakaguchi & Masahiro Takanashi
() Dick Togo & X vs. Colt Cabana & Antonio Honda
() Tetsuya Endo & Masashi Takeda (FREE) vs. Konosuke Takeshita & Masato Tanaka (ZERO1)
() Boso Dai Kyojin Combi vs Baka Kyodai! Special Tag Match: Shuji Ishikawa & Suwama vs. Shu & Kei Brahman
() DDT EXTREME Championship Match: [39th Champion] Daisuke Sasaki vs. [Challenger] Yuko Miyamoto
~ 9th title defense.
DDT Pro-Wrestling "New Year Lottery Special", 1/3/2018 [Wed] @ Korakuen Hall in Tokyo
() Daisuke Sasaki & Tetsuya Endo vs. Colt Cabana & Antonio Honda
() Road to D-Oh Grand Prix Special Single Match: Soma Takao vs. Masahiro Takanashi
() Road to D-Oh Grand Prix Special 6 Tag Match: Konosuke Takeshita, Mike Bailey & Shuji Ishikawa vs. HARASHIMA, Kazusada Higuchi & Jiro "Ikemen" Kuroshio