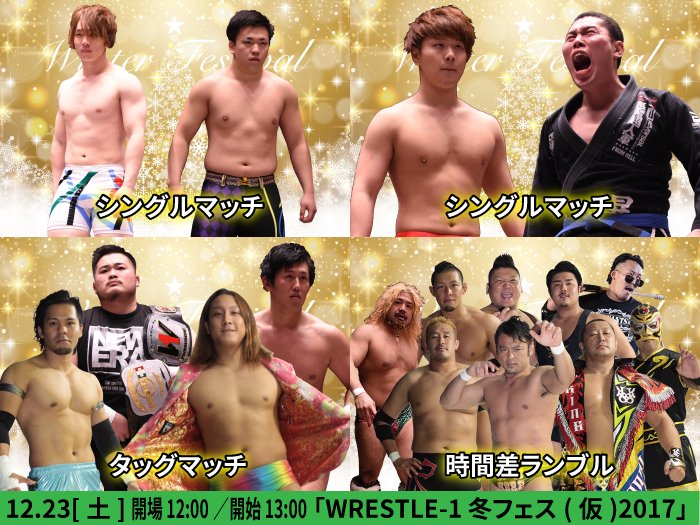 WRESTLE-1 Winter Festival 2017, 12/23/2017 [Sat] 13:00 @ GEN Sports Palace, WRESTLE-1 Dojo
(1) Hajime vs. Takumi Baba
◆Winner: Hajime (5:27) with an STF.
(2) Jun Tonsho vs. Ganseki Tanaka
◆Winner: Ganseki (6:54) with the Gansekiotoshigatame.
(3) Seiki Yoshioka & Takanori Ito vs. Jiro "Ikemen" Kuroshio & Tsugataka Sato
◆Winner: Ito (14:48) following a PK on Tsugataka.
(4) Time-Difference Rumble: Kaz Hayashi, Shuji Kondo, Masayuki Kono, Manabu Soya, Andy Wu, Daiki Inaba, Koji Doi, Kumagoro & Seigo Tachibana
~ Order of elimination : Kumagoro, Doi, Andy, Kondo, Kono, Soya…
◆Winner: Hayashi (16:32) sent Tachibana over the top rope.
http://puroresuspirit.net/tag/w-1/
Upcoming…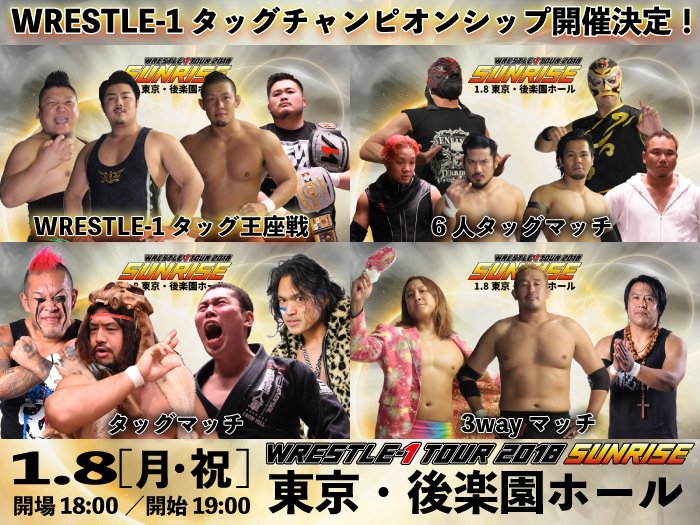 WRESTLE-1 TOUR 2018 SUNRISE, 1/8/2018 [Mon] 19:00 @ Korakuen Hall in Tokyo
() Jiro "Ikemen" Kuroshio, Masayuki Kono vs. MAZADA
() Manabu Soya & NOSAWA Rongai vs. Ganseki Tanaka & AKIRA (Makai)
() Shotaro Ashino, Yusuke Kodama & Drunk Andy vs. Seiki Yoshioka, Andy Wu & Ryuji Hijikata (FREE)
() WRESTLE-1 Tag Championship Match: [12th Champions] Koji Doi & Kumagoro vs. [Challengers] Daiki Inaba & Takanori Ito
~ 2nd title defense.