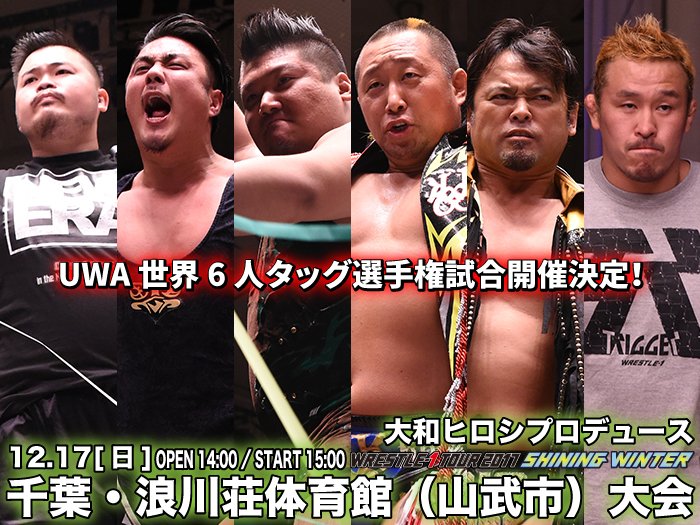 Hiroshi Yamato Produce "WRESTLE-1 TOUR 2017 SHINING WINTER", 12/17/2017 [Sun] 15:00 @ Sanmu City Namikawa So Taiikukan in Chiba
(1) Takumi Baba vs. Masayuki Mitomi (Ehime)
◆Winner: Mitomi (7:31) with the Salty Clutch.
(2) Manabu Soya & Yuji Hino (FREE) vs. Daiki Inaba & Ganseki Tanaka
◆Winner: Hino (12:27) following the Fucking BOMB on Ganseki.
(3) Actres girl'Z Offer Match: Naho Kakuta vs. Aoi Igarashi
◆Winner: Kakuta (10:13) following the Kawazu-Otoshi.
(4) Jiro "Ikemen" Kuroshio vs. Alexander Otsuka (AO/DC)
◆Winner: Kuroshio (10:08) with the Puppet Muppet.
(5) Shotaro Ashino, Yusuke Kodama & Seigo Tachibana vs. Seiki Yoshioka, Andy Wu & Tsugataka Sato
◆Winner: Kodama (16:07) with a Mad Splash on Tsugataka.
(6) UWA World 6 Tag Championship Match: [61st Champions] Koji Doi, Kumagoro & Takanori Ito vs. [Challengers] Kaz Hayashi, Shuji Kondo & Masayuki Kono
◆Winner: Doi (13:49) following a Vertical Fall style Brainbuster on Kondo.
~ 1st successful title defense
http://puroresuspirit.net/tag/w-1/
Upcoming…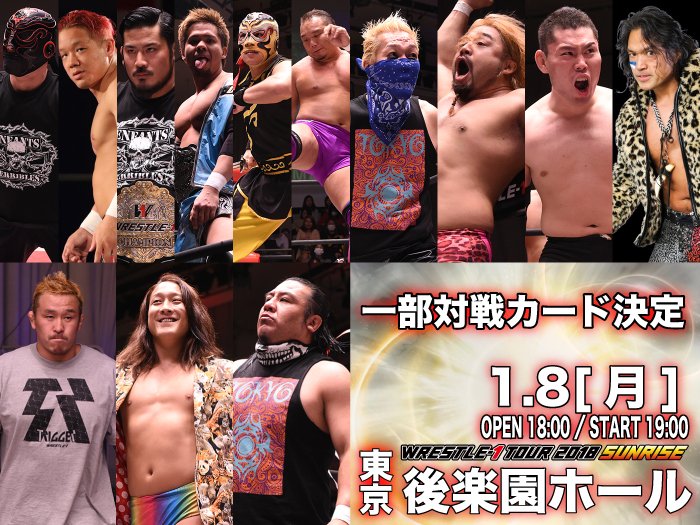 WRESTLE-1 TOUR 2018 SUNRISE, 1/8/2018 [Mon] 19:00 @ Korakuen Hall in Tokyo
() Jiro "Ikemen" Kuroshio, Masayuki Kono vs. MAZADA
() Manabu Soya & NOSAWA Rongai vs. Ganseki Tanaka & AKIRA (Makai)
() Shotaro Ashino, Yusuke Kodama & Drunk Andy vs. Seiki Yoshioka, Andy Wu & Ryuji Hijikata (FREE)