K-DOJO "Tokyo Big Show", 12/17/2017 [Sun] 12:00 @ Shinkiba 1stRING in Tokyo
165 Spectators
(1) Ricky Fuji, Daigoro Kashiwa & Yoshihiro Horaguchi vs. Kotaro Yoshino, Dinosaur Takuma & Bambi
◆Winner: Dinosaur (13:35) with the Gaobababa on Horaguchi.
(2) K-DOJO Joshi vs Men Singles Match Series: Shiori Asahi vs. Ayame Sasamura
◆Winner: Asahi (8:10) with a Bow and Arrow Lock.
(3) GO Asakawa & Yuma vs. Kunio Toshima & Kyu Mogami
◆Winner: Mogami (13:10) with the X-Furodo, onto a chair, on Yuma
(4) Massimo & Marines Mask vs. Tank Nagai & Ayumu Honda
◆Winner: Marines (11:41) with a Yoshitonic on Ayumu.
(5) Independent World Junior Championship Match: [25th Champion] Daisuke Sasaki (DDT) vs. [Challenger] TAKA Michinoku
◆Winner: Daisuke (14:43) with a the Crossover Face Lock.
~ 5th successful title defense.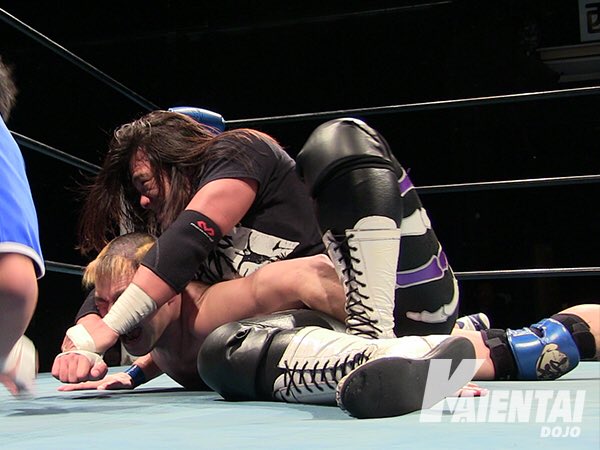 (6) CHAMPION OF STRONGEST-K Match: [25th Champion] Taishi Takizawa vs. [Challenger] Kaji Tomato
◆Winner: Takizawa (18:19) following the Takabisha.
~ 1st successful title defense.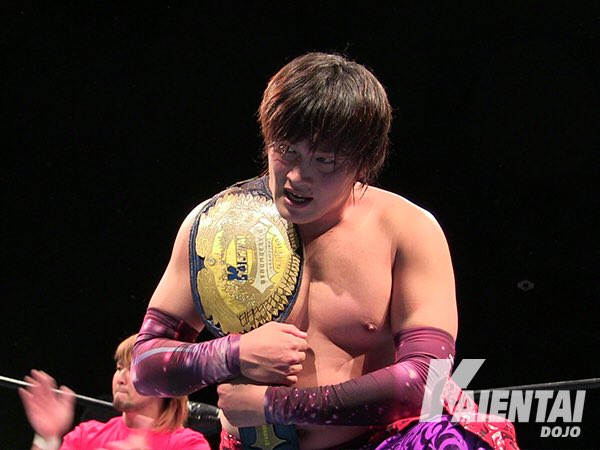 http://puroresuspirit.net/tag/k-dojo/
Upcoming…
K-UP IMPACT, 12/23/2017 [Sat] 12:00 @ Blue Field in Chiba
() Kaji Tomato & Ayame Sasamura vs. Keiichi Sato (FREE) & Kaori Yoneyama (YMZ)
() Yuma vs. Masao Inoue (FREE)
() K-DOJO vs ASUKA PROJECT: Taishi Takizawa, GO Asakawa & Marines Mask vs. Shinose Mitoshichi, Akiyori Takizawa & Shunsuke Sayama
() TAKA Michinoku vs. Chikara (RikiEnterprise)
() Tank Nagai & Kunio Toshima vs. Minoru Suzuki & Yoshinobu Kanemaru (both SZKG)
() Dinosaur Takuma vs. Suwama (AJPW)
K-DOJO "New Year Fight", 1/7/2017 [Sun] 13:00 @ Shinkiba 1stRING in Tokyo
() One Count Gauntlet Match: Kaji Tomato, Shiori Asahi, Massimo, Yuma, Yoshihiro Horaguchi, Ayumu Honda, Bambi & Ayame Sasamura
() Daigoro Kashiwa vs. Kunio Toshima
() Taishi Takizawa & GO Asakawa vs. Ricky Fuji & Marines Mask
() New Year Hardcore Match: Kyu Mogami vs. Toru Sugiura (FREEDOMS)
() DinoStones New Year Lottery Special Tag Match: Kotaro Yoshino & Dinosaur Takuma vs. Shu & Kei Brahman
() STRONGEST-K TAG Championship Match: [Champions] Tank Nagai & Isami Kodaka vs. [Challengers] TAKA Michinoku & MEN'S Teioh