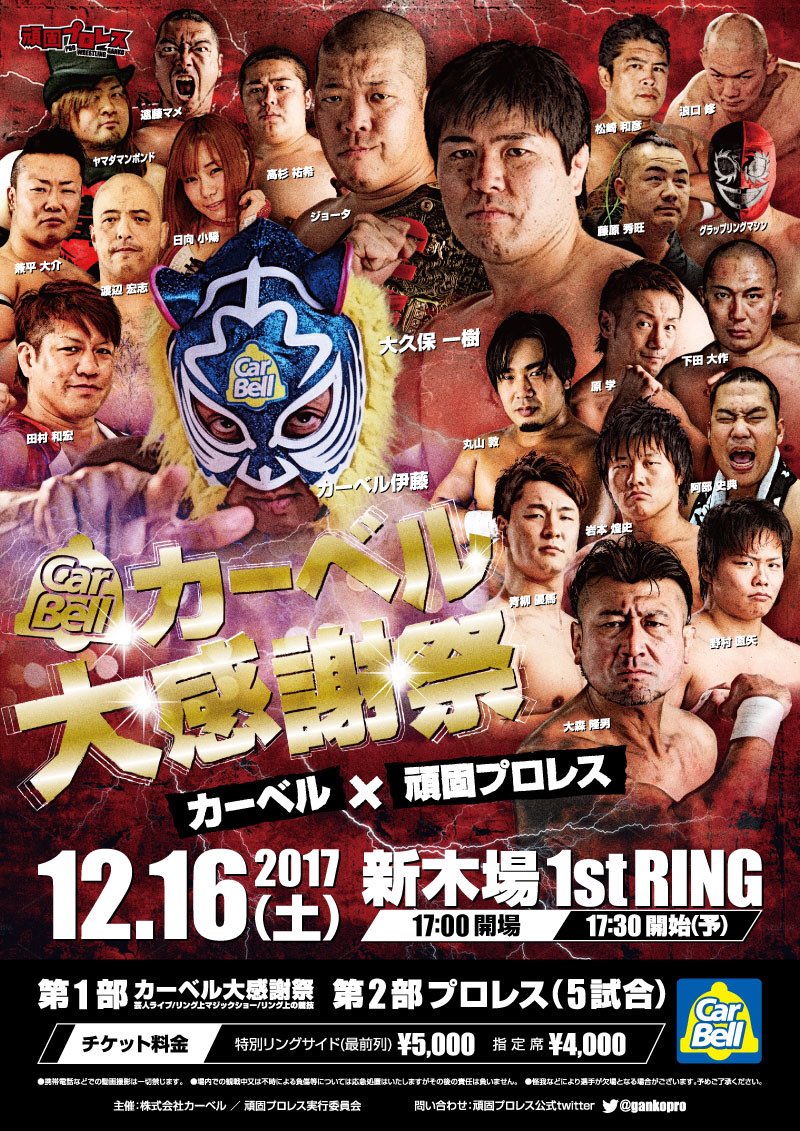 CarBell x Ganko Pro-Wrestling, 12/16/2017 [Sat] 17:30 @ Shinkiba 1stRING in Tokyo
(0) U-STYLE Rule: Kenichi Hashimoto vs. Yoshitaka Nishida
◆Winner: Kenichi (4:28) via KO, following a Hizageri.
(1) Kazuhiro Tamura (HEAT-UP), Hiroshi Watanabe (HEAT-UP), Daisuke Kanehira (HEAT-UP) & Toshiki Iwaki (FREE) vs. Kazuhiko Matsuzaki (FREE), Shuodai Fujiwara (Ganko), Osamu Namiguchi (FREE) & Grappling Machine
◆Winner: Tamura (10:07) following a Buzzsaw Kick on Shuodai.
(2) Yamadaman Pondo & Koharu Hinata vs. Choun Shiryu (New Shanghai), Tadaware & Mame Endo
◆Winner: DRAW (10:25) via double ring out.
(3) CarBell Ito & Takao Omori (AJPW) vs. Atsushi Maruyama (FREE) & Fuminori Abe (Sportiva)
◆Winner: Omori (9:13) following an Axe Bomber on Abe.
(4) Ganko vs All Japan: Daisaku Shimoda, Manabu Hara & Yuki Takasugi vs. Naoya Nomura, Yuma Aoyagi & Koji Iwamoto
◆Winner: Nomura (11:08) with a Frog Splash on Takasugi.
(5) Ganko Heavyweight & Nice Guy Gown Double Championship Match: [6th Ganko Champion] Jota vs. [Challenger/Gown Champion] Kazuki Okubo
◆Winner: Okubo (15:16) following a Vertical Drop style Captured.
~ Okubo becomes the 7th generation Ganko champion.