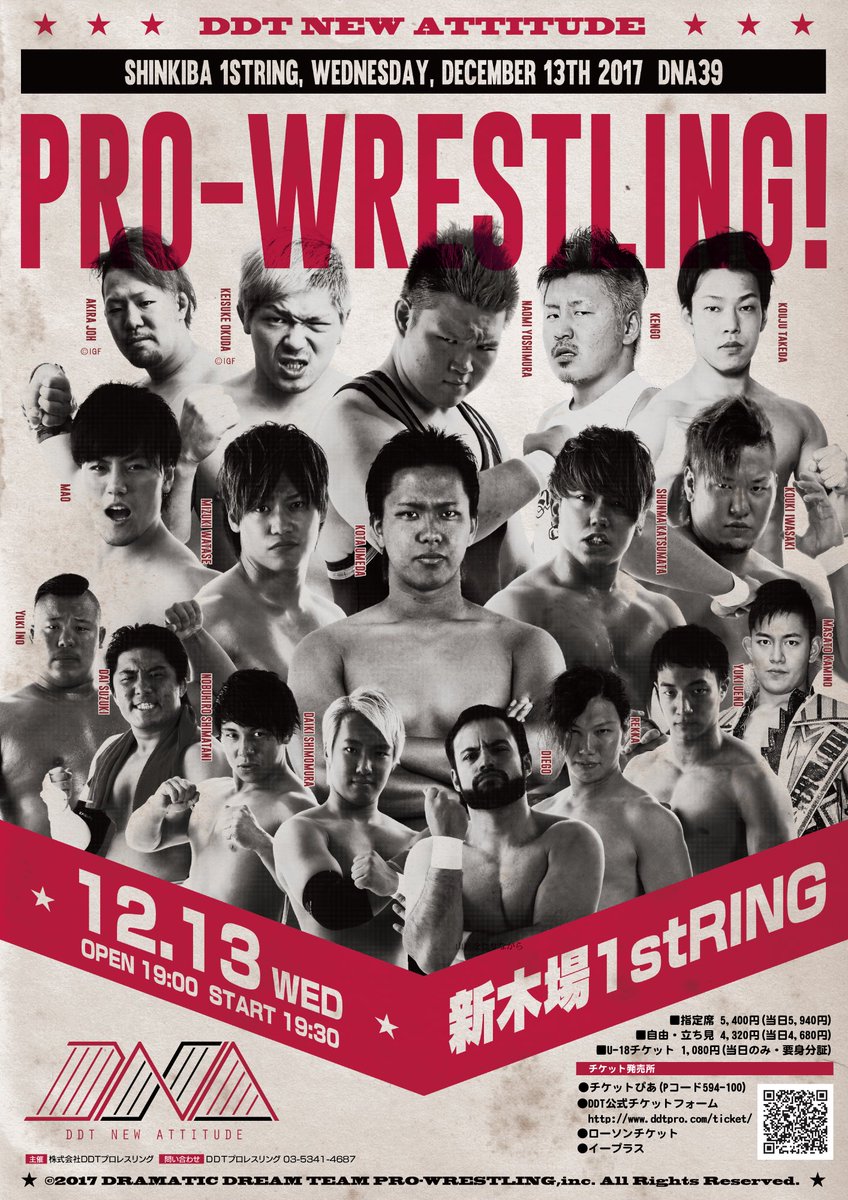 DNA 39, 12/13/2017 [Wed] 19:30 @ Shinkiba 1stRING in Tokyo
241 Spectators (crowded)
(1) MAO & Rekka vs. Yuki Ueno & Koju Takeda (666)
◆Winner: Ueno (9:02) with a School Boy on Rekka.
(2) Daiki Shimomura & Nobuhiro Shimatani vs. Toru Sugiura & Tomoya Hirata (both FREEDOMS)
◆Winner: Hirata (8:35) with a Boston Crab on Shimatani.
(3) Dai Suzuki Retirement 3 Match Series:
~ 3.1 : Dai Suzuki vs. Ryota Nakatsu (BASARA)
◆Winner: Nakatsu (5:14) with the Crescent Moon.
~ 3.2 : Dai Suzuki vs. Kota Umeda
◆Winner: Umeda (4:49) following a PK.
~ 3.3 : Dai Suzuki vs. Ken Ohka (Ganbare)
◆Winner: Ohka (6:04) following the Spear of Flame.
(4) DNAvsIGF!: Mizuki Watase vs. Keisuke Okuda
◆Winner: Okuda (7:55) via TKO, referee stop due to sleeper hold.
(5) Diego DNA Last Match: Diego vs. Shunma Katsumata
◆Winner: Diego (11:07) with the V.H.S.
(6) DNA vs Yoshimura Gundan: Kota Umeda & Kouki Iwasaki vs. Naomi Yoshimura & Akira Joh (IGF)
◆Winner: Iwasaki (4:57) via foul, Yoshimura assaulted the referee.
~ MAO intervened and tried to aid his DNA allies as the action spilled outside the ring. The match was restarted at a 6 man tag.
~ Rematch : Kota Umeda, Kouki Iwasaki & MAO vs. Naomi Yoshimura, Keisuke Okuda (IGF) & Akira Joh (IGF)
◆Winner: Umeda (8:51) following the Umeda Driver on Joh.