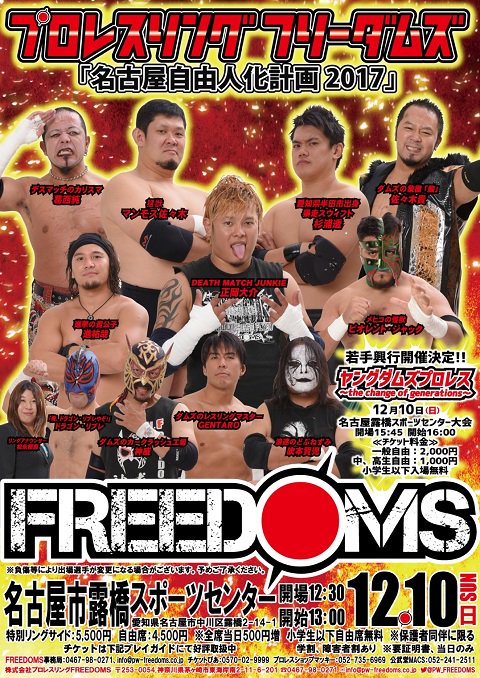 FREEDOMS, 12/10/2017 [Sun] 13:00 @ Nagoya City Tsuyahashi Sports Center in Aichi
(1) Takashi Sasaki, GENTARO & Tomoya Hirata vs. Kengo Takai (Team Dera), Michio Kageyama (Team Dera) & Dyna Mido (B168)
◆Winner: Takashi (9:55) following the D-Geist on Mido.
(2) Ryuichi Sekine (BASARA) vs. Dragon Libre
◆Winner: Sekine (6:56) with the Let's Combine.
(3) Yuya Susumu & Shuichiro Katsumura (Reversal Gym Yokohama) vs. Kamui & Konaka = Pale One (666)
◆Winner: Konaka (11:31) with a Backslide on Katsumura.
(4) KAZMA SAKAMOTO (FREE) & Chikara (RikiEnterprise) vs. Shu & Kei Brahman (both FREE)
◆Winner: Chikara (9:14) following a Saber Chop on Kei.
(5) Hardcore Match: Mammoth Sasaki & Toru Sugiura vs. Kenji Fukimoto & Gunso (DOVE)
◆Winner: Toru (12:37) following the Swift Driver on Fukimoto.
(6) Barbed-wire Board + Alpha Death Match: Jun Kasai & Daisuke Masaoka vs. Violento Jack & Aero Boy
◆Winner: Masaoka (15:10) following the Violento Breaker counter to Rokkura on Jack.
~ Masaoka with the win over the Freedom Champion.
http://puroresuspirit.net/tag/freedoms/
Upcoming…
FREEDOMS "Jun Kasai Produce Blood X'mas 2017", 12/25/2017 [Mon] @ Korakuen Hall in Tokyo
() Death Match: Daisuke Masaoka vs. Aero Boy
() KING of FREEDOM WORLD CHAMPIONSHIP Match: [9th Champion] Violento Jack vs. [Challenger] Jun Kasai
~ 1st title defense.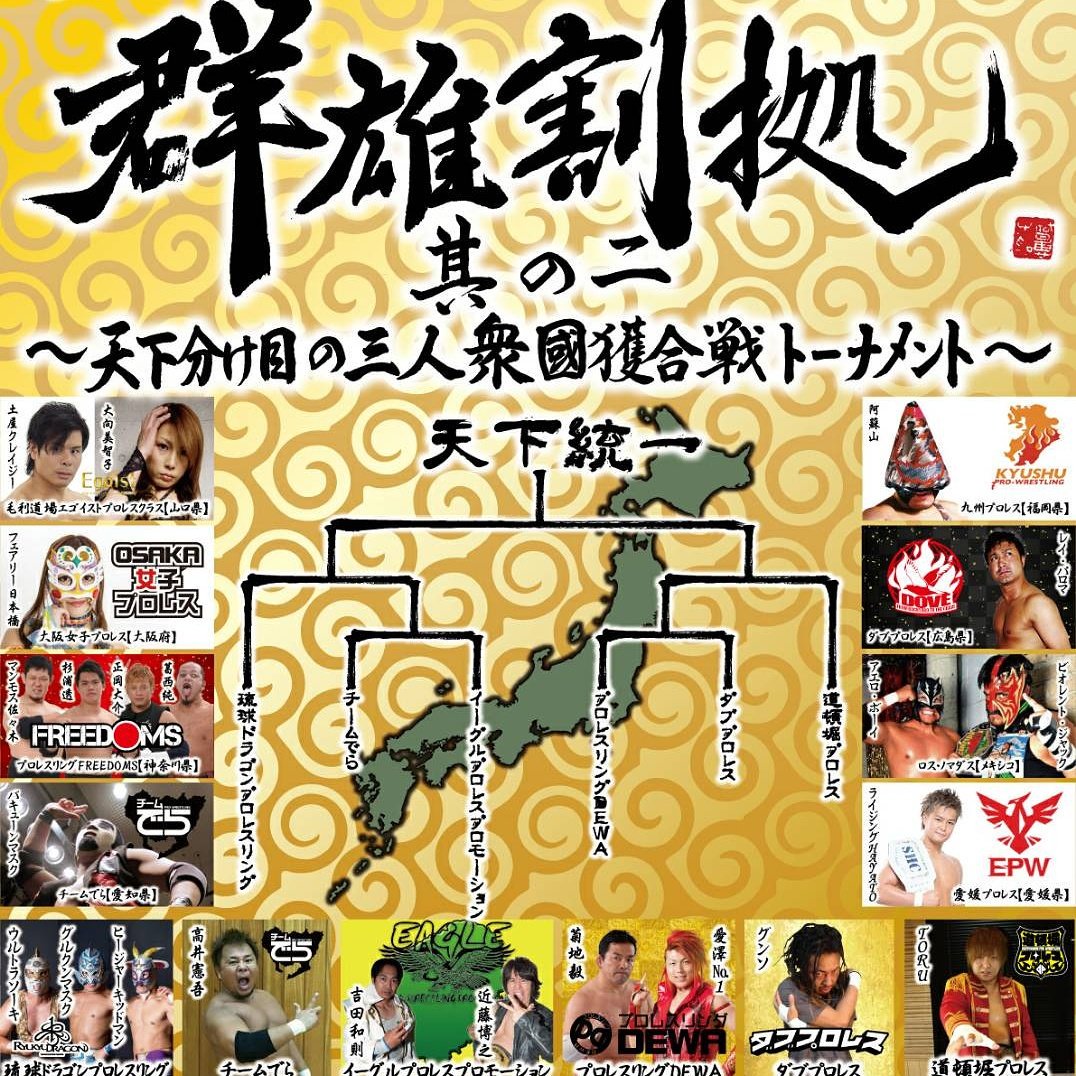 Takashi Sasaki Produce Show ~ Pro-Wrestling Sengoku-Jidai, 12/26/2017 [Tue] 18:45 @ Korakuen Hall in Tokyo
() Dragon Libre vs. X
() 1st Round Match: (Team Dera) Kengo Takai, Michio Kageyama & Grandpa Sho-Mask #4 vs. (Eagle Pro-Wrestling) Kazunori Toi, Hiroyuki Kondo & ?
() 1st Round Match: (DOVE Pro-Wrestling) Gunso, ? & ?? vs. (Pro-Wrestling DEWA) Aizawa #1, Tsuyoshi Kikuchi & Yamadaman Pondo
() FREEDOMS vs PUZZLE Promotion Tag Match: Daisuke Masaoka & Kamui vs. SenKuma & Togyo
() Special 6 Tag Match: Mammoth Sasaki, Toru Sugiura & GENTARO vs. Asosan, Tsuchiya Crazy & Rising HAYATO
() Semi-final Match: (Ryukyu Dragon Pro-Wrestling) Gurukun Mask, Ultra Soki & Hija Kidman vs. (Winner of Dera/Eagle)
() Semi-final Match: (Doutonbori Pro-Wrestling) TORU, Taiyoto Kamen & Amemura  vs. (Winnner of DOVE/DEWA)
() Special Mixed Tag Match: Fairy Nihonbashi & Vacation Mask vs. Rey Paloma & Hibiscus Mii
() FREEDOMS Offer Match: Jun Kasai, Kenji Fukimoto & Tomoya Hirata vs. Violento Jack, Aero Boy & Yuya Susumu
() Final Match: