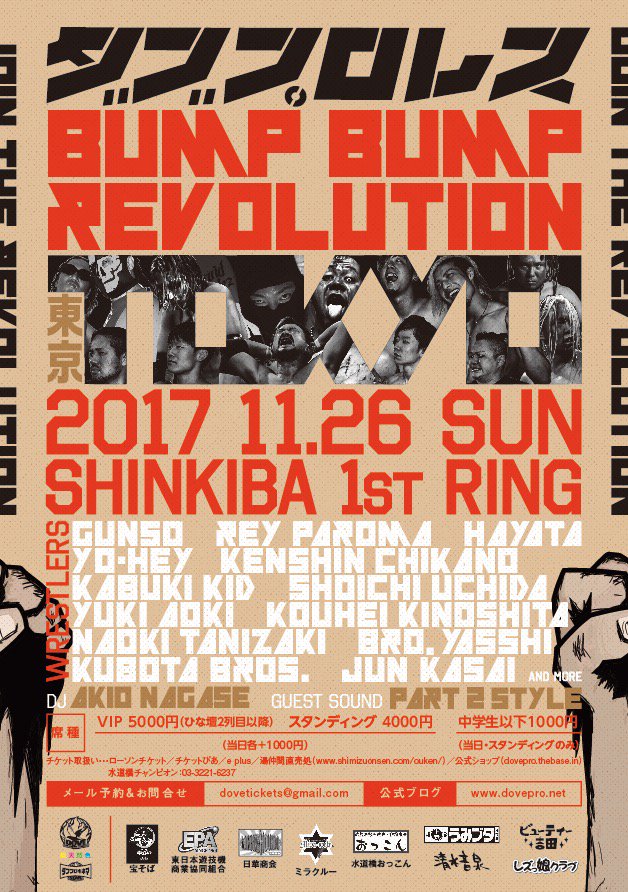 DOVE Pro-Wrestling "BUMP BUMP REVOLUTION TOKYO", 11/26/2017 [Sun] 12:30 @ Shinkiba 1stRING in Tokyo
336 Spectators (overcrowded)
(1) Hide Kubota, Yasu Kubota & 'brother' YASSHI vs. Yuki Aoki, Kouhei Kinoshita & Kazuaki Mihara
◆Winner: Kinoshita (8:45) via pin-fall on Yasu.
(2) Hardcore Match: Kabuki Kid vs. Violento Jack
◆Winner: Jack (6:01) following a Package Piledriver onto thumbtacks.
(3) Shoichi Uchida vs. Rey Paloma
◆Winner: No Cotest (17:40)
(4) DOVE Tag Championship Match: [8th Champions] YO-HEY (NOAH) & Kenshin Chikano vs. [Challengers] Jun Kasai (FREEDOMS) & Gunso
◆Winner: Kasai (11:22) with a Pearl Harbor Splash on Chikano.
~ Champions fall on their 4th title defense. Kasai & Gunso become the 9th champions.
~ After the match, the two teams showed respect as YO-HEY and Chikano looked to have ended their team for the time being, as YO-HEY belongs to NOAH.
~ The two did clarify that they are indeed done as a team, for the time being, as they hope to one day be at each others side in the future again.
(5) DOVE World Heavyweight Championship Match: [Champion] HAYATA (NOAH) vs. [Challenger] Naoki Tanizaki
◆Winner: HAYATA (17:46) following the Headache.
~ 1st successful title defense.
~ Even though the loss, Tanizaki looks to continue forward as a new member of DOVE.
~ Rey Paloma came out and thanked everyone for coming out today and supporting DOVE. He mentioned that the promotions aims to do bigger and better things in 2018.