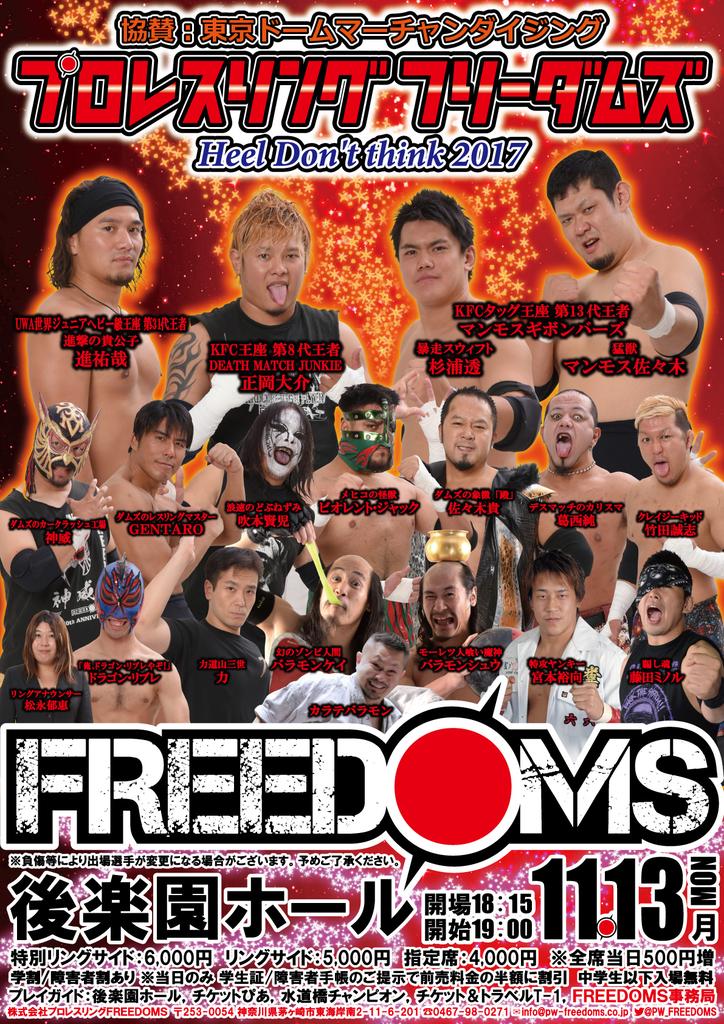 Pro-Wrestling FREEDOMS "Hell Do Not Think 2017", 11/13/2017 [Mon] 19:00 @ Korakuen Hall in Tokyo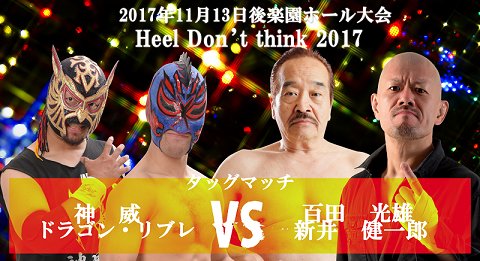 (1) Kamui & Dragon Libre vs. Mitsuo Momota & Kenichiro Arai
◆Winner: Kamui (7:14) with a Firebird Splash on Arai.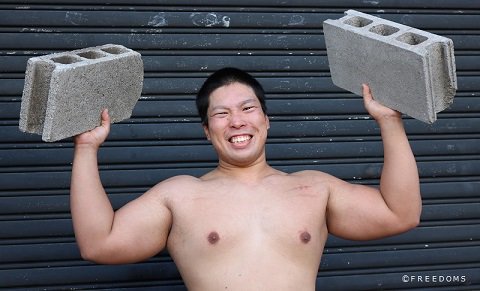 (2) Tomoya Hirata's Debut Match: GENTARO vs. Tomoya Hirata
◆Winner: GENTARO (7:44) with a Ground Manjigatame.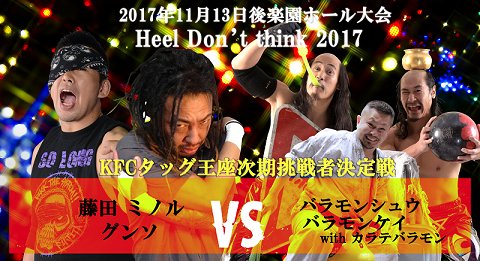 (3) KFC Tag Next Challenger Decision Match: Minoru Fujita, & Gunso vs. Shu & Kei Brahman w/ Karate Brahman
◆Winner: No Contest (6:06) referee assault.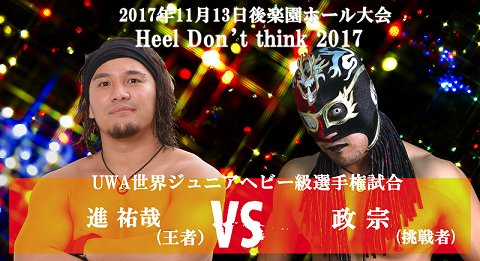 (4) UWA World Junior Heavyweight Championship Match: [31st Champion] Yuya Susumu vs. [Challenger] Masamune
◆Winner: Susumu (10:29) with a Cross Face Lock.
~ 3rd successful title defense.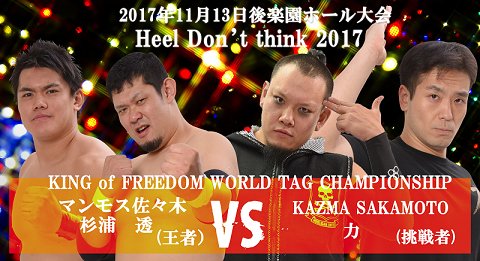 (5) KING of FREEDOM WORLD TAG CHAMPIONSHIP Match: [13th Champions] "Mammoth Gi Bombers" Mammoth Sasaki & Toru Sugiura vs. [Challengers] KAZMA SAKAMOTO & Chikara
◆Winner: Toru (13:33) following the SSS on KAZMA.
~ 7th successful title defense.
(6) Kasai's Return ~ Fluorescent Light-tube + Alpha Death Match: Jun Kasai & Takashi Sasaki vs. Masashi Takeda & Kenji Fukimoto
◆Winner: Kasai (17:17) with a Katayoku no Tenshi on Fukimoto.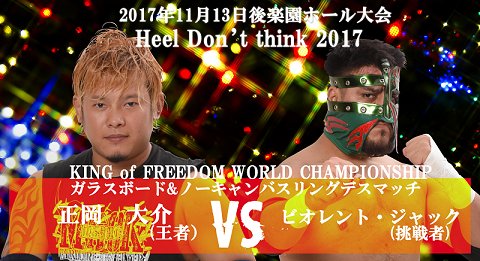 (7) KING of FREEDOM WORLD CHAMPIONSHIP Glass Board + No Canvas Ring Death Match: [8th Champion] Daisuke Masaoka vs. [Challenger] Violento Jack
◆Winner: Jack (21:00) following a Package Piledriver.
~ Champion falls on his 6th title defense. Jack becomes the 9th champion.
http://puroresuspirit.net/tag/freedoms/
Upcoming…
Takashi Sasaki Produce Show ~ Pro-Wrestling Sengoku-Jidai, 12/26/2017 [Tue] 18:45 @ Korakuen Hall in Tokyo
Announced teams…
◇ DOVE Pro-Wrestling : Gunso, ? & ??
◇  Ryukyu Dragon Pro-Wrestling: Gurukun Mask, Ultra Soki & Hija Kidman
◇ Team Dera : Kengo Takai, Michio Kageyama & Grandpa Sho-Mask #4
◇ Eagle Pro-Wrestling : Kazunori Toi, Hiroyuki Kondo & ?
◇ Pro-Wrestling DEWA : Aizawa #1, Tsuyoshi Kikuchi & Yamadaman Pondo
~ Announced to be competing outside the tournament : Vacuum Mask (Dera), Rey Paloma (DOVE), Asosan (Kyushu), Tsuchiya Crazy (Yamaguchi Mori Dojo), Rising HAYATO (Ehime Pro)